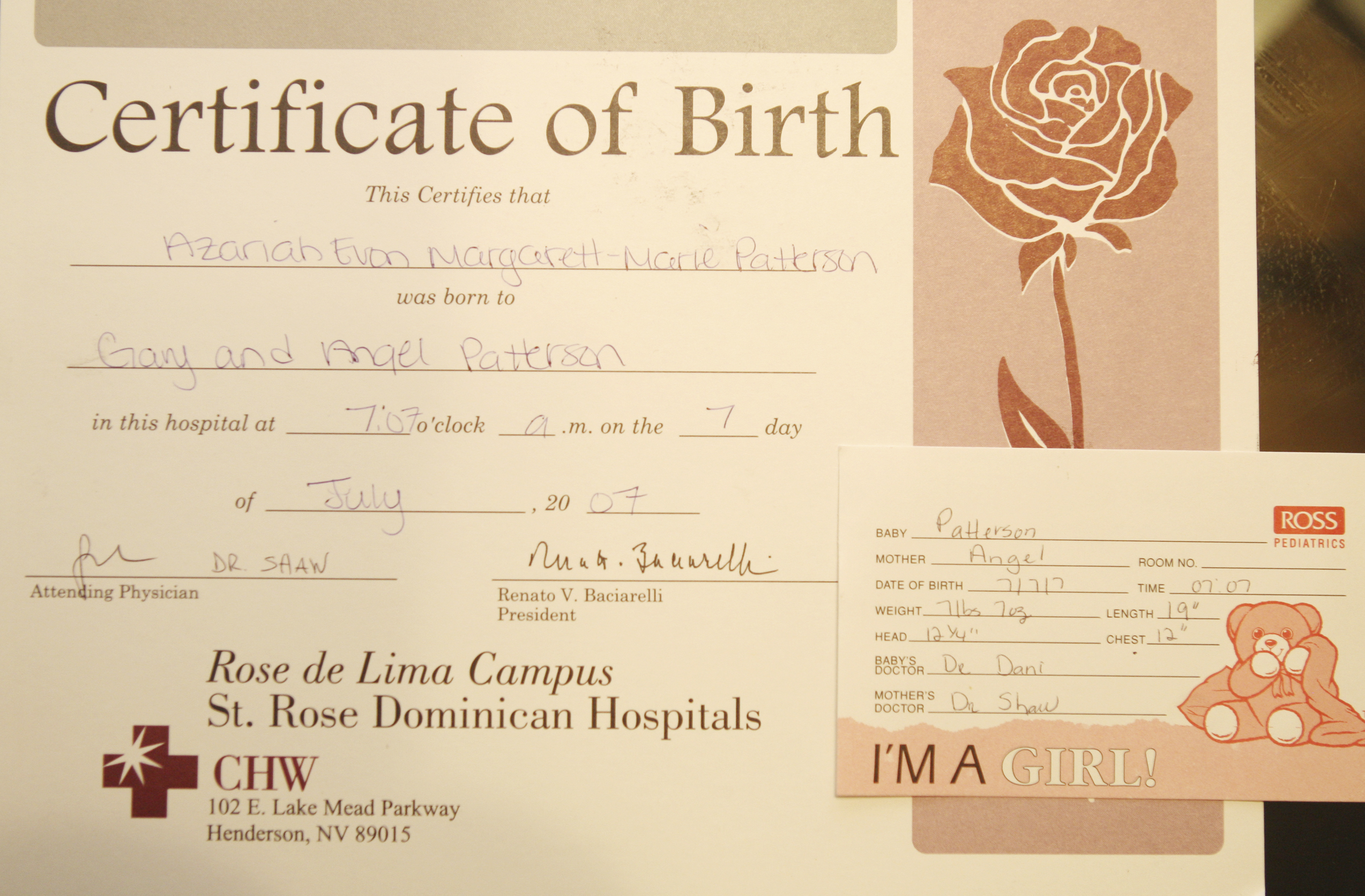 Saturday was 7/7/07.
The clock read 7:07 a.m.
And the digital scale showed 7 pounds, 6.9 ounces, which later was rounded to 7.
Yes, that's seven sevens for the birth of Azariah Evon Margarett-Marie Patterson, who on Saturday put any gamblers hitting triple 7s on their slot machines to shame. Born at St. Rose Dominican Hospital's de Lima campus, little Azariah hit just about every key seven possible for her public record, her birth date, weight and time of delivery.
"We were all saying this is going to be a very lucky girl," said Joanne Geraci, St. Rose de Lima's maternity unit secretary who was working when Azariah was born. "We were just amazed it happened that way. … It was cute."
Marie Dixon, a nursery room nurse who was asked to assist in Azariah's delivery, called it a "wonderful, chilling surprise."
Dixon had started her shift at 7 a.m. Minutes later, she walked into one of the delivery rooms and there was Azariah.
The clock was at 7:07.
"At the time, I was focused on doing my job. I was transitioning the baby into its new environment," Dixon said. "It wasn't until I had finished that I took notice of the sevens … It was a cool way to start a shift."
The number seven is commonly known in English folklore as powerful and lucky, mostly because it corresponds with the seven days of the week. Las Vegas just finished promoting it as lucky for gamblers and couples getting hitched.
At first, Azariah's parents, Angel and Gary Patterson, weren't buying into the "luck" talk surrounding their daughter.
They were just happy to leave the hospital with a healthy baby girl who had all "five fingers and toes, could see and hear," Gary Patterson said.
"I don't know what to think. It's kind of shocking. When you hear and see all of those sevens, you are thinking, 'They must be kidding,' " Angel Patterson said Monday afternoon in the couple's North Las Vegas apartment. "At the time of the actual birth, I was exhausted and loaded up on medication for pain so I wasn't very aware of the day or time."
Gary Patterson said as much.
"It could have been a hurricane and we wouldn't have known it," he said cradling Azariah in his arms. "When we got back home, that's when we noticed the sevens."
Angel Patterson said it's her mother who is pushing the lucky seven rhetoric.
"My mom is the one who is excited. When I was growing up, my mom was very superstitious. She thinks Azariah's birth is a miracle because seven … has a lot of biblical references," Angel Patterson said.
Azariah's original due date was July 5.
If the Pattersons had their way, Azariah would have come into the world on July 4, Independence Day.
"We wanted her to know her birthday as the day of the fireworks so she could think it was all for her," said Angel Patterson. "This is even better though. Maybe she'll make mommy and daddy rich in whatever it is she chooses to do."