Sheehan's old story to become new film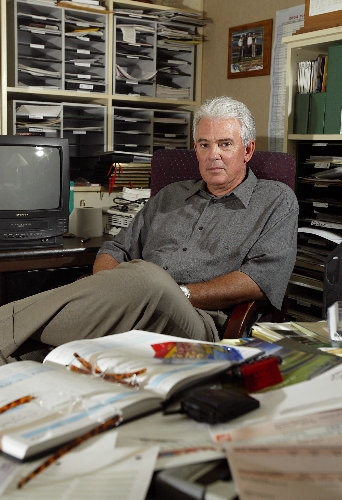 After writing 18 books, Las Vegas author Jack Sheehan has landed his first movie deal.
What makes it most gratifying is that he's lived with the story for 47 years.
"Hayden Lake" is the story of Sheehan's close friend, Pete Peterson, who spent half his life living down a boating accident that left two young girls dead.
The 15-year-old son of a Spokane dentist, Peterson was cruising his dad's boat, a Tollycraft, across Hayden Lake, just north of Coeur d' Alene, Idaho.
It was about 10 p.m. on Aug. 15, 1964.
The Spokane Spokesman-Review retold the story recently.
Darkness was approaching as Peterson and his date were heading back to the family's lake home.
In a flash, their world exploded. Their boat hit something and was sinking. They were dazed, but OK . A nearby boater picked them up.
Sheehan, who grew up in Spokane, was at Hayden Lake that day. His father also owned a home on the lake. A neighbor came by with some shocking news the next day.
Two 16-year-old girls were missing. The wreckage of a 13-foot fiberglass outboard was found floating on the lake.
"He was clearly blamed for their deaths," Sheehan told the Spokesman-Review. "It was just an assumption in the Hayden Lake community that my bad-boy best friend had killed these girls."
Peterson assumed the worst and spent decades under a cloud. Earning a Purple Heart and a Bronze Star in Vietnam didn't change that.
That was the way it was until December 1982, when an amateur diver discovered wreckage that showed the bow deck of the girls' boat was wedged in the side of the Tollycraft.
Further exoneration of Peterson came when further inspection showed the girls' boat was stuck at full throttle.
Sheehan wrote about Peterson's redemption for a magazine and in 1987 wrote a screenplay that was sold to Warner Brothers in 1987. Patrick Dempsey, then 22, was to play Peterson. But Sheehan backed out over "creative differences." Translated, that usually means little control of the project and wholesale changes in the story.
In 1991, ABC-TV optioned it as a movie of the week. Again, Sheehan balked.
Last year an independent filmmaker came forward, and principal photography starts shooting Aug. 15, the 47th anniversary of the accident.
The lead role is down to Hayden Christensen , who played Anakin Skywalker in two "Star Wars" films, and Elijah Wood, best known as Frodo in the "Lord of the Rings" franchise.
Having been a part of the story for so long, Sheehan said "to see it produced is beyond a dream come true."
SIGHTINGS
Tito Ortiz, celebrating his stunning upset of Ryan Bader in UFC 132 at Gallery Nightclub (Planet Hollywood Resort) on Saturday. … Dominick Cruz partied with pals at Studio 54 (MGM Grand) after his win over Urijah Faber, who held his official after-fight party at the Playboy Club (Palms), and at Lavo (Palazzo), the Dallas Mavericks celebrated their first NBA championship. … Rihanna, hosting the official after-party for her "Loud" Tour in Club Nikki at the Tropicana. … UFC legends Chuck Liddell and Frank Mir at XS (Encore) after UFC 132. … Adult film star Sasha Grey , with friends at Nove Italiano (Palms) on Saturday.
THE PUNCH LINE
"Anthony Weiner is no longer a congressman, but he wants to pick his replacement. That would be a great endorsement." — David Letterman
Norm Clarke can be reached at 702-383-0244 or norm@reviewjournal.com. Find additional sightings and more online at www.normclarke.com. Follow Norm on Twitter @Norm_Clarke.