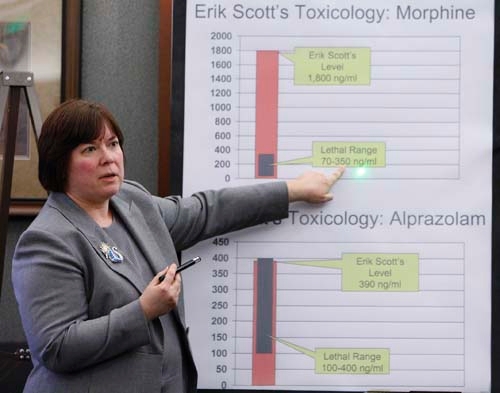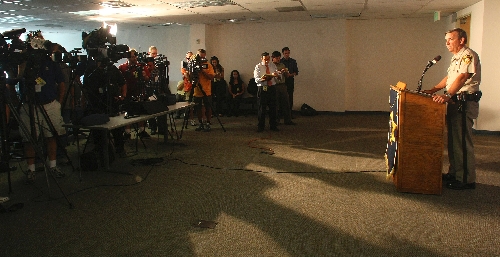 At the moment he was shot by three Las Vegas police officers in front of a Costco store on a July afternoon, Erik Scott had potentially fatal levels of the painkiller morphine and the anti-anxiety drug Xanax in his system.
Prosecutors during last week's inquest used that information, along with the testimony of Scott's doctors, to paint a picture of the West Point graduate as a prescription drug addict who battled chronic pain.
But when the three officers took the stand to testify at the inquest, they said they were never drug- or alcohol-tested after the shooting.
Nor was there a blood test for Detective Bryan Yant, the narcotics officer who fired into a darkened bathroom while serving a search warrant on 21-year-old Trevon Cole in June. Cole's blood test results — positive for marijuana use — came up in the inquest into his death.
Why the difference in treatment?
The Las Vegas Metropolitan Police Department, like most departments nationwide, does not test its officers after critical incidents unless there is a "reasonable suspicion" the officer is under the influence.
Clark County Sheriff Doug Gillespie was asked about the department's policy during a Wednesday news conference on the Scott inquest. He said the policy is "under review."
"That is a topic nationally that is being looked at in regards to policing: Is it appropriate to require that under those particular circumstances?" he said.
North Las Vegas and Henderson police do not test officers after shootings.
"At this point it's not a common practice," said Thomas Aveni, executive director of The Police Policy Studies Council, a New Hampshire-based training and consulting company.
Aveni said it is not common because there has not been an issue nationally over drugs or alcohol being linked to officer-involved shootings. The International Association of Chiefs of Police, which conducts research and makes recommendations for police departments, offers no guidance on testing officers after shootings.
"Where we're at right now I don't see it as a problem," Aveni said.
Neither does Allen Lichtenstein, executive director of the American Civil Liberties Union of Nevada.
"There doesn't seem to be an issue with drugs as the cause of these shootings," he said. Instead, he believes the focus should be on better training.
Not that police departments don't drug test officers at other times.
Incoming Las Vegas police officers must pass a urine test before being hired, and are tested while in training and randomly throughout their career. Supervisors can also request a blood draw if they believe an officer is under the influence while on duty.
Data provided by the department show drug use by its employees is low. In 2004, it started randomly testing all of its roughly 3,500 officers — from patrol cops to the sheriff — and about 400 of its civilian employees, said Linda Krueger, director of laboratory services for the department's crime lab.
Out of nearly 3,000 random tests last year and this year, one turned up positive.
Ten officers were tested under "reasonable suspicion" in that time, with half showing positive for substances ranging from sleeping pills to cocaine, Krueger said. It was not clear what sort of discipline, if any, the officers received.
Before 2004 random drug testing only applied to officers and civilian employees who handled drugs.
Krueger said the system is designed to be random and immune from influence.
A computer in the department's internal affairs section randomly selects squads to be tested, and a private contractor without warning collects samples from the squad, which typically consists of eight to 10 officers.
Samples are tested in the department's lab, where workers don't know who the samples belong to. Samples from lab workers are processed by a private contractor.
Results are sent to the medical review officer, the only person in the process who can match the test results with the officers' names, Krueger said.
The department tries to test about half of its officers each year, Krueger said, and the computer can randomly select squads more than once a year.
Any changes to the department's drug testing policy must be negotiated with its largest union, the Las Vegas Police Protective Association. Executive Director Chris Collins said the department hasn't raised the issue.
Collins said his biggest concern would be that officer test results would be divulged during inquests even if they show nothing illegal.
"I would not sign off on any contractual change that would allow legal prescription levels be given out to the public," Collins said. "That's just really nobody's business."
Review-Journal reporter Brian Haynes contributed to this report. Contact reporter Lawrence Mower at lmower@reviewjournal.com or 702-383-0440.
Bill Scott reacts to justified verdict
Clark County coroner's inquest into Erik Scott shooting (Sept. 27-28)
Clark County coroner's inquest into Erik Scott shooting (Sept. 22-25)
Erik Scott's girlfriend's statement to police
911 call from Costco on July 10
First 911 call
Second 911 call