Shooters kill one, injure six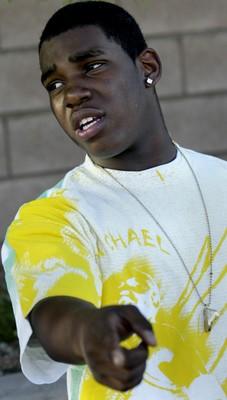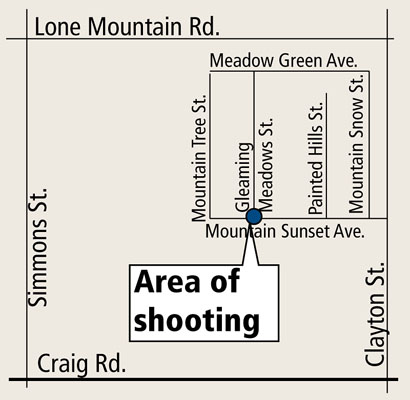 "It was mayhem."
That's how 17-year-old Natalie described the shooting outside a crowded party in North Las Vegas that left one 19-year-old man dead and at least six others wounded early Sunday morning.
The shooting sent dozens of teens climbing over walls and banging on neighbors' doors in search of shelter.
Natalie, a Cheyenne High School student who declined to give her last name for fear of retribution, jumped into a stranger's backyard.
Seventeen-year-old Tarell Payton, who lost a friend in the shooting, dived under a vehicle to avoid the bullets.
Maggie Paz, who lives in the neighborhood near Craig Road and Simmons Street, said bleeding victims pounded on her door and windows yelling "we've been shot."
Paz and her husband didn't let the youths inside because they didn't want to put her three young children and a newborn in harm's way. They were also caring for Paz's two young nieces.
But Paz's husband opened the garage door and let the youths hide in there, she said.
She told her children to take cover from stray bullets by lying on the floor of their master bedroom.
Later Sunday, Paz found blood outside her front door and in her garage.
David Olsen, a nearby resident, said he found six bullet holes in his garage and home.
The shooting occurred about 12:30 a.m. in the 2200 block of Mountain Sunset Avenue, which was filled with young people celebrating the end of the school year. They were part of a house party in the 4600 block of Gleaming Meadow Street, about 100 feet from the shooting.
Neighbors said they had complained to police about loud music and dozens of young people gathered on the street. They said the party started at least an hour before the shooting.
"That was way more than a party," said Thomas Duval, who lives a few houses from where the party was and called police to report the noise.
No one interviewed Sunday knew the owners of the house where the gathering took place.
Payton and Natalie said they learned of the party through cell phone text messages sent by friends.
Witnesses said an unknown number of gunmen, without provocation or even an exchange of words, opened fire on a group of about 15 teens who had just arrived at the party and were walking toward the house.
"We were just walking and talking and laughing, and they just started shooting," said Payton, adding that he didn't recognize any of the assailants.
After the shooting, Payton dragged one of his friends who was shot through the thigh to his vehicle and started driving to the hospital.
Before they could get out of the neighborhood, a police officer stopped them and offered assistance.
Payton said the shooting left another friend, Charles Washington, dead and several of his friends with gunshot wounds.
Police said two people had very serious wounds, but didn't have more details.
Washington's girlfriend, who identified herself only as 19-year-old Kendia, said Washington graduated from Mojave High School in 2006 and was studying in Arizona to become a pharmacist.
Like Natalie, Kendia declined to be fully identified out of fear of retribution from the people responsible for the shooting.
"He just happened to be at the wrong place at the wrong time. He didn't have any enemies," she said, speaking near where he was gunned down.
Friends said Washington was not involved in any gang.
Officer Sean Walker, a spokesman for the North Las Vegas Police Department, said police didn't have anyone in custody or a motive by Sunday night.
Walker, a five-year veteran of the department, said he couldn't recall a shooting in the city that had as many victims.
Natalie said she was inside the house where the party was being held when the shots rang out. Many partygoers began pushing to try to get outside even though the shots were fired down the street, she said.
"All I could think of was to get away from the next bullet," she said.
Although many youths fled the area immediately after the shooting, some lingered as police launched their investigation.
Corey Cox, 15, who lives about a block from the shooting, said he and a friend were standing in front of his house when a woman who had been hiding for about an hour in his backyard emerged.
"I said if our dog was out there she would have been in trouble. She said, 'It'd be better than seeing a dead body,'" Cox recalled.