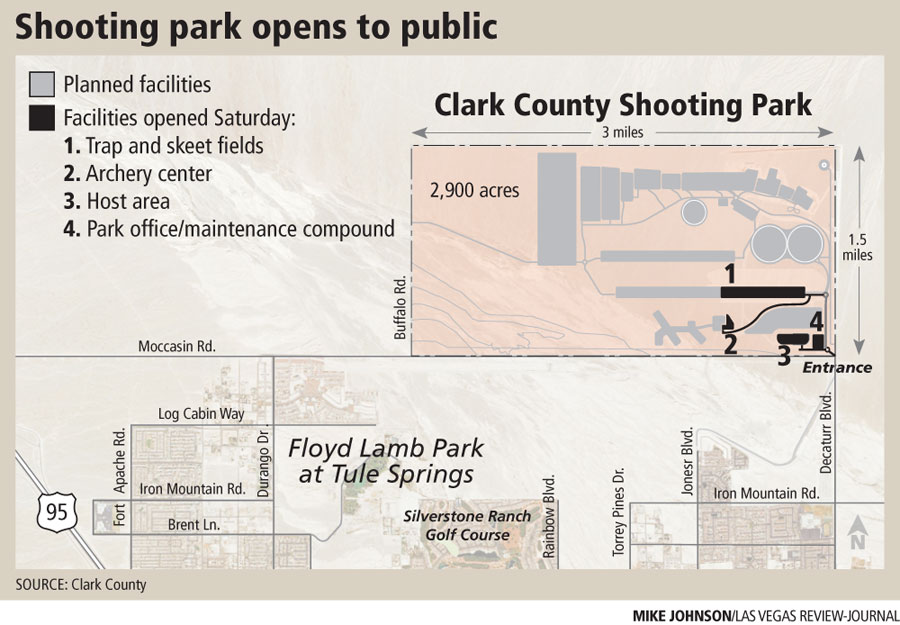 Daniel Markoff's Revolutionary War-era rifle boomed and spit powdery smoke as he fired at a target in the north valley's new shooting park.
Markoff, 61, poured gunpowder from a horn-shaped holder into the rifle's 42-inch barrel, then used a metal rod to pack it down.
He took aim and fired again, the belching smoke briefly shrouding the rugged Sheep Range in the distance.
To his right, three men were fine-tuning the sights on their modern assault rifles.
"I think this is really nice," Markoff said of Clark County's new shooting park, which opened Saturday north of where Decatur Boulevard ends. "We really outdid ourselves. I see national matches being held here."
The 2,900-acre park's $61 million first phase includes a pistol and rifle range, trap-and-skeet fields for shotguns, an archery center, an education center and a main office.
Several hundred gun enthusiasts were expected to trickle in and out during a debut that county officials called a soft opening because the park will have weekend hours only for at least three weeks. The park is expected to go full-time by mid-January when a large event is scheduled.
It was a day that supporters eagerly awaited — some for 25 years — and critics dreaded. Dozens of neighbors say the shooting park will disrupt their lives and decrease their property values.
They sued the county and tried to force an injunction, but a federal judge dismissed most of their claims earlier this year and ruled that the project could proceed.
Tyson Wrench, a fierce opponent, said he was puzzled as to how the county could open the park while the Bureau of Land Management is in the midst of a 45-day review for an environmental assessment.
"So obviously the county thinks it's above the law," Wrench said. "It blows me away."
He likened it to building a skyscraper on land being surveyed.
Wrench said he wanted to muster a protest but many of the disgruntled residents are out of town for the holidays. He questioned whether county officials timed the opening to when neighbors' opposition might be less likely.
Don Turner, the shooting park manager, denied such stratagems. The county is opening it now simply because the work is finished, he said.
Turner said there's a lingering misunderstanding about the BLM's environmental assessment. It's complex, he said.
In 2003, Congress transferred 2,900 acres of federal land to the county. BLM told the county to do an environmental assessment, which is routine for most land transfers, Turner said.
The county spent $500,000 on the assessment, he said. A local BLM official looked at the report and concluded that no more environmental studies were needed.
Trouble was, BLM never wrote a formal letter stating that the project will cause no significant impact, Turner said. This omission gave residents ammunition in court several years later when they claimed an inadequate study was done.
In response to the neighbors' complaint, a federal judge in May ordered BLM to double-check the county's findings and issue the statement of no impact, Turner said.
BLM chose to do a full assessment in August. The agency received 1,046 comments, most of them positive, said Hillerie Patton, BLM spokeswoman.
However, several comments prompted the agency to take a closer look at factors it didn't consider before, she said.
So this week BLM began an updated assessment that will include 45 days of public comment through Jan. 29, she said.
It's highly unusual for BLM to assess land it no longer owns, Patton said. Because the county owns the land, BLM has no authority to tell the county not to open the shooting park, she said.
On Saturday, the park's shooters didn't care about past disputes. They concentrated on the targets in front of them.
Two teenage brothers had fun shooting a Yugoslavian rifle.
Kristopher Trajano, 14, who learned to shoot three years ago, said he liked that the park is close to their North Las Vegas home.
"We're going to come here, maybe every weekend if we can," Vincent Trajano, 16, said.
Craig Williams, 48, fired three high-powered rifles.
"I think it's a beautiful facility," Williams said "It's something we've needed for a long time."
Having a professionally run complex like this is much safer than people shooting every which way in the desert, Williams said.
"This is very controlled, safe," agreed Bob Engelhardt, 47, a Pahrump resident and friend of Williams. "I don't have to worry about the guy sitting beside me."
The range these men used had 60 targets with a bullet-stopping berm behind them. Each space for shooting is equipped with a table to aid in steadying the firearms.
The shotgun range has 25 target areas. Only a few people were there Saturday afternoon. The archery center was empty.
Last year, the county conducted a sound test that showed the gunfire noise at the closest properties fell below the 56 decibel level allowed. The park's opponents weren't convinced.
At the barricaded end of Jones Boulevard, where the homes are among the closest to the park, no gunfire was audible Saturday. About 100 yards past the barricade, where no houses stand, faint popping could be heard.
Wrench has said that residents worry how noisy the park will become when a .50-caliber range and other shooting areas are added. But he said his comrades are becoming disheartened.
"I have no idea what we're going to do," Wrench said. "There's only so much of a beating we can take."
Contact reporter Scott Wyland at swyland@reviewjournal.com or 702-455-4519.