Shooting ruled justifiable
September 28, 2010 - 10:14 am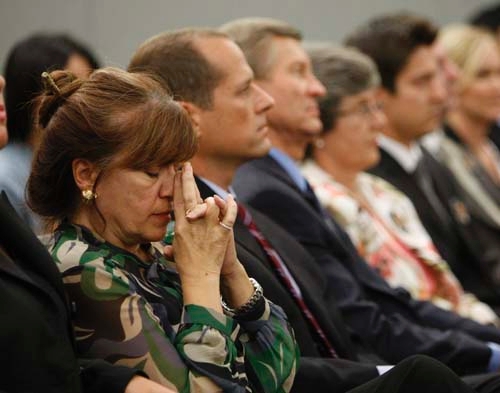 A coroner's inquest jury found three Las Vegas police officers were justified in the July 10 fatal shooting of Erik Scott outside the Summerlin Costco store.
After hearing six days of testimony from dozens of witnesses, the seven jurors deliberated for one hour and 15 minutes Tuesday before reaching a unanimous verdict. None would comment afterward.
Scott's relatives, who sat stone-faced when the verdict was announced, criticized the inquest process as biased in favor of police.
"From day one of this horrific nightmare we gave the system a chance to work as it's supposed to work," father Bill Scott said. "They had a chance to present the truth. They also had the chance to present the facts at the coroner's inquest hearing. As we see it, the system failed miserably."
The Scott family's lawyer, Ross Goodman, said the "real truth" would come out in an expected federal civil rights lawsuit against the Metropolitan Police Department, Clark County, Costco and Sheriff Doug Gillespie.
"The real truth is that Erik Scott was gunned down while walking to the parking lot with his gun in his holster and was ambushed by these three officers, who gave him about three seconds from the initial commands to respond," Goodman said. "They used excessive force when they didn't need to."
Officers William Mosher, Thomas Mendiola and Joshua Stark shot Scott a total of seven times after he ignored commands to get on the ground and raised his Kimber .45-caliber handgun, still in its holster, toward Mosher, according to the officers and several witnesses who testified at the inquest.
A Costco employee had called police to the store that Saturday afternoon because the 38-year-old medical device salesman was acting erratically and wouldn't leave the store when told his gun was not allowed.
Bill Scott said the store bears the brunt of responsibility in his son's death.
"This is focused on Metro right now. Metro pulled the trigger," he said. "But Costco was the primary guilty party. Costco killed Erik."
Several employees testified that Scott seemed confused, had trouble walking straight, stumbled repeatedly and had to rely on his girlfriend, Samantha Sterner, for support while he was in the store.
Scott's post-mortem blood test showed high levels of the painkiller morphine and the anti-anxiety drug Xanax.
Eyewitness accounts of the incident vary on some points, but a majority of witnesses said they either saw Scott pull a gun or thought he was about to do so when his hand went to his hip. Most also said they heard one officer shouting at Scott to get on the ground.
Stark and Mendiola, both police department members for two years, testified Tuesday that they fired after Scott pointed his gun at Mosher, who was ordering him to get down.
Scott pulled the gun up, abdomen height, "straight forward, pointing at my partner," Stark said.
The officer said he heard shots fired but didn't know who had fired them.
"I fired my handgun because I believed my partner, Bill Mosher, and everyone behind him to be in imminent threat of death," Stark testified. "Everything was aggressive about his (Scott's) movements."
When asked why he didn't use a Taser to stun Scott, Stark said police officers are trained to confront deadly force with deadly force.
Stark said he likes dealing with people who, like Scott, have concealed-weapons permits because they usually comply with directions from officers. He said almost every permit holder he has encountered has reacted by putting their hands up.
Scott had a concealed-weapons permit for his .45-caliber pistol but not for the .380-caliber Ruger that medical personnel later found in his pocket, homicide Detective Barry Jensen testified.
Mendiola said Scott was a threat to Mosher and to dozens of shoppers who were milling around the front of the store after being evacuated.
Mendiola said he shot Scott four times, with some bullets striking Scott in the back because that was the part of the body facing him as Scott clutched the weapon.
"I still perceived him as a threat every time I fired," he said. "I feel I did exactly what I'm supposed to do."
For Mosher, who testified last week, this was a second fatal shooting. In 2006, an inquest jury found him justified in killing a home-invasion suspect.
Since Scott's death, his family has waged a public relations campaign suggesting a cover-up by Las Vegas authorities, including billboards throughout the Las Vegas Valley, a blog, media appearances and an airborne banner flying over a Southern California beach.
Bill Scott has received letters and e-mails from all over the world about the case, which is getting national attention.
"What people in Las Vegas need to know is that this circus, this cop-clearing circus called the coroner's inquest process, has now made Las Vegas the laughingstock of the nation," Scott said.
Goodman had said he had a list of about 25 other eyewitnesses who would say that Scott didn't threaten the officers, but he refused to give it to the coroner, district attorney or police. He said he didn't want them to be "browbeat" by prosecutors if he did not have an opportunity to cross-examine them.
The six-day inquest, the longest in county history, saw 59 witnesses testify and a record 1,530 written questions submitted by Scott's family and other parties. The majority of those questions were asked by Las Vegas Justice of the Peace Tony Abbatangelo.
"I complied with all the rules," the judge said of the much-maligned inquest process. "If people want to change it, they can go to their county commissioners. … That's the process."
Several Clark County commissioners have said they plan to introduce inquest reform measures or initiate an overhaul study process.
The process is often criticized because the district attorney's office, which works closely with police in criminal cases, calls and questions all witnesses.
Jurors, who are selected randomly from county court jury pools, are limited to three findings: justifiable, excusable and criminal. Fatal police shootings are justified if the officers believed they or others faced an imminent threat of great bodily harm or death.
Critics of the system say representatives of families of the deceased should have a greater role in the process, including early access to investigative information and the ability to cross-examine witnesses.
Commissioner Steve Sisolak, who pushed to have the Scott inquest televised on the county's cable channel, said Tuesday that all future inquests should be televised to help "continue to restore public confidence in the Metropolitan Police Department."
He has scheduled a discussion on forming a committee to review inquest changes at next week's commission meeting.
Sisolak said he plans on proposing several changes, including obligating family lawyers to turn over any witnesses who can testify to what happened.
Commissioners also should consider removing the verdict from the process and focusing on fact finding. After determining the facts, county prosecutors should make the decision on whether to press criminal charges against an officer, he said.
Maggie McLetchie, staff attorney for the American Civil Liberties Union of Nevada, said she expected the justified verdict in Scott's death. She called the process a "fraud."
"People just expect the police officers to get vindicated," McLetchie said. "Nobody has confidence in the system anymore."
But Chris Collins, executive director of the Las Vegas Police Protective Association, said the coroner's inquest is not broken.
Although some critics say it's a one-sided process, he pointed to the hundreds of written questions asked by Scott's relatives or their lawyer.
"It's an open and fair system," said Collins, who represents about 2,500 rank-and-file Las Vegas police officers.
Collins said he sympathizes with the Scott family but believes the jury reached the correct decision.
The three officers who fired made their decision in a tenth or hundredth of a second to protect dozens of shoppers in the area, he said.
"You can always look back and Monday morning quarterback," Collins said. "But the facts, like it or not, were that he either pulled a gun, or reached for a gun, and our officers reacted to save the lives of citizens."
Collins said he is willing to listen to critics of the inquest system, but they're not likely to change his mind about implementing major reforms.
Review-Journal reporters Lawrence Mower and Antonio Planas contributed to this report. Contact reporter Francis McCabe at fmcable@reviewjournal.com or 702-380-1039. Contact reporter Brian Haynes at bhaynes@reviewjournal.com or 383-0281.
Bill Scott reacts to justified verdict
Clark County coroner's inquest into Erik Scott shooting (Sept. 27-28)
Clark County coroner's inquest into Erik Scott shooting (Sept. 22-25)
Erik Scott's girlfriend's statement to police
911 call from Costco on July 10
First 911 call
Second 911 call