Shooting suspect faces drug charge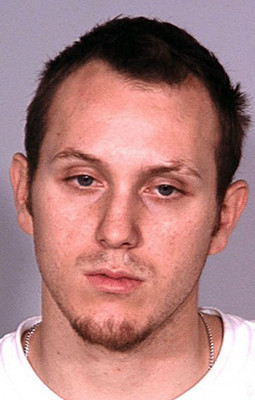 The 21-year-old man accused of killing one man and wounding another in a spray of gunfire at Bob Baskin Park appeared in court Thursday to face a drug charge.
Jessie James Cole took part in a Las Vegas Justice Court hearing via teleconference from the county jail, where he was booked Tuesday on charges of murder and attempted murder.
Cole was arrested on the drug charge after police searched his home Tuesday and found a medicine bottle containing 300 pills. Police did not identify the substance.
At the hearing, Justice of the Peace Abbi Silver gave prosecutors 30 days to file a formal complaint against Cole on the drug charge.
Cole's attorney, John Momot, said it was too early to discuss how Cole would plead to the charges. Cole was scheduled to appear in court today, this time on the murder charges.
"He's doing fine," Momot said.
Cole is accused of killing 18-year-old David Miramontes and wounding Christopher Luscombe, 19. Friends of Luscombe said he remained in critical condition at University Medical Center.
Las Vegas police said Cole fired into a crowd early Sunday at Baskin Park. The Las Vegas park is at 2700 W. Oakey Blvd., near Rancho Drive.
Cole told a jailhouse medical screener that, although the evidence pointed to him, he didn't remember doing the shooting.
Police believe the shooting was in retaliation for a fight at a party Saturday night. Both victims and Cole are believed to have attended the party. Police reports said a fight broke out about 9:30 p.m. Saturday at 6561 Gossamer Fog Ave., near Rainbow Boulevard and Windmill Lane.
Police named several individuals involved in the fight, including Thomas Strawn, 22. According to reports, Strawn grabbed a woman who was fighting with another girl. That sparked a larger fight involving multiple people at the party.
Police said Strawn and Cole are close friends.
Strawn disputes the police version of the fight. On Wednesday, he said about 20 uninvited teenagers arrived at the party and began fighting. Strawn, who said he tried to break up the fight, said he was attacked by at least two individuals wielding lacrosse sticks and was hit in the face and back. The injuries to his face required 10 stitches.
The fight broke up when someone fired shots into the air, police said.
After the melee, a group that included the victims went to Baskin Park. A Scion coupe drove by the park about 3 a.m., and eight shots were fired by Cole from the driver's side, police said.
Capt. Jim Dixon, with the Metropolitan Police Department's Southwest Area Command, said Thursday that investigators are trying to determine if adult residents served alcohol to minors at the party that preceded the Baskin Park shooting.
If the adults who were renting the 3,500-square-foot home near Rainbow Boulevard and Windmill Lane served alcohol to minors, they could face misdemeanor charges, Dixon said.
Police did receive a call about gunfire on Gossamer Fog Avenue and a call about a fight on the same block where the party took place. Dixon said the street was clear when police arrived.
Contact reporter David Kihara at dkihara@reviewjournal.com or 702-380-1039.