November 8, 2008 - 10:00 pm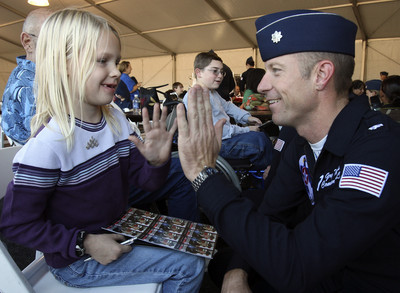 Grace Hodges wants to be a princess when she grows up.
But after watching the Air Force Thunderbirds perform Friday, the 7-year-old Las Vegas girl said somewhere along the way she would like to be a pilot, too, perhaps like Maj. Samantha Weeks, the lead solo in the six-jet air demonstration team.
"It's cool with all the tricks they do," said Hodges, who battled a rare form of cancer and won.
Her mother, Kathy Hodges, wife of Senior Master Sgt. Randy Hodges, said it wasn't easy.
"It was really a rough couple years there not knowing what the future held," she said, while Grace swayed to the patriotic music that accompanies the Thunderbirds' performance.
The team in their red, white and blue F-16 Fighting Falcons along with a host of other pilots, military jets and propeller-driven planes put on a special show for Nellis Air Force Base families and kids from the Make-A-Wish Foundation. The foundation is dedicated to giving hope, strength and joy to children with life-threatening medical conditions.
The Thunderbirds will perform again today and Sunday in the Aviation Nation air show at the base. Gates open 9 a.m. and the free event is expected to draw 150,000 combined for both days, a base spokeswoman said.
While Hodges watched the Thunderbirds roar overhead with her mother, sister and three brothers nearby, she wondered what it would be like in the cockpit. Was it like riding a bike — her favorite thing to do — only going hundreds of miles per hour faster?
"I'm going to ask him if he gets dizzy," she said as Lt. Col. Greg Thomas, the team's commander, led a four-ship, diamond formation high into the sky trailed by plumes of white smoke.
Shortly after Thomas landed the Thunderbirds' No. 1 jet, he and the rest of the team mingled with the Make-A-Wish kids and signed autographs for them.
"Initially, we do get dizzy but your body gets used to it," he told Grace.
Afterward, Thomas said the Friday performance at Nellis "is probably the most meaningful one of the year" because the team gets a chance to meet the local Make-A-Wish children and thank Nellis families for their support.
Bringing smiles to the faces of the Make-A-Wish kids has been a Friday tradition at the 39 other stops on the Thunderbirds' tour.
"We see huge success stories each week and we see the flip-side, too," Thomas said.
Tech Sgt. Pamela Anderson, who handed out special pins to the children depicting the team's six-plane delta formation, said, "This is the best part of the entire job. It's a humbling thing."
Contact reporter Keith Rogers at krogers@reviewjournal.com or 702-383-0308.
ON THE WEB
View the slideshow