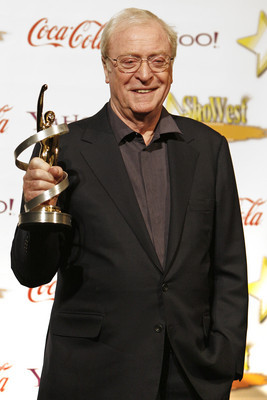 Dark days call for dark theaters, where audiences sit, hoping to see something that will light up their lives.
And despite — or perhaps because of — the current economic gloom, audiences are expected to continue seeking refuge at the movies as summer blockbusters start hitting multiplex screens in less than a month.
That's why theater owners from around the world gathered in Las Vegas this week at the 35th annual ShoWest.
The movie industry convention and trade show wrapped up a four-day run at Paris Las Vegas and Bally's on Thursday with a star-studded awards banquet featuring everyone from "High School Musical" heartthrob Zac Efron to two-time Oscar-winner Michael Caine, who received a Lifetime Achievement Award.
"This is about the fifth lifetime achievement award I've received," Caine said at a pre-banquet news conference, "and I'm beginning to get the hint. I've got to stop accepting lifetime achievement awards — or retire."
Chris Pine, ShoWest's Male Star of Tomorrow, has gone from the independent comedy-drama "Bottle Shock" to one of summer's most anticipated movies: "Star Trek," in which he plays Capt. James T. Kirk.
"I hope it does as well as people think it will," Pine said, noting that the film combines beloved "Star Trek" characters with "the big effects that you expect from a summer movie."
Summer grosses traditionally account for about 40 percent of the annual box-office total, and if this year is any indication, audiences haven't cut moviegoing from the family budget.
From Grass Valley, Calif., to Rome, Ga. — and beyond — theater owners report strong business despite tough times.
"If you're holding your own in an economic climate like this, then you're doing great," said Jeremy Devine, marketing vice president for Rave Motion Pictures, which operates the 18-screen Town Square multiplex.
And a night at the movies still ranks as a bargain, especially when compared with other leisure destinations, from theme parks to museums to sporting events, said DreamWorks Animation chief Jeffrey Katzenberg.
"People are looking for value and bargains," Katzenberg said during a ShoWest seminar. "In most cities of the world, it costs more to go to a museum than a movie."
Those audiences also are looking for an escape, said Paul Dergarabedian, box office analyst for Hollywood.com.
"Popcorn movies, more than ever, reign supreme," Dergarabedian said. "But escapism takes many forms," he added, citing successful thrillers and horror movies as proven diversions with lighter fare.
Even documentaries can provide an escape, suggested actor and filmmaker Fisher Stevens, one of the producers of the award-winning documentary "The Cove," about activists trying to stop dolphin slaughter, which screened Thursday at ShoWest.
"It's a different kind of escapist: While you're watching, you're transported to another place," Stevens said. "Then, when it's over, it makes you want to do something about it."
Actress Patricia Clarkson, accepting ShoWest's Independent Award for Excellence in Acting, implored multiplex owners to "keep one theater, or one screening time, for independent films that challenge convention and tell stories that would otherwise not be told."
Movie critic Roger Ebert also got a thumbs-up from ShoWest on Thursday, receiving a Career Achievement in Film Journalism Award for his 40-plus years reviewing movies in newspapers and on television.
Ebert, whose three-year battle with cancer has rendered him unable to speak, except via a computer-generated voice, beamed and flashed his trademark gesture to the crowd as his wife, Chaz, read an acceptance speech that concluded with some sage advice: "In times like these, we all need to see a good movie."
Contact movie critic Carol Cling at ccling@reviewjournal.com or 702-383-0272.
AWARD WINNERS
Male Star of the Year: Dennis Quaid
Female Star of the Year: Rachel McAdams
Lifetime Achievement Award: Michael Caine
Supporting Actress of the Year: Sienna Miller
Comedy Star of the Year: Bradley Cooper
Male Star of Tomorrow: Chris Pine
Female Stars of Tomorrow: "Sorority Row" cast members Briana Evigan, Leah Pipes, Rumer Willis, Jamie Chung, Audrina Patridge and Margo Harshman
Breakthrough Performer of the Year: Zac Efron
Director of the Year: Zack Snyder
Vanguard Award for Excellence in Filmmaking: Michael Bay
Career Achievement in Journalism Award: Roger Ebert
Independent Award for Excellence in Acting: Patricia Clarkson
Triumph Award for Outstanding Direction: Kathryn Bigelow