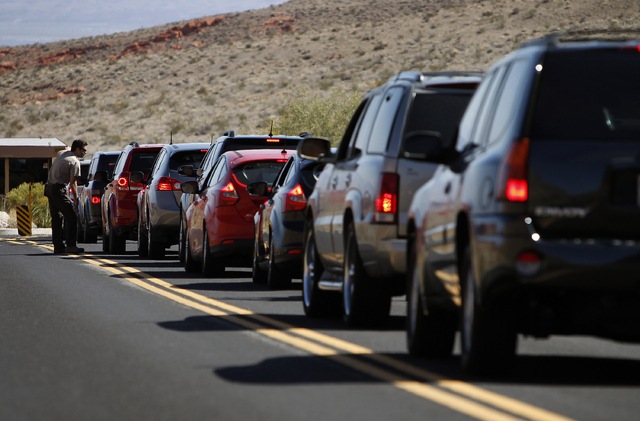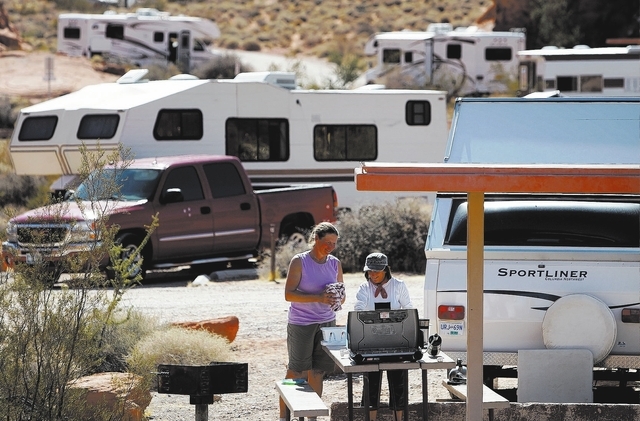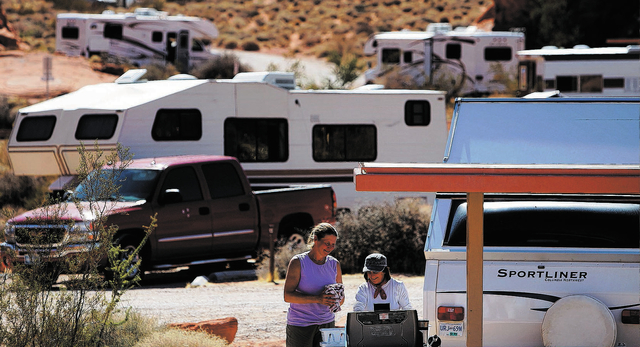 Ralf Jonas and his wife came all the way from Germany to see the Grand Canyon, but the government shutdown forced them to make a detour last week.
Instead of making a beeline for Grand Canyon National Park out of San Francisco, they decided to take their time driving along the coast to Los Angeles and lollygag along the way.
Last word they were holed up at a KOA campground at Circus Circus, contemplating their next move in a vacation that was meant for camping in the great outdoors but has since turned into a waiting game in the claustrophobic shadows of the Stratosphere Tower.
"We're not sure what we're going to do next," said Jonas, 30, as he hooked up his rental RV on a piece of asphalt, one of dozens of European tourists to descend on the campground after national parks across the country were shuttered and their vacations were upended by Congress. "We're just hoping the politicians work things out and we can get out there soon and see it. That's why we came here. This isn't a bad place to be, but it's not what we imagined.
"This is definitely making America look bad."
It's not an unfamiliar catchphrase these days: America looking bad. America closing down its prized jewels, its national parks.
And while the nation's reputation might be at stake, from local military heroes to stranded European tourists, this much is certain: the shutdown created a boon not only for local RV parks that are filling the void in Las Vegas but also for several state parks in Southern Nevada.
European tourists, who normally account for 17 percent of Southern Nevada's annual tourist base, are showing up in droves, looking for a different place to visit and spend the night.
Their numbers have never been higher. For example, the Valley of Fire, Spring Mountain Ranch and Cathedral Gorge state parks have been operating at full capacity, their daily visitations and overnight stays tripling compared with last year this time — a case study, perhaps, that national parks aren't the be all and end all to have fun.
"This is great. We're seeing a new potential client base that we can tap into. A lot of them are Europeans and Asians," said Eric Johnson, Nevada State Parks deputy director, about the subsequent spillover from shuttered places like the Grand Canyon, Bryce Canyon and Lake Mead, to name just a few.
"Their vacations may have been disrupted," Johnson said, "but we're glad we could accommodate them in some way."
As many as half of Nevada's 23 state parks have seen a noticeable increase in European visitors since the shutdown, Johnson said. But nowhere is their presence more pronounced than at the Valley of Fire, Cathedral Gorge and Spring Mountain Ranch.
Gift shop sales at the Valley of Fire in the past week soared to $28,000 compared with $10,000 last year within the same time period.
The onslaught has caught Johnson off guard, in a bittersweet sort of way: While the $68,000 brought in from Oct. 1 to Oct. 10 is welcome indeed — a 46 percent increase over last year during the same time — he insists that if the shutdown persists and the tourists keep coming, he might have to borrow money from a few of the less strained park budgets to keep up with the demand.
"There are bathrooms to clean, campsites to maintain, and now fuel to burn with the travel and reinforcements that we're sending," said Johnson who, late in the week was in the midst of writing an email to his boss, Leo Drozdoff, director of the Nevada Department of Conservation and Natural Resources, warning him of the slight possibility of a budget problem.
Already, four park rangers from Lahontan State Park near Fallon in Northern Nevada have been dispatched to the Valley of Fire, which is averaging nearly 50 buses a day as tourism companies have been steering their disappointed customers to the state parks.
Johnson said he suspects the European tourists, some of whom have booked their vacations years in advance, will find just as much beauty in the state parks as they would on federal land, whether it's breathtaking views of sandstone rock formations at the Valley of Fire, towering cathedral-shaped spires at Cathedral Gorge, or the simplicity of the old cabins built in the 1860s at Spring Mountain Ranch, a frequent location of Civil War re-enactments.
"It's that old West experience that foreign visitors find so fascinating, that's what we offer," Johnson said. "And not to knock Grand Canyon or Bryce Canyon (in southern Utah) or anything, but we're not as congested as they are. When they're open, they're always going to be packed. That's pretty much a sure thing: You end up having to share the view with thousands of other visitors."
And so lately at least half of Nevada's 23 state parks are hosting a motley crew of visitors: Parisians, Germans, Italians and Londoners, pitching their tents, pulling in their RVs, and competing for the best spots with deer hunters and snowbirds.
At Spring Mountain Ranch, which is averaging hundreds of European visitors a day, Cheryl Fretwell, an administrative assistant, has been running thin on brochures she's been handing out to them.
"Many of them are lost or dis­appointed, or they don't know what to do with themselves now that the bigger parks are closed. So I give them their options, making sure they know that Nevada state parks are open," Fretwell said.
Not all who are wandering are lost, however.
Some, now in their second week of the shutdown, are heading to the Hualapai Reservation in Arizona, which operates the Skywalk, a glass horseshoe-shaped tourist attraction overlooking the West Rim of the Grand Canyon. The attraction suddenly has become a big hit, said Ed Fioravante, vice president of sales for Gray Line Tours in Las Vegas. Germans, Chinese, Australians and Britons have all been calling incessantly in search of alternatives, and Fioravante's got them.
"We're sending about 500 people a day out there to the Skywalk," he said, pointing out that while the Lake Mead National Recreation Area and Grand Canyon's South Rim might be closed, Hoover Dam and the Skywalk are still open for business, both of which have seen an uptick in visits, as much as 15 percent combined after the shutdown.
"The irony in all this is that the South Rim is a national park and as such is part of the federal government, and here we are sending people to the Indian reservation, and I'm sure the reservation is glad to have the business.
Meanwhile back at the KOA at Circus Circus, Jonas at last report was down at the slot machines. He said he had never imagined himself gambling in a million years. "I think in order to win, you've got to play," he theorized, in the throes of some post-gambling depression. "Hopefully, the Grand Canyon will open next week."
Late Friday, he got his wish. Authorities announced that the state of Arizona had reached agreement with the Obama administration to pay for the reopening of the South Rim of the Grand Canyon. The park reopened Saturday.
Although Utah opened all five of its national parks on Saturday too, Gov. Brian Sandoval said Nevada doesn't yet have enough money to open its only national park, Great Basin, nor the popular Red Rock Canyon National Conservation Area or the Lake Mead National Recreational Area, one of the busiest federal parks in the nation.
Contact reporter Tom Ragan at tragan@reviewjournal.com or 702-224-5512.