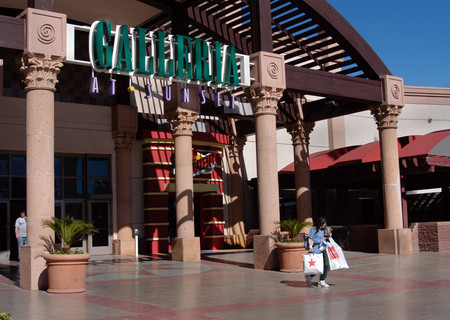 The safety investigation into the practices of Siemens Building Technologies, a company with a multimillion-dollar contract to install fire systems at CityCenter on the Strip, is widening.
The Galleria at Sunset, a Henderson shopping mall, has been added to the list of local sites under scrutiny by the state fire marshal's office for questionable maintenance of vital fire systems.
James Wright, fire marshal, said this week the Clark County district attorney "has reviewed the case and assigned a staff attorney … for possible felony prosecution."
Wright said his investigators are working with lawyers for Siemens to set up more interviews with its local employees to assess the quality of past work at the Galleria, which is no longer a Siemens client.
At issue is whether Siemens jeopardized the safety of mall shoppers, sleeping hotel guests and infirm people with limited mobility by taking maintenance shortcuts that compromised electronic systems intended to detect fire, and alert building occupants to evacuate.
"The safety of our shoppers is our number one priority," Heather Valera, the mall's director of marketing, said Friday when asked about the investigation. "Siemens has not provided services or been on the property for several years."
"We will not be offering any comment on the matter at this time," Siemens spokesman Steven Kuehn told the newspaper by e-mail Friday. Kuehn is located at Siemens' Illinois headquarters. The U.S. subsidiary is part of a global Siemens operation, which deals in various advanced technology used in safety, security, climate and traffic control, manufacturing and health care.
In June, the fire marshal's office recommended four charges for Siemens' work that violated safety codes, one charge for each location the state fire investigators had already researched: Charleston Retirement and Assisted Living, Bill's Gamblin' Hall & Saloon on the Strip and at the Edgewater and Colorado Belle hotel-casinos in Laughlin.
This week the fire marshal revealed Michael Staudaher in the district attorney's office is working with Wright's staff to "identify specific individuals within Siemens that may be directly responsible for allowing the fire alarm system to be impaired at each property."
In mid-June, Wright had told the Las Vegas Review-Journal his office recommended charging Siemens Building Technologies itself, rather than individuals. But Chief Deputy District Attorney Scott Mitchell said on June 19, in connection with the Siemens probe, his office generally files charges against individuals, rather than corporations. No one from the district attorney's office responded Friday to requests for comment.
Joe Estany, a former Siemens employee in Las Vegas, brought suspicions of improper maintenance to the Review-Journal in the summer of 2008, after Siemens had let him go in 2006, then sued him in 2007 for breach of contract, alleging Estany had bad-mouthed Siemens to competitors. In fact, Estany had taken his suspicions to the Clark County Fire Department.
Estany believes Siemens sued to stop him from spreading his theory that the company saved itself labor on full-service maintenance contracts by electronically masking, rather then correcting, malfunctions in the complex fire systems. "They tricked the system," he told the newspaper.
After the Review-Journal in January exposed safety questions about Siemens, attorney Kathleen England took Estany as a client. She has declined to comment, and told Estany not to talk to reporters. A trial on the civil matter has been postponed until April 2010.
The law firm Lewis Brisbois Bisgaard & Smith has been representing Siemens in the civil case. In June, its three attorneys who had been handling Siemens — Michael Edwards, Jorge Ramirez and Reuben Cawley — all moved to the Las Vegas office of Wilson Elser Moskowitz Edelman & Dicker.
Contact reporter Joan Whitely at jwhitely@reviewjournal.com or 702-383-0268.