Similar starts for Reid, Angle lead to opposite ends
October 16, 2010 - 11:00 pm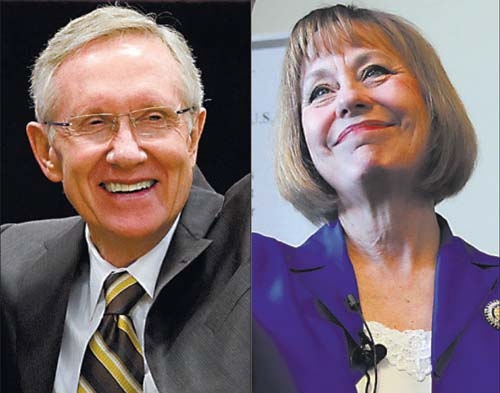 TWO CANDIDATES
They both came from hard-working families who struggled to make ends meet: Harry Reid the son of a hard-rock miner in Searchlight, and Sharron Angle the daughter of a Reno motel owner. They both worked as children to help their parents. And they both had political icons who guided their divergent philosophies. His was President Franklin D. Roosevelt, hers President Ronald Reagan.
Reid's the insider, always fighting for more power.
Angle's the outsider, always fighting the powers that be.
Reid's the Senate majority leader, battling to save his political career.
Angle's the Tea Party-backed upstart, aiming to take him down.
In side-by-side profiles, we look at who they are.
STORIES By LAURA MYERS
LAS VEGAS REVIEW-JOURNAL
• In Profile: Career politician Harry Reid started small, climbed high
• In Profile: Political outsider Sharron Angle often bucks the powers that be
• In Profile: Career politician Harry Reid started small, climbed high
• In Profile: Political outsider Sharron Angle often bucks the powers that be