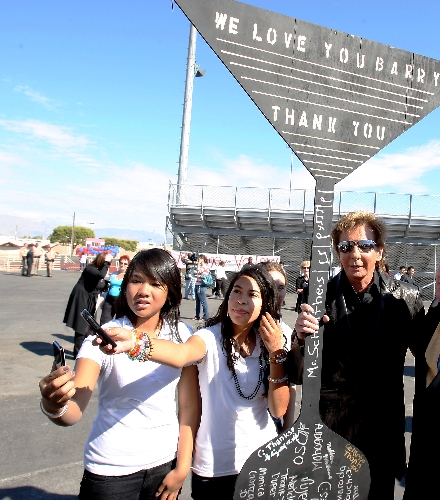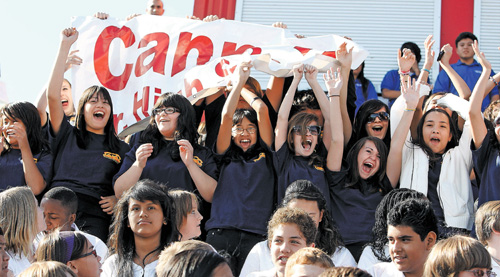 Barry Manilow searched for a bridge across the generation gap as he faced hundreds of Clark County students Thursday at the Valley High School football field.
The students knew the nicely tanned man clad in a black leather jacket with his hair perfectly in place was there to give five truckloads of instruments, worth more than $500,000, to the school district.
But who was this generous man?
"I used to be the Justin Bieber of the '70s," Manilow said, chuckling.
The kids screamed loudly. He'd struck a chord.
"I don't think they know who I am," Manilow joked with reporters.
Bieber can only hope for Manilow's success. The Grammy-winning singer-songwriter had a string of Top 40 hits including "Mandy," "Copacabana" and "I Write the Songs" and has sold more than 80 million records worldwide. He's become a top Vegas draw.
Manilow dubbed Thursday's event "Extreme Makeover: Band Edition."
"You know, what I discovered is that the instruments in these schools are in such bad shape, if they have them at all," he said. "The teachers themselves fix them up or they get part-time jobs so they can make money to fix the instruments so they can teach the kids to play."
He then motioned for five delivery trucks from the national Manilow Music Project, formed in 2008 as part of his nonprofit Manilow Health and Hope Fund, to drive to schools and deliver their loads. Some of the instruments were collected at the Paris Theatre box office, where fans brought new and gently used musical instruments to receive a voucher for a Manilow concert.
At least 600 students at 15 middle and high schools throughout the district will be able to play music with new instruments.
It's a relief for Valley High School principal Ron Montoya, who said his school is the second poorest in the district.
"We've been in existence since 1965, and we have some instruments from then," Montoya said. "We are upgrading significantly. We need as much help as possible. With a lack of bond funds and funding for schools, you never know when we can fix up the instruments, if we can at all."
Valley High will receive about 100 instruments.
Manilow has "taken the opportunity to make a difference in Las Vegas and to make sure our schoolchildren will have instruments they can play to bring joy to whomever listens," said Mayor Oscar Goodman.
School Board President Terri Janison vowed to protect music programs in the district despite tough economic times and budget cuts. "We will not cut music in our programs," she said.
Manilow talked to the kids about growing up in a rough section of Brooklyn, N.Y. There were sports teams. There were gangs. And then there was the school orchestra.
"It saved my life. It pointed me in the direction that I am right now," Manilow said. "Then I'm seeing budgetary problems, and they're cutting music in all those public schools all across the country. It just about killed me. I couldn't let that happen.
"It makes me happy we can do something like this. Maybe we can make a difference."
Contact Kristi Jourdan at kjourdan@reviewjournal.com or 702-383-0279.