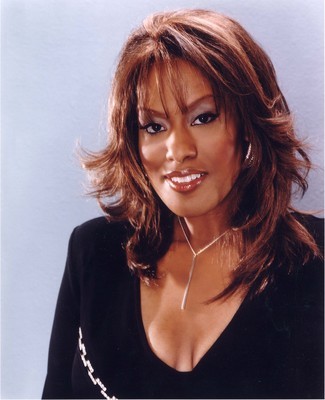 Jennifer Holiday tried to kill herself on her 30th birthday.
"I had thought about it quite a while, and I had hoarded the pills," she says. "I was at a friend's place."
Holiday suffered clinical depression, a chemical imbalance in the brain. On top of that, she was an unhealthy overeater, which led to her being rejected by the music business — first for being too heavy, then for not being heavy anymore.
"I figured, at this particular point, my record career was over in '87. I had to file for bankruptcy. I lost everything."
After that suicide attempt by sleeping pills in 1990, Holiday largely left the scene, singing for presidents and special events and not much else. Only now at 47 is Holiday finally recording a new album of love songs on the order of "The Look of Love."
And tonight through Aug. 30, she sings as the opening act for comedian George Wallace at the Flamingo.
Not to sound flip, but she says life is great.
"It is," she says. "I wish I had learned it easier, but we all have our own journey. At least I got through it. I'm tellin' you."
Holiday went from a church choir to Broadway fame at 19, eventually portraying Effie in "Dreamgirls" while singing, "And I Am Telling You I'm Not Going." Food was already a problem.
"When I was on Broadway, I could eat a bucket of Popeye's chicken and a liter of Coca-Cola and still sing and not miss beats."
As the 1980s moved forward, she tried to crack the brutal music industry. That led only to more sadness.
"This is when they told me, 'Look, videos is the thing, MTV is the thing. You got a great voice. You're unattractive. If we made a video of you, we'd either have to put you in a shadow, or stretch you … that sort of thing.
Holiday had been depressed for years but went undiagnosed.
"No one diagnosed me with any depression. I was a diva, so you're supposed to be difficult and moody and cranky and everything like that. So they said, 'She's not depressed. She's just a diva.'"
At first, Holiday wasn't thrilled to have failed at suicide.
"You stay depressed, and you become angry, because you go, 'OK, so you saved me. Why? And what am I supposed to do now? I'm unhappy. My life is a mess.' The list goes on."
She got herself on a steady course by combining continuing therapy with low-dose antidepressants, exercise and natural approaches. A big step was learning not to base validation on her career, because when that one thing fell, it took her down with it.
"I had to see if life was worth living, what other kinds of things could be. Simple flowers. These things became wonderful revealing moments in my life. So I think that sometimes, we just get caught up in the process of the 24-7, and we don't have time to think life is important — not because of a position or a status, but because of our purpose in life. We are here.
"My everyday joy is waking up," she says. "I've never had that kind of peace before. … My legacy may have already been what it's gonna be. But my life has not."
After the suicide attempt, getting back into music was a no-go. She lost weight by undergoing gastric bypass surgery. Music execs thought it changed her too much.
"It was a double rejection. There were a lot of lost years in the middle of the 1990s, because nobody wanted me big and nobody wanted me thin."
So she is just now returning to cutting an album in Atlanta. Holiday may be famous for belting showstoppers on Broadway, but she's angling to vocalize love songs "passionately softly," too.
"I can sing without riffing, or growling, or belting," she says. "Maybe one day, I'll be known as an interpreter of many songs, and not just one big signature song. Not that I'm complaining about it."
She thinks she's ready for the pressure of the business, again.
"If it is too much, I can reach out for help," she says. "Not from a pity standpoint, but I have chosen life. And I have found a way to survive."
Doug Elfman's column appears on Mondays, Tuesdays and Fridays. Contact him at 702-383-0391 and at delfman@reviewjournal.com. He also blogs at reviewjournal.com/elfman.