Sisters grieve over loved ones' deaths
November 10, 2010 - 12:00 am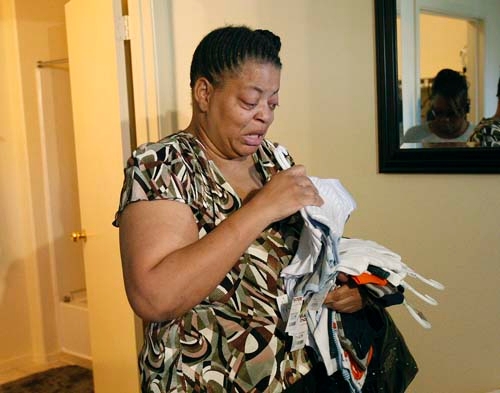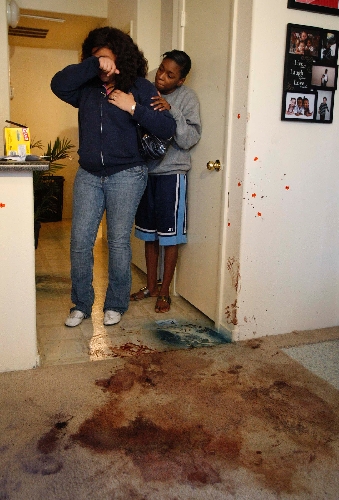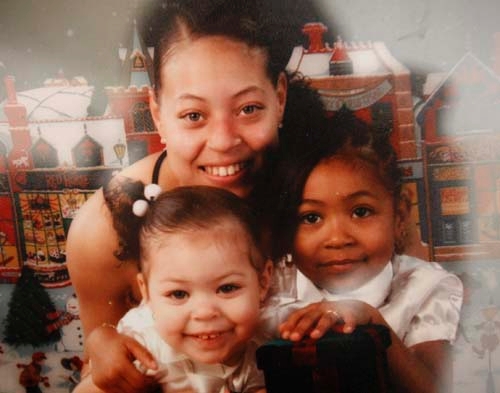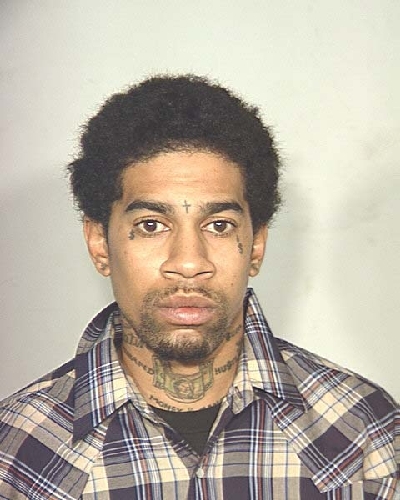 Three sisters huddled together outside a door sealed with red crime scene tape, their hands linked and heads bowed in prayer.
Their family bond was formed when they were kids but recently fortified by an unimaginable twist of fate: With Sagittarius Gomez's death last weekend, each sister has lost her eldest child to homicides in Las Vegas.
Gomez's mother, Carolyn Clark, wailed in grief Tuesday at her daughter's east valley apartment, where police say estranged boyfriend Eric Covington stabbed Gomez to death with a butcher knife Friday night.
Covington, 27, was arrested Sunday after police found him hiding at his parent's home. Gomez, 24, was seven months pregnant with his baby.
"I hope she's in a better place, I really do," Clark said between sobs into a family member's arms. "I just know what she must have been going through when he was beating her."
Many of Clark's extended family accompanied her to the apartment near East Sahara Avenue and South Hollywood Boulevard, where Las Vegas police detectives arrived about 10 a.m. to release the apartment — no longer an active crime scene — to the family.
Pamela Tillman, the eldest of the sisters, said there was "no way" they'd allow Clark to face this challenge alone.
"I've been where she's at, and I still haven't gotten over it," said Tillman, whose son, Martinique Tillman, was stabbed to death in 2001.
Sister Catherine Clark's son, DeMario Reynolds Sr., was beaten to death in June. She said family only becomes stronger in times of anguish.
"We try to stick together, lean on each other," she said. "It's what gets us through the tough days."
Tillman was at first hesitant to allow her sister to see Gomez's apartment, with thick bloodstains covering the carpet and walls.
But the real horror was knowing that Gomez's death was preventable, Tillman said.
"That girl did not have to die," she said. "It's such a shame. And I don't think she should go in there yet."
MOTHER TRIED TO PERSUADE HER TO LEAVE
Carolyn Clark said she tried to convince her daughter from the very beginning that Covington was bad news.
"I could talk to her until I was blue in my face, but she didn't want to hear it from me," she said.
The first time she met Covington, he smoked marijuana in front of Clark and Gomez's two children from a prior relationship, Nuhyrah, 5, and Kumora, 3.
"Eric was high, and I immediately disliked him," Clark said. "'I told Sagittarius, 'He disrespected your mother and your children.' Any time a man has intentions of really being with you, he's going to put on his best behavior for your mom and your kids."
Covington also had three children from a previous relationship, but never severed ties with the woman and constantly lied about her, Clark said.
When Gomez and Covington began dating in 2008, Covington told Gomez he was staying at his grandmother's house, Clark said.
"He was really staying with his baby momma," she said. "He was always more committed to her. He'd been with her 10 years. He wasn't just going to end it."
But Gomez was always "head over heels" in love with Covington. Even after breaking off the relationship in March, she couldn't stop letting him control her, Clark said.
In April, two weeks after the break-up, Covington was charged with attempted murder and domestic battery after he broke into Gomez's apartment and beat her, saying, "If I can't have you, no one can," according to a police report.
The case was dismissed when Gomez refused to testify, officials said. Clark said Gomez not only refused to testify, she took him back a week later and helped raise money for his legal fees.
"She just couldn't let him go," Clark said. "He kept lying to her, telling her that he loved her. She believed him."
On Oct. 16, Covington stole $700 from Gomez and attacked her, but again she refused to press charges, police said.
In a report on that incident, a police officer wrote, "Gomez is afraid of Eric's response when he finds out she no longer wants to be with him. She believes Covington will attempt to hurt her if she does not take him back."
SUSPECT CHARGED WITH MANSLAUGHTER
Gomez's death came less than five months after another family tragedy grabbed headlines.
Catherine Clark's son, DeMario Reynolds Sr., 26, died in a Luxor hotel room in June after he tried to stop a fight between his best friend, Jason Sindelar, and Sindelar's girlfriend.
Police initially charged Sindelar with murder for beating Reynolds, a former University of Nevada, Las Vegas football player, until he was no longer breathing. But a toxicology report also revealed cocaine, ecstasy and alcohol in Reynolds' bloodstream when he died.
The Clark County coroner's office said the death was a homicide, but because of the drugs in Reynolds' system, Sindelar faces charges of involuntary manslaughter instead of murder — something that doesn't help Catherine Clark sleep at night, she said.
"DeMario was murdered, plain and simple," she said. "But in a way, Sag's death is worse for us to deal with. I don't think DeMario suffered the way my niece suffered."
Clark said her son and niece had their whole lives ahead of them. Both had young children who will never really know their parents, and the boy Gomez was carrying never lived.
"I'll never get to know my little nephew," she said.
KILLER SENTENCED TO 20 YEARS IN PRISON
Martinique Tillman was just 21 when he died.
Unlike his cousins, Tillman's death in 2001 attracted little media attention. A police report said Tillman was stabbed to death by Edward Lee Smith, 35, after an argument.
Smith told investigators he acted in self-defense, but witnesses said the two had argued several hours earlier. Tillman was stabbed multiple times; Smith had just a scratch on his shoulder. He was convicted of second-degree murder and sentenced to 20 years in prison.
"I still haven't gotten over that, and it's been years," said Pamela Tillman. "There are moments to this day where I have to pull over and just calm myself."
Tillman said her son was the focal point of her life. When he died, she lost a part of herself she doesn't know that she will ever get back.
"These people that do these heinous acts, they destroy families," she said. "They don't know what they're taking from the people left behind. And you can't say 'I'm sorry' or take it back because death is final.
"They say that God doesn't make mistakes. But that doesn't change the finality of it all."
Tillman said she was not in favor of the death penalty when her son was murdered.
But after her niece's murder, her opinion has changed.
"I want him (Covington) to suffer. I want him dead," she said. "For what he did to a young female, defenseless and pregnant, he deserves to die."
WOMAN HOPES FOR AN END TO VIOLENCE
After several minutes of reflection, Carolyn Clark entered her daughter's apartment, surrounded by family.
The one-bedroom home bore the remains of the horrific acts of last Friday, a thick blood trail from the bedroom to the living room remained, forever etched in the carpet.
Clark took several moments to compose herself, then flipped through Sagittarius' photo album, explaining the context of each picture.
Tillman said the death of each child was a severe shock, more so because none was a bad person. All, she said, are remembered for their sweet, easy-going personalities.
"They were the kind of people that always had a smile on their faces," she said.
Catherine Clark said she hoped the nightmare would soon be over for this family, which has endured more than its share of tragedy.
"I would just hope the next one of us that dies, we go from old age," she said. "No more of this."
Contact reporter Mike Blasky at mblasky@reviewjournal.com or 702-383-0283.
RJtv: Sisters united in tragedy
A mother grieves after her pregnant daughter is slain