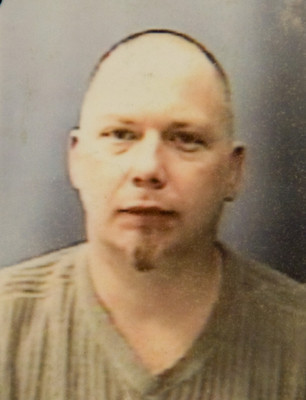 Rocker Paul Stitt relocated to Las Vegas to escape his heavy metal past, a time when he fronted as lead singer for a 1990s Denver-based band that performed with some of the biggest acts of the time.
"He lived such a rock-star lifestyle," said Paul Smith, Stitt's older half brother. "When he came here, he didn't want a cell phone, he didn't want a car. He wanted a scooter, and to be as low to the earth as he possibly can."
On Tuesday at about 9:20 p.m., Stitt's low-key lifestyle ended when he was shot in the head during what Las Vegas police are calling a botched robbery. Stitt, 41, worked at the Liquor Outlet, 789 N. Nellis Blvd., near Harris Avenue. He earned $9 an hour during his eight months of employment.
Smith was left wondering how and why anyone would kill his beloved brother.
"Paul was just a guy who didn't want any trouble," Smith said Wednesday. "He had a code of honor that he lived by, which is to be honest and up front."
Metropolitan Police Department Lt. Lew Roberts said Stitt, a clerk, was found Tuesday evening by police dead behind the liquor store's cash register. Roberts said two men believed to be in their 20s entered the store and tried to rob it. Police said the men escaped with an unknown amount of money after Stitt was shot.
The perpetrators were caught on the store's video cameras committing the crime. Police searched Wednesday for other surveillance video from nearby businesses that might have recorded the suspects fleeing.
"It could have been a robbery gone bad," Roberts said. "Nevertheless, they entered the store to do a robbery and ended up killing a person."
A manager at the liquor store said there weren't any customers present during the slaying. Stitt was working his regular 4 p.m. to midnight shift, the manager said.
Smith said he and his brother grew up in Evansville, Ind. He said his brother moved to Denver in 1984, and shortly after, joined the rock group Angellic Rage. Smith said the band stayed together for 10 years. In its heyday, the band performed with national groups such as Damn Yankees, Blues Traveler and Pantera.
"They were considered, at one time, one of America's best unsigned acts," Smith said. "They were the only local band to ever play Denver's Bronco Stadium."
Smith said the group disbanded when the heavy-metal genre declined in popularity.
Stitt moved in with Smith two or three years ago. Stitt didn't have any children and wasn't married. Smith said his brother would sometimes be threatened at work and told him he felt unsafe at times.
Smith last spoke with his brother about 20 minutes before he was killed, when Stitt called to ask how he was feeling. Smith suffers from Crohn's disease and hasn't been feeling well.
"That's just the kind of guy he was," Smith said of their last conversation.
Smith hopes that police soon arrest the assailants.
"He didn't have a chance," Smith said. "They shot an unarmed man."
At the liquor store, Stitt's Honda scooter was still parked in the back of the store Wednesday. Customers throughout the day poured into the store to sing Stitt's praises.
Regular customer Carlos Sanchez looked at the scooter that represented Stitt's down-to-earth lifestyle, and remembered how friendly Stitt was with him. The two would see each other several times a week when Sanchez came in to play the store's video-poker machines.
"I would be happy to call him my son," Sanchez said.
Anyone with information in the case is asked to call Crime Stoppers at 385-5555.
Contact reporter Antonio Planas at aplanas @reviewjournal.com or 702-383-4638.
Surveillance Video Las Vegas police have released surveillance video hoping someone might recognize the suspects. The suspects are described as black men about 20 years old, wearing dark-colored ball caps with flat brims. One of the men was wearing a hat with a "C" on the front similar to the Chicago Bears football logo. The other man was wearing a hat with a "D" on the front similar to the logo of the Detroit Tigers baseball logo. Both were wearing white shirts and dark pants, according to police.