Slayton prospers in life after Vegas
November 25, 2009 - 10:00 pm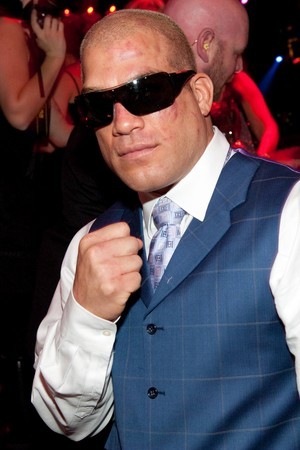 Comedian Bobby Slayton just wrapped two years of stand-up at Hooters and the Tropicana. He's already settled into touring and living in Los Angeles with his wife.
"I just got home today from the Bay Area, and as soon as I got home, I turned on the Jacuzzi. I just cracked open a bottle of wine," he told me on Sunday.
"I turned my garage into a gym. I've got a nice pool overlooking the valley. I've got a big screen TV."
He's living the sweet life in L.A., so why does he still work?
"Because I need to pay for all this (expletive)," he said.
His friend, producer Anthony Cools, is looking in town for a room for Slayton to return. But it could be awhile.
Slayton just filmed a Showtime special. He's committed to tour for six months. He's reading TV and movie parts.
Slayton has perspective on Vegas business, after drawing celebs from Adam Sandler to Robin Williams to shows. Hooters treated him well, putting him in apartments and providing marketing and public relations.
But when the stock market tanked a year ago, business dropped. He jokes:
"It was impossible to get people in there, because you go to Vegas, who the (expletive) wants to go to Hooters and see some comedian when there are all these white tigers and puppets around town?"
He moved to the Trop, which seemed promising at first.
"I thought when I started, I'd be the only entertainment in the Trop. But when I started in May, I was sharing marquee space with the hypnotist, 'The Sopranos Last Supper,' the magician and the legendary lobster special."
Slayton says he hopes for good things for the Trop but is perplexed by it.
"They want to make the hotel hip and happening. What the (expletive) do they do? They put Wayne Newton in there."
Slayton will keep driving to Vegas for a monthly lunch with Mayor Oscar Goodman and comedians George Wallace, Cools, Carrot Top and David Brenner.
Slayton was surprised at how much he loved Vegas for its food and serenity.
"Basically, what I did every day was like an old Jew — I would go to the gym and sit by the pool all day."
A MALE SPOKESMODEL? IN VEGAS?
The New York-New York finally crowned a spokesmodel Monday, after weeks of rivalry between two finalists who competed in hot dog-eating, an Irish jig and other New York "charm" tests on the casino floor. Hotel guests voted for the tall "Vinny Blue" (Tom Cassell) over the bald "Vinny Red" (Jon Paul Raniola). Wait, what? "New York charm?" A male spokesmodel? Is Vegas upside-down?
SUNGLASSES FOR TITO
Before Vegas UFC fighter Forrest Griffin won a decision against Tito Ortiz Saturday at Mandalay Bay, Forrest told me part of his motivation: "The scary thing about Tito is he's a guy who will talk (expletive) if he beats you. I hate that." After losing, Tito and special lady, ex-porn legend Jenna Jameson, showed up after midnight for his paid celebrity appearance at Venetian club Tao. He wore dark sunglasses to shade injuries. They brought friends, who sipped Perrier Jouet champagne.
A STORMY NIGHT AT CLUB LAVO
Porn star Stormy Daniels partied Friday at club Lavo at Palazzo. She's caused a stir in the political world by planning a run against "pro-family" conservative David Vitter, the Louisiana senator who got caught up in the "D.C. Madam" prostitution scandal. Daniels went to the club with boyfriend Glendon Crain, drummer for Hollywood Undead, which was celebrating the singer's birthday. Also in club Lavo Friday: "American Idol" runner-up Blake Lewis; gold-chained Lil Jon, after eating shrimp and drinking Bud at Lavo eatery; and Playboy model and reality show regular Megan Hauserman of "Megan Wants a Millionaire," the disaster that was canceled after contestant Ryan Jenkins was accused of killing Vegas party model Jasmine Fiore.
Doug Elfman's column appears Sundays, Mondays, Tuesdays and Fridays. E-mail him at delfman@reviewjournal.com. He blogs at reviewjournal.com/elfman.