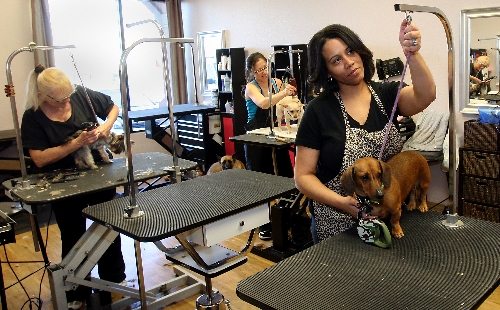 The day after the shouting died down and Congress passed health care insurance legislation, Southern Nevada small businesses were generally in agreement that an overhaul was needed but worried about how much the bill will cost them.
"I'm for whatever we need to do to provide health care to everyone. I'm concerned as a business owner about what it's going to cost me," said Stephanie Thomas, owner of Snooty Pets, a pet grooming service.
"There's no question in my mind that we needed reform, but did we need such comprehensive reform in one bill?" wondered Peter Krueger, state executive of the Nevada Petroleum Marketers and Convenience Store Association. "That scares business, because we don't know what the price tag is."
Small business owners are unable to forecast what the bill will mean for their hiring and purchase practices, because they are unable to estimate their health care insurance costs, Krueger said.
Paul Carroll, president of WesTek Insurance Group, foresees some challenges for businesses.
Under the bill, unemployed and self-employed individuals will be able to buy health insurance through state-based exchanges. Subsidies will be available to low- and moderate-income individuals and families.
"(But) there are going to be a lot of challenges on the employer level on how they deliver health care (insurance)," Carroll said.
While the legislation will create health insurance pools for small employers, Carroll thinks some small business owners may falsely believe that hiring someone with a health problem will boost insurance rates for their company. That may lead some to avoid hiring applicants with health problems, he fears.
The legislation will expand coverage to about 32 million Americans who are uninsured. Many of them are young, healthy people who didn't want the expense of health care insurance, Carroll said.
He said about 10 percent of the 32 million uninsured are people who have been denied health insurance because of pre-existing health conditions.
"I think it is a good thing that people with pre-existing conditions can (now) get insurance," Carroll said.
Other businesses and business groups also have concerns about the bill.
The Henderson Chamber of Commerce "is concerned about a host of potentially harmful implications the current bill includes that could have a devastating impact on our small business community," Dianna Fyke, government affairs director for the chamber, said in an e-mail.
"There's the potential that small businesses may cut employees in order to financially stay afloat as a means to offset the mandate's costs as the current bill is written."
Attempts to reach the Las Vegas Chamber of Commerce for comment were unsuccessful, and the North Las Vegas Chamber of Commerce didn't return calls.
Bill Uffelman, chief executive of the Nevada Bankers Association, said the full impact of the legislation on businesses won't be known for a while.
"In years past, banks have traditionally offered health care insurance, because it's come to be expected in the industry," he said. "During the current economic downturn, some banks have had to cut back on some benefits, like health care and retirement programs."
In the end, Uffelman said, many banks will wait to determine whether it will be more expensive to offer health care insurance to their employees or to pay the law's penalty and let employees buy their own insurance.
Some business owners took a more positive view of the bill.
"I think it's a tremendous start that will evolve into something increasingly important to the nation, much like Medicare," said Steve Stern of Stern and Company public relations.
Carroll predicted that the new health care program will be neither as good as Democrats promise nor as bad as Republicans warn.
"People do want to see change," he said, "because the cost of health care has gone up so much over the last few years."
Contact reporter John G. Edwards at jedwards@ reviewjournal.com or 702-383-0420.