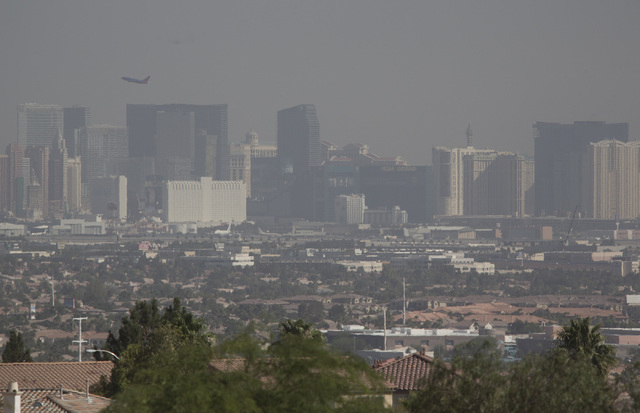 The Clark County Department of Air Quality and Environmental Management has issued an air advisory Wednesday for smoke and ground-level ozone gas.
Wildfires burning along the Mexico-California border and a mulch pit fire in the northeastern part of the Las Vegas Valley that happened last week have meteorologists concerned. Weather conditions in Las Vegas and existing pollutants added to the department's advisory call.
Las Vegas has not reached unhealthy levels of pollution, but a meteorologist notes that the smoke's presence could lead to unhealthy levels. The department advises everyone to limit strenuous outdoor activity, especially those with respiratory issues.
Ozone exposure can induce coughing, wheezing and shortness in breath.
Ground-level ozone gas builds up during afternoon hours from a combination of strong sunlight, hot temperatures, automobile pollutants and wildfires, according to a county press release. The ozone gas is found in the upper atmosphere where it protects the earth from the sun's harmful ultraviolet rays.
Spokeswoman Stacey Welling said that ozone is the key ingredient in urban smog for ground-level ozone gas during Clark County's hottest months.
Department officials recommends filling up gas tanks after sunrise, avoid making gas spills, keeping up with vehicle maintenance, not letting car's engine idle unnecessarily, plan errands in one trip, consider low-maintenance landscaping that uses less water and no gas-powered lawn tools and to always turn off unused electronics to reduce ground-level ozone.
The ozone will continue to have a moderate presence in the air throughout the week after Wednesday. Smoke, dust and soot levels are also expected to maintain healthy levels for the rest of the week. For more information, visit the department's forecast site at http://redrock.clarkcountynv.gov/forecast/.
Contact reporter Cassandra Taloma at ctaloma@reviewjournal.com or 702-383-0381.