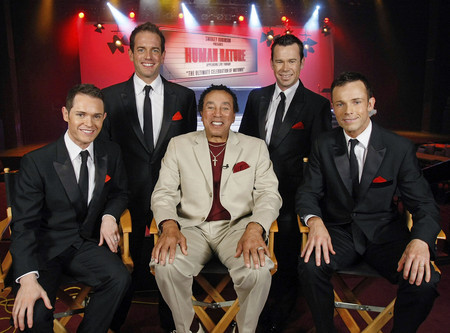 Since Smokey Robinson divides his life between Los Angeles and Las Vegas, I asked the Motown hero how Vegas could be changed for the better.
"I think Vegas should revert back to what it used to be," Robinson, 69, tells me.
"Almost every hotel had a named act" in the old days.
"Now, it's a bunch of circus shows and 'Follies' and things like that. Not to say I'm against those shows. Those people have to work, too, and all those shows are great.
"But I think Vegas would thrive more if it went back to having named acts at almost every hotel, all the time, every night, so people could have that choice."
Who should these new headliners be?
"You could pick anybody, man — anybody that the public is aware of could fill those shoes. I mean, some of the younger acts would probably have to groom themselves to play here in Vegas because Vegas is more of an adult audience and more of a transient audience. … But they could do it."
SAMMY AND DINO
Robinson knows how to headline hotels. He first played here decades ago, doing a double-bill with Dean "Dino" Martin.
At first, he didn't want to play Vegas because at the time, acts performed two shows a night, all week, for at least a month at a time.
"That's a whole lotta work!" Robinson says.
But Dino decided to sing only one show a night (dinner-at-8) and persuaded Robinson to play the 11 p.m. slot.
Robinson became friends with Sammy Davis Jr. and realized Sammy had been through a lot. Robinson arrived here after hard segregation ended. Sammy had been here during the tough-for-nonwhites days.
Robinson recalls: "I thought that when I came up in the chitlin circuit — on the black tours and stuff like that — that it was rough."
But the chitlin circuit was a "picnic compared to what happened with Sammy."
"He couldn't even live on the side of the town where the Strip was. He and his uncle and his father had to live on the other side of town."
As local history buffs know, and as Robinson remembers, Sammy had to enter hotels through back doors, sing and split — until Frank Sinatra and Marlene Dietrich told hotels they would stop singing unless casinos treated African-American people fairly.
"Thank God for Frank Sinatra and Marlene Dietrich, because they changed that," Robinson says.
OBAMA
All these years later, of course, we have President Barack Obama. Robinson sang at one of Obama's inaugural festivities. How does he think the president is doing?
"I love Obama. And I'm pissed off that people are criticizing him and telling me, 'Well, he hasn't done anything yet.' He hasn't even been in it for a year!
"He's trying to clean up some (expletive) that's been going on for 10 years. He's trying to clean up a total mess."
WITH HUMAN NATURE
Even during his riled-up Obama statement, Robinson appears happy, friendly and healthy. He looks and sounds as if he could live 60 more years.
He has a new album out today, "Don't Know Why," with performances by friends Carlos Santana, India.Arie and Joss Stone. The first single is the only cover, Norah Jones' "Don't Know Why."
Robinson also is promoting the Imperial Palace's Motown vocal quartet from Australia, Human Nature. He might or might not perform with the group tonight, or the next night, and so on.
"It's always a surprise," Robinson says. "I come, they say, 'Come up and sing a song,' so I do. That's it.
"There are not too many groups who I've heard who can out-sing them or out-dance them. They come ready-made. So it's easy to work with them," he says.
Robinson never demands to sing a certain song. They pick tunes for him to sing, he says.
"They sing all Motown music anyway, so I'm pretty much up on it."
"Pretty much up on it?" That's a funny way of saying Robinson built Motown with Berry Gordy.
E-mail Doug Elfman at delfman@ reviewjournal.com. Read his blog at reviewjournal.com/elfman.
Video