Smokin' Joe battles new foe: liver cancer
November 6, 2011 - 2:03 am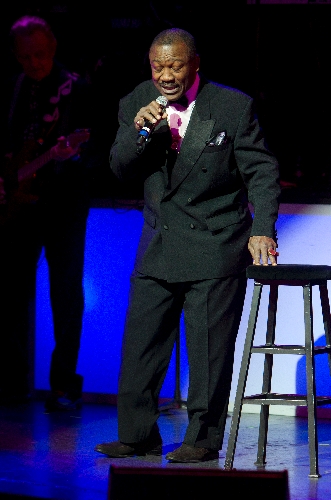 On his last trip to Las Vegas six week ago, a frail Joe Frazier said a long bout with diabetes was "kicking his butt."
If the boxing legend knew he was battling liver cancer, he didn't let on, said Gene Kilroy, who had dinner with Frazier before the Sept. 17 Floyd Mayweather Jr.-Victor Ortiz fight at the MGM Grand.
Kilroy was on the telephone Saturday with Frazier's companion of 40 years, Denise Menz, who confirmed the news Saturday that the former heavyweight champ was fighting for his life in his hometown of Philadelphia.
Kilroy, a longtime close associate of Muhammad Ali, said Frazier talked about his diabetes struggle but was emphatic that he wanted to move to Las Vegas to get more involved in the booming sports collectible business here.
He was in Las Vegas at the invitation of MGM Grand President and Chief Operating Officer Scott Sibella, who arranged an autograph session in the hotel lobby featuring former heavyweight legends Frazier, Ken Norton, Leon Spinks and Earnie Shavers.
Frazier, Norton and Spinks handed Ali three of the five losses of his career. Frazier was 27-0 when he dethroned Ali, then 31-0, in "The Fight of the Century" in 1971 in Madison Square Garden.
Frazier never fought in Las Vegas but you wouldn't have known it judging by the standing ovation he got when he ate at N9NE Steakhouse a year ago while at the hotel for a VIP party on the 35th anniversary of the "Thrilla in Manila" fight with Ali, their third battle. Ali won the rubber match.
Frazier appeared to be the picture of health in June when he appeared as a celebrity guest star at the "This is Harmik as Tom Jones" show at Shimmer Cabaret in the Las Vegas Hilton.
R.I.P. AUDREY HOLMES
Family and friends gathered Saturday to celebrate the life of Audrey Holmes, mother of entertainer Clint Holmes, at a memorial Saturday at Good Samaritan Lutheran Church, 8425 W. Windmill Lane.
The former classically trained British opera singer died Oct. 12 at age 95. She had met American G.I. Eddie Holmes, a jazz singer, in England during World War II.
Among the highlights of the service was a video taken at a 1991 rehearsal for her singing son's Emmy-winning talk/variety TV show "New York at Night" years before he headlined in Las Vegas.
The church rocked with laughter as the candid footage showed the family interacting during the rehearsal of a Christmas medley.
Bill Fayne sang "Nessun Dorma," an aria from the final act of Giacomo Puccini's opera "Turandot."
Attendees included Myron and Dana Martin, Lorraine Hunt and Dennis Bono, Lance Burton, Dominick Allen, Leigh Zimmerman, Pat and Ann Caddick, the Scinta family, Tina Walsh, Jerry Metellus, Earl and Christine Turner, and Chris Phillips.
THE SCENE AND HEARD
Mariah Yeater, the 20-year-old San Diego woman who alleges Justin Bieber is the father of her 3-month-old son , made an impression on her eighth-grade classmates at Garside Junior High in Las Vegas. She was voted "Most Dramatic" in the school's year-end newspaper, according to TMZ.com. Court records show she faces a bench trial Dec. 12 on a misdemeanor battery charge that could get her six months in jail and a $1,000 fine. The police report said Yeater slapped her 18-year-old ex-boyfriend on Dec. 21 after a squabble over a window broken on the car of his new girlfriend.
SIGHTINGS
Talk-show icon Larry King, at Tim Allen's comedy show (The Venetian) on Friday.
THE PUNCH LINE
"When Regis leaves his show, they're going to try out replacements. It's the same thing Kim Kardashian will be doing now." — David Letterman
Norm Clarke can be reached at 702-383-0244 or norm@reviewjournal.com. Find additional sightings and more online at www.normclarke.com. Follow Norm on Twitter @Norm_Clarke.