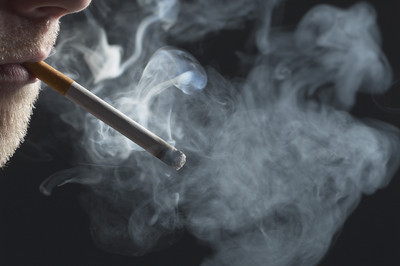 CARSON CITY — Over the objections of a senator who beat cancer, the Senate voted 14-5 Friday to advance a bill that would allow adults to smoke in bars that serve food.
The vote for Senate Bill 372, which is expected to be well received in the Assembly as well, was made over the pleas of Sen. John Lee, D-North Las Vegas, who said second-hand smoke could cause cancer in unsuspecting patrons.
Lee spoke of being in "God's waiting room" during his bout with nasal cancer and how faith helped him through the ordeal. At times he said he wanted to die because radiation treatments hurt more than the cancer.
While he did not smoke, Lee said second-hand smoke causes cancer and legislators should not overturn the will of the people.
In November 2006, voters imposed a state law that prohibits smoking in restaurants, bars that serve food, slot machine areas of grocery stores, arcades and about every public place except the gaming areas of casinos.
Under the state constitution, the voter-approved no-smoking law cannot be changed for three years.
SB372 contains a clause that its provisions allowing smoking in bars that serve food would not begin until Dec. 9, three years after the smoking ban went into effect.
Still, Lee said senators owe it to their constituents not to amend the no-smoking law.
If tavern owners want to allow smoking, he said, then they should circulate a petition, like the American Cancer Society and other health organization did in 2006, and let voters decide whether to change the law.
No public testimony was taken on the bill Friday because it was heard by the full Senate, but during an April 3 hearing, a line of bar and taverns owners said the smoking ban was responsible for the closing of 47 bars in Clark County and the loss of hundreds of jobs. They said profits are off 15 percent to 50 percent and their customer base has dropped by about 25 percent.
A Las Vegas Convention and Visitors Authority executive testified that the ban cost his organization $41 million in business because a cigar and a smokers' convention moved to New Orleans where patrons could smoke on the convention floor.
However, anti-smoking advocates said at the time that tavern and bar owners were ignoring the fact that the economy has gone into recession and many businesses have failed for reasons other than a smoking ban.
Sen. Mark Amodei, R-Carson City, said Friday that legislators should read the bill before concluding that it defies the will of the voters.
He said the intent of the Nevada Clean Indoor Air Act, the law passed by voters, was to keep second-hand smoke away from children and adults who disapprove of smoking.
SB372, Amodei pointed out, would lead to fines of as large as $2,000 against bars that allow minors into areas where smoking is permitted. Adults could choose whether to enter smoking areas.
"Nothing is forced on people against their will," Amodei said. "It does not expose anybody to second-hand smoke and children to smoke in any form at all."
Michael Hackett, the American Cancer Society and Nevada State Medical Society lobbyist who led the 2006 campaign for the smoking ban, said he and health care advocates will try to kill SB372 in the Assembly.
That might take some doing since the bill likely will be referred to the Assembly Judiciary Committee, whose chairman, Bernie Anderson, D-Sparks, opposed past moves by health organizations to restrict smoking.
Because of their inability to get bills out of that committee, the American Cancer Society and other health groups collected signatures on petition that led to the anti-smoking questions being placed before voters in 2006.
Under SB372, Hackett said the state health officer would designate health districts in the counties to enforce the provisions against minors being permitted in bars where smoking is allowed.
Health district officials already are burdened with other duties and Hackett questioned whether they really have the time or staff to enforce the prohibition on minors.
He noted that other than in Clark County, police now can cite people who smoke in areas where smoking is not permitted. Smokers can be assessed a $100 fine.
The Nevada Tavern Owners' Association has challenged the constitutionality of the smoking ban. Oral arguments were made in its lawsuit April 6, but the state Supreme Court has not yet handed down a decision.
In the end, seven of the nine Senate Republicans and seven of the 12 Democrats supported SB372 Friday. Republicans Barbara Cegavske of Las Vegas and Bill Raggio of Reno abstained because of potential conflicts of interest.
Votes against the proposal were made by Democrats Shirley Breeden, Valerie Wiener, Joyce Woodhouse and Lee, all from Clark County, and Sen. Bernice Mathews of Reno.
Contact Capital Bureau Chief Ed Vogel at evogel@reviewjournal.com or 775-687-3901.