Snow and rain storms hit Nevada
November 23, 2013 - 7:35 am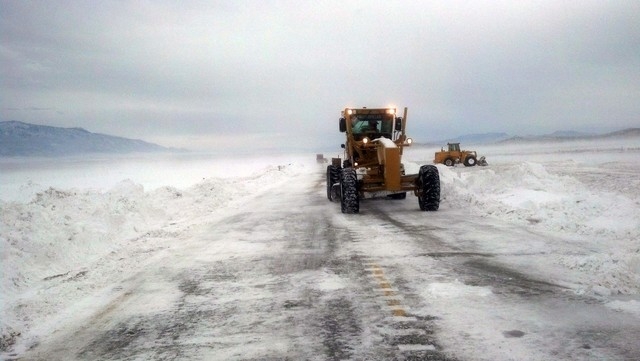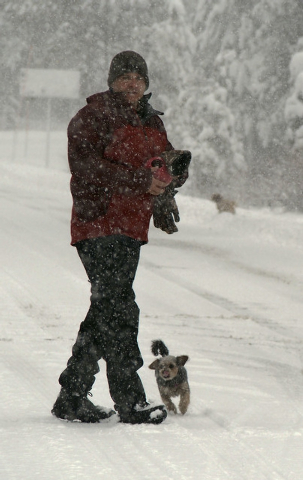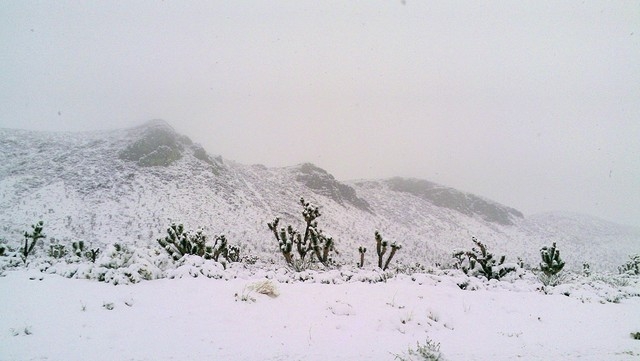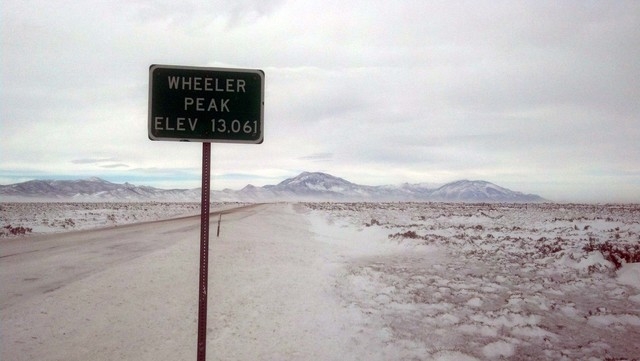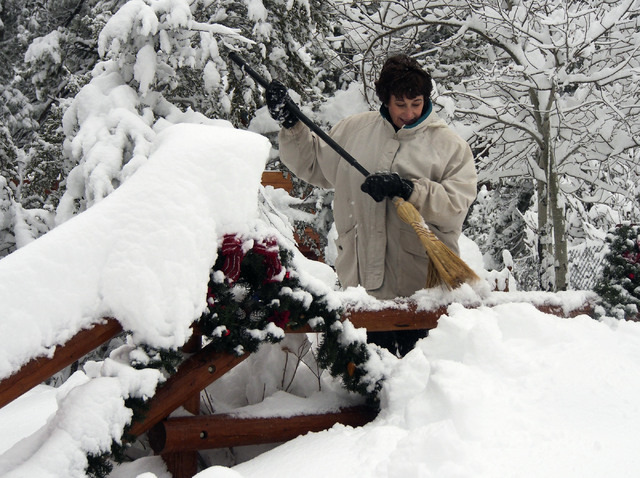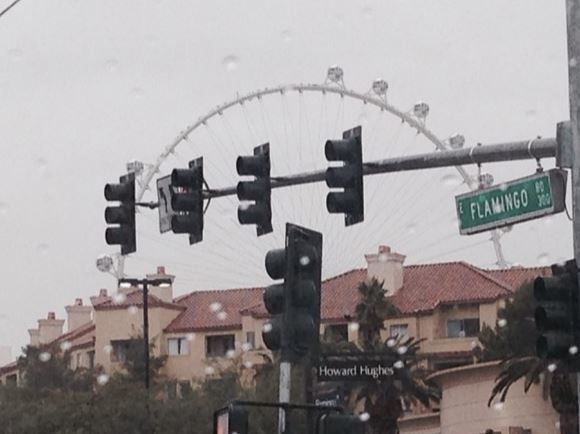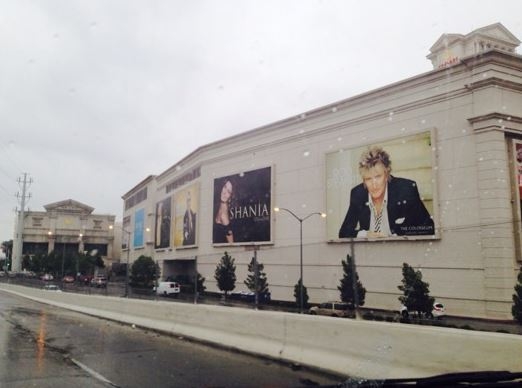 At least 50 drivers were stranded in a snowstorm that closed an 80-mile stretch of U.S. Highway 93 between Pioche and Ely on Friday, according to the Lincoln County Sheriff's Department.
At least 80 miles of highway was closed shortly after noon Thursday on U.S. 93 from Crystal Springs Junction to Highway 6, according to the Lincoln County Sheriff's Department.
The road remained closed Friday afternoon while the Highway Patrol and other state agencies rescued the stranded motorists.
Lincoln County has accumulated 5 inches of snow, but an estimated 3 feet of snow has been measured closer to Ely.
Gov. Brian Sandoval told the Highway Patrol to use all means necessary to help stranded drivers and keep from having loss of life on the road, trooper Loy Hixson said. No injuries have been reported.
"The motorists were trapped in snowstorms that accumulated up to 6 feet," Highway Patrol Capt. Tom Merschel of the Elko Command said. "Some were trapped between 10 to 12 hours."
As cars remained stranded between mile markers 22 and 23 overnight, the patrol used snow mobiles, snowplows and shovels to get the cars out of the storm. Troopers also brought fuel to the motorists overnight.
Merschel said up to 12 troopers helped to get the cars out as several churches in the area provided meals for the motorists.
As of midday Friday, the National Weather Service recorded an inch of rain at McCarran International Airport, and the Las Vegas Ski &Snowboard Resort saw 11 inches of snow over a 24-hour period. The total snowfall on Mount Charleston reached 13 inches at 8 p.m. Friday.
In Las Vegas, the Highway Patrol responded to more than 150 traffic accidents between Thursday morning and Friday morning, according to Hixson. They average about 30 accidents on a sunny day.
Las Vegas police were called out to more than 110 accidents during a five-hour period by midday Thursday. The volume of calls was not calculated Friday.
Police spokeswoman Laura Meltzer said that there is definitely an increase in traffic accidents as the weather worsens.
"This happens every time we get bad weather," she said. "People need to slow down and leave more space."
Areas and roads in the Lake Mead National Recreation Area, near Overton and Lake Mohave in Arizona were shut down because of flooding and storm damage, but Willow Beach Road reopened around 3 p.m.
A tree lighting ceremony at Opportunity Village's Magical Forest was delayed a week because of the storm, but officials will open earlier if weather permits.
The ceremonial lighting, which was scheduled for Friday to mark the 22nd anniversary of the Magical Forest, has been reset for 5:30 p.m. Nov. 29.
Cold weather is expected to accompany the rain this weekend, with high temperatures of 51 degrees today and warming up to 57 degrees Sunday, meteorologist Ryan Metzger said. McCarran International Airport had some flights that were delayed for more than three hours as of 5 p.m. Friday.
Snow in higher elevations in New Mexico and Arizona, including up to 4 inches around Flagstaff, Ariz., created dangerous road conditions and prompted some schools to delay opening Friday.
The National Weather Service issued a flood watch for east-central Arizona and south-central Arizona — including the Phoenix area — while a winter storm warning was in effect for northern Arizona.
Nearly an inch and a quarter of rain fell in Phoenix by Friday evening, marking a new daily record. Rain totals from the storm through midmorning today could exceed 2 inches in the Phoenix area, the weather service said.
Several miles of the Loop 303 freeway in Phoenix's western outskirts were temporarily closed because of flooding during Friday morning's commute and into the early afternoon.
Elsewhere in northern Arizona, state Route 67 to the North Rim of the Grand Canyon was temporarily closed because of drifting snow and poor visibility.
In Las Vegas, a 53-year-old male passenger died Friday morning after the Toyota 4Runner he was in was struck by a Dodge pickup that was out of control because of the slick roads Thursday night, according to police. The driver of the Dodge and the three people in the Toyota were taken to University Medical Center.
Review-Journal reporter Rochel Leah Goldblatt and the Associated Press contributed to this story. Contact reporter Steven Slivka at sslivka@reviewjournal.com. Follow @StevenSlivka on Twitter.