January 6, 2008 - 10:00 pm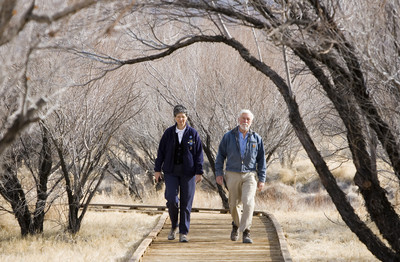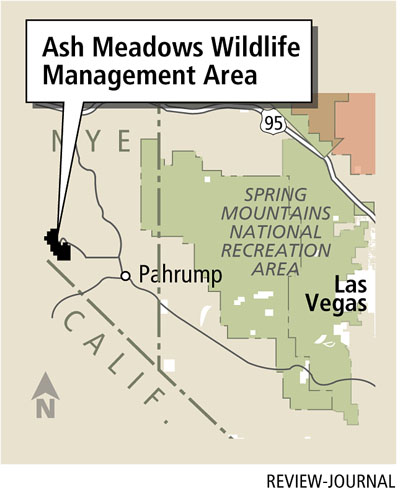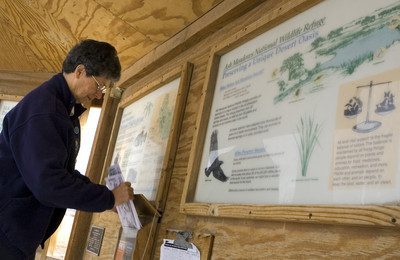 ASH MEADOWS NATIONAL WILDLIFE REFUGE — Paula Booth sorts through piles of old maps while her husband, Vic, installs a new cattle gate on a dirt road to nowhere.
They each earn about $1.25 an hour for their trouble, but they don't complain. It sure beats shoveling snow.
The retired couple from Marathon, N.Y., is spending a second straight winter at this desert preserve 90 miles west of Las Vegas, where they volunteer four days a week and live out of their travel trailer parked behind the refuge office.
The Booths are a different breed of snowbird: the resident volunteer.
For the past six years, Vic and Paula have fled their frigid home in the Northeast to spend winters volunteering at parks and refuges across the desert Southwest.
So far, they have donated almost 8,000 hours as volunteers. At least 3,000 hours of that time has been spent at Ash Meadows and other sites managed by the U.S. Fish and Wildlife Service.
"We couldn't keep this office open during the weekends without them," said Ash Meadows Refuge Manager Sharon McKelvey. "(They're) a significant part of our work force."
Cynthia Martinez manages the Desert National Wildlife Refuge Complex, a 1.6 million acre expanse that includes Ash Meadows. She said full-time volunteers like the Booths are a godsend for the complex's permanent staff of just 15 people.
"They mean a great deal to us. We utilize them at Pahranagat (National Wildlife Refuge) as well," Martinez said. "One way we expand our workforce is with folks like this."
The Booths get a lot out of it, too.
"I don't know if this is the vacation or home is," Paula said. "You have the privilege of taking part in some things (others don't) because you are a volunteer.
"We get the keys to the back country, to the gates that are closed," she said. "It's neat."
The Booths arrived for work on Nov. 30 and plan to stay through the end of March.
Paula, 62, generally works indoors, where she greets the occasional visitor and organizes the refuge's collection of books, records and maps. When she does venture out, it is usually to help with a wildlife count, refill fill map boxes or check traffic counters around the refuge.
Vic, 66, spends most of his time in the maintenance shop or out in the field, where he has built everything from walkways to RV sites for refuge employees.
Over the years, Vic has been certified by the Fish and Wildlife Service as a heavy equipment operator.
That gives him access to a lot of "big toys," Paula said.
Right now, Vic is working on a solar-powered pump he helped mount to a trailer so it can be used to irrigate plant restoration projects across the refuge.
They each receive a stipend of $10 for every eight hours they work. The job also comes with a full hook-up for their trailer and access to a washer and dryer, extra refrigerator space and an Internet connection after hours.
On some nights, the Booths have the entire refuge to themselves. They like the peace and quiet.
"We went into Las Vegas for a show," Vic said. "God, what a noisy place!"
Their winter home is their 33-foot Holiday Rambler travel trailer with maybe 250 square feet of living space inside.
Compared to their 3,500- square-foot farmhouse back in New York, the trailer is a breeze to clean, Paula said.
"It's just like being home. We've got everything we need," Vic said.
The Booths bought their first travel trailer in 1997 and hit the road in 1999, when Vic retired after 32 years with Hewlett-Packard.
"For the first two years, we were just nomads," Paula said.
After discovering the practice by accident while surfing the Internet one day, they spent their first winter as resident volunteers at Big Bend Ranch State Park, a remote patch of almost 470 square miles along the Rio Grande in West Texas.
They were 25 miles from the nearest paved road and about five hours from the nearest traffic light, at least on the U.S. side of the border. "If the wind's not blowing, you hear your heart beating. You hear your breathing. There's no noise," Paula said.
They liked it so much, they spent two more winters there.
In between, they spent a week at Kitty Hawk, N.C., where they camped and volunteered during the centennial celebration of the Wright brothers' first flight.
"I had to be there. I'm a propeller head," said Vic, who started flying airplanes in the early 1970s.
After Texas, they moved west to New Mexico, where they spent one winter at Gila Cliff Dwellings National Monument and two winters at Bosque del Apache National Wildlife Refuge.
They discovered Ash Meadows over the Internet. It seemed to have everything they look for in a winter destination, namely a diverse slate of volunteer opportunities in a place they are interested in exploring during their off time.
Mild weather is also a must.
"Spring, summer and fall are wonderful back home. It's beautiful, but a nice place to get away from in the winter," Paula said. "Sunshine's a big thing for us."
They try to have their winter destination picked out by early summer. They usually hit the road sometime in October or November.
"We try to get out before the weather gets too bad, before it gets dangerous to leave," Paula said. "We do Thanksgiving, Christmas and the grandson's birthday all in one day before we leave."
At Fish and Wildlife sites across the nation, volunteers — resident or otherwise — donated more than 1.4 million hours valued at more than $26 million in 2005, according to the most recent numbers available from the agency.
McKelvey said they get a handful of inquiries a year from people who want to live and work for free at Ash Meadows during the winter. Hardly anyone wants to be a live-in volunteer during summers at the 23,000-acre refuge one mountain range removed from Death Valley, she said.
The Booths haven't decided whether this winter will be their last at Ash Meadows. Their goal is to keep moving — and keep volunteering — as long as their health allows it.
"We honestly don't know if we'll be back," Paula said.
Added Vic with a laugh, "It depends how bad they beg."
Contact reporter Henry Brean at hbrean@reviewjournal.com or (702) 383-0350.
ON THE WEB:
Complete list of volunteer opportunities on federal land in Nevada
GetOutdoorsNevada.org