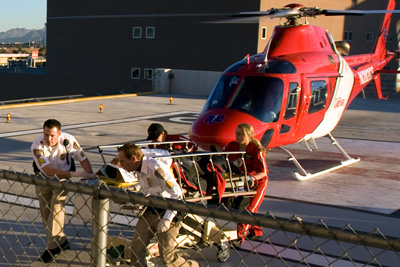 Doctors upgraded the medical status of several Chinese tourists and some were released from an Arizona hospital today, a day after they were involved in a fatal rollover accident south of the Hoover Dam.
Two people who were being treated at the Kingman Medical Center in Kingman, Ariz. were released early today morning and drove to University Medical Center to visit their 8-year-old son, UMC spokesman Rick Plummer said.
The boy is in fair condition and is responsive, said John Fildes, medical director for the hospital's trauma center.
"He's pretty sore right now," Fildes said.
The father arrived at UMC today to see his family and seemed dazed, with bandages over parts of his face and hand.
He identified himself to journalists Mindy Gao of the Chinese Daily News in Los Angeles and John Guan of the Global Times run by the People's Daily as Mr. Wu. He did not give a first name.
The journalists said Wu told them in Chinese that he was alone in the back row of the tour bus and was the only one who was able to crawl out on his own when the bus overturned. His wife and son were a few rows in front of him.
Both journalists quoted him as saying: "We are the luckiest family (on the bus.)"
The boy's mother reportedly stayed by his bedside.
Investigators looking into the deadly tour bus crash on U.S. Highway 93 about 27 miles south of the Hoover Dam said today that it may take up to a month to figure out why the vehicle overturned, killing seven passengers and injuring 10 others.
Arizona Department of Public Safety officer Robert Bailey said the National Transportation Safety Board was helping to investigate the cause of Friday's crash, but that the department was the lead agency.
Officials were expecting to release the names and ages of the seven people who were killed, but they were still waiting on confirmation of the information from the Chinese consulate tonight, Bailey said.
Six people were pronounced dead at the scene and a seventh, a man in his 50s, died at UMC.
Five people, including the boy, remained at UMC today and likely wouldn't be released until Sunday at the earliest, Plummer said. The 48-year-old male bus driver was in serious condition, a 40-year-old woman and a 35-year-old woman were in critical condition, and a 61-year-old man was in fair condition.
Plummer said the victims' injuries ranged from spinal and serious head injuries to bone fractures. John Fildes, director of UMC's trauma center, said some of the patients have been able to speak.
"They're mostly concerned with their friends and families," he said. "Some of them lost friends or family members."
Two people, a man and a woman who had been taken in critical condition to Sunrise Hospital and Medical Center, were upgraded to serious condition on Saturday, hospital spokeswoman Stacy Acquista said.
Review-Journal photographer K.M. Cannon and The Associated Press contributed to this report.
Contact reporter Lawrence Mower at lmower@reviewjournal.com or 702-383-0440.
View Larger Map (by Google Maps)