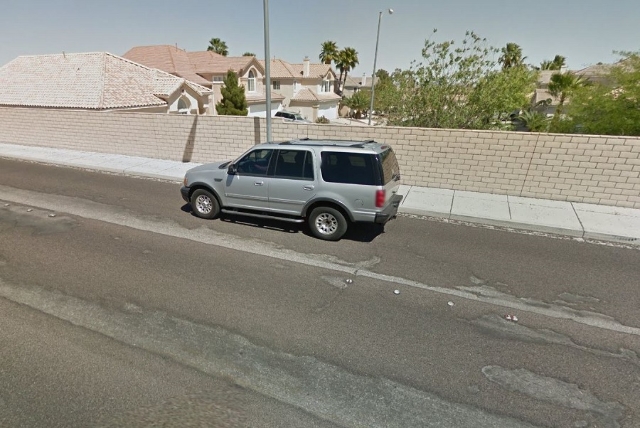 While Nevada is one of the best in the nation when it comes to road quality, some Las Vegas residents were still upset with the condition of a few of the valley's roads.
Last week, Review-Journal Facebook fans expressed which roads they felt were in most need of repair, including stretches of road and intersections around the valley.
Clark County's Public Works Department maintains more than 7,700 lane miles of roadway in one of the largest counties in the United States — and they are either already working on some of the worst roads or plan to, according to Clark County spokeswoman Stacey Welling.
One of the most mentioned roads on social media was a stretch of Durango Drive between Desert Inn Road and Tropicana Avenue. Motorists compared the drive to driving with a popped tire.
Nearby residents were recently made aware of construction on this stretch, which started in mid-July and was expected to last until the fall.
"Specifically, the work to be performed includes reconstruction of the pavement surface of Durango Drive, ADA-accessible upgrades and traffic signal modifications," the mailed notice said. As far as the rest of the valley goes, the county is planning construction on all other roads listed last week.
Maryland Parkway between Tropicana Avenue and Desert Inn Road
Plans to resurface the road between Russell Road and Twain Avenue are in the early stages, with construction scheduled for late 2016.
Hollywood Boulevard between Sahara Avenue and Lake Mead Boulevard
Construction is likely going to start in 2017.
Pecos-McLeod Interconnect between Flamingo Road and Desert Inn Road
This stretch was resurfaced less than five years ago, Welling said, but construction is underway to repave Pecos Road between Sunset Road and Flamingo Road.
Eastern Avenue near McCarran Airport
Eastern Avenue from Warm Springs Road to Desert Inn Road is in the plans for reconstruction, likely in 2017.
Intersection of Hacienda Avenue and Jones Boulevard
According to Welling, the Nevada Department of Transportation recently repaved this area, but the county will be doing additional work over the next four to six weeks.
Rainbow Boulevard south of Blue Diamond Road
The county will advertise for construction by the end of the year from Blue Diamond Road to Erie Avenue.
Contact Kristen DeSilva at kdesilva@reviewjournal.com or 702-477-3895. Find her on Twitter: @kristendesilva