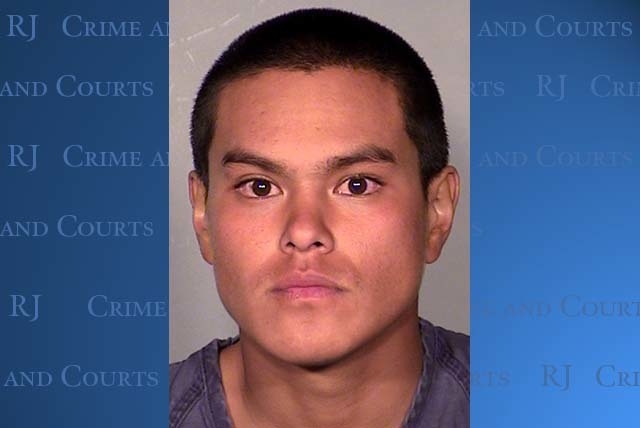 Jeremy Espiritu gave police a simple, cold-blooded reason for slitting the throat of his family's dog.
"Because I wanted to," the 22-year-old said.
The black Labrador mix, Serenity, was dying in a pool of blood near the front door when police arrived at Espiritu's parents' home Thursday afternoon. Officers found a six-inch serrated knife in the center of another puddle near the kitchen.
"Because you wanted to?" asked the incredulous officer.
"Yes," Espiritu calmly replied, staring at the animal. "I like to hurt dogs."
He was arrested about 3:30 p.m. at his family's home near Washington Avenue and Valley View Drive and booked at the Clark County jail on charges of killing another person's animal, according to a Las Vegas police report obtained Friday.
Officers asked Espiritu if the dog had attacked or provoked him.
"Nope," he said, according to the report. "I just wanted to stab the dog so I sat on the floor and cut its neck."
His stepfather, who works at night, told officers he was sleeping that afternoon when he awoke to the sound of "a child or dog screaming as if they were in pain," the report said.
He found Serenity collapsed in the hallway, bleeding heavily from her neck but still breathing. He put a towel underneath the dog and called his wife, who wasn't home.
His wife called police and rushed home to confront her son, but left after police arrived. She wanted to intercept her younger children before they came home from elementary school and witnessed the "blood and mess in the house," the report said.
Officer Jacoby Burns, the first officer at the scene, asked dispatchers to call Las Vegas Animal Control officers for help in getting the dog to an animal hospital.
But Animal Control could not immediately respond, so Burns rushed the dog to VCA Animal Hospital on Decatur Boulevard in his own squad car as a second officer watched Espiritu, the report said.
Veterinarian Mayling Chinn and her staff tried to stabilize Serenity for 20 minutes, but the animal had lost too much blood. She died on the operating table.
"Unfortunately, the wounds were pretty bad," Chinn said Friday. "We tried the best we could to save her, but the injuries were too serious."
The stepfather told police Espiritu was "basically homeless" and a drug abuser who didn't live at the home. He would come to the house some days, but then disappear for weeks at a time.
He apparently entered through an unlocked side door Thursday, the report said.
According to court records, Espiritu was arrested in North Las Vegas last year for possession of methamphetamine and carrying a concealed weapon.
His stepfather told officers that the young man likely had an undiagnosed mental illness.
A woman at the home Friday evening declined to comment.
Espiritu is being held without bail pending a Monday court hearing.
Contact reporter Mike Blasky at mblasky@reviewjournal.com or 702-383-0283. Follow @blasky on Twitter.