Southern Nevadans no longer feel left out
October 28, 2013 - 10:02 am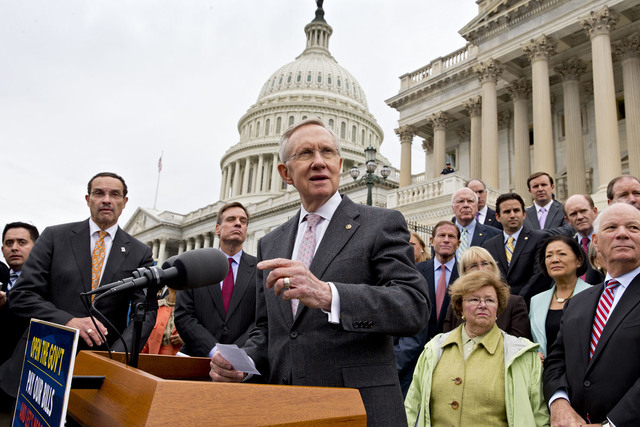 Up here in Northern Nevada the talk is whether Las Vegas really should be celebrating Nevada Day, which by the calendar is this Thursday — Halloween — not some day last week due to the political foibles of now Rep. Mark Amodei, R-Nev.
History shows the area of Nevada that includes Clark County and strips of Lincoln, Nye and Esmeralda counties were parts of Arizona Territory until their 12,225 square miles were turned over to Nevada in 1867. That means this region will be celebrating its 147th anniversary when the rest of the state has a sesquicentennial next year.
But even that technically isn't true. It seems the state Legislature forgot to add the geographic boundaries of the new land into the state Constitution until someone remembered in 1979.
So the Legislature in 1979 and 1981 passed resolutions to amend the constitution to let Las Vegas and the other areas into Nevada. The matter was put before voters in 1982.
Fortunately for Northern Nevada — particularly Carson City's capital complex that relies on Southern Nevada tax dollars — voters agreed by nearly a two-thirds margin.
Of course, 76,514 people opposed it, many as a joke. One wonders what would have happened if the question had lost. Las Vegas, Ariz. No gambling. No Mayors Goodman.
So you can celebrate, Southern Nevadans. You now have officially been part of Nevada for 31 years!
What does Amodei have to do with this?
Well, as a state legislator from Carson City, he thought instead of Nevada Day being on Oct. 31 — the day in 1864 when President Abraham Lincoln designed Nevada a state — that it should be celebrated the last weekend in October.
The idea was to attract more business and tourism for Carson City and to give state workers a three-day weekend.
In 1998, state voters — by a narrow 20,735 vote margin — backed his idea. Bet even Amodei couldn't figure out in advance we celebrated Nevada Day on Oct. 25 this year.
REID: NO 'GRAND BARGAIN' IN SIGHT
The deal in Congress that reopened the government and averted a debt crisis this month also created a special committee that is supposed to look for compromise on a long-term budget plan, or at least one to get the government through the next set of fiscal deadlines in January and February.
But with the House-Senate committee scheduled to meet this week in Washington, expectations are being set low as to what it might accomplish. Rep. Paul Ryan, R-Wis., said he didn't think a so-called "grand bargain" was within reach.
Likewise, Sen. Harry Reid. In an interview Thursday on KNPR, the Senate majority leader from Nevada said a far-reaching agreement that might include changes to Social Security and Medicare was no more than "happy talk" and wasn't going to happen.
"I would hope that were the case, but we're not going to have a grand bargain in the near future," he said.
Rather, Reid said, the Democrats' goal is to replace the automatic sequester budget cuts that are going to take another $109.3 billion from federal programs in January.
"I hope we can do some stuff to get rid of sequestration and go on to do some sensible budgeteering," Reid said.
When interviewer Dave Becker persisted in asking where entitlement programs might fit, Reid slapped down the idea.
"You keep talking about Medicare and Social Security. Get something else in your head," Reid scolded. "That is not going to happen this time."
NEW AGE CHALLENGE
He said what?
During an interview on KNPR last week, interviewer Becker asked Reid what has gone wrong with the rollout of the HealthCare.gov website where uninsured people are supposed to sign up for Obamacare.
"OK," Reid started, "If you're over age 50 the Internet is something that you are just learning about and certainly over age 60 that certainly is a truism."
He went on to say people can sign up for health insurance at Social Security offices or over the phone until the online enrollment system is debugged.
But wait. Besides the head-scratcher that older people are likely unfamiliar with the online world, was he suggesting users shared blame for the flawed first days of the system?
Certainly not, Reid spokeswoman Kristen Orthman said.
"No, he wasn't saying the issue was older users," she said in an email. "He was saying the young folks go online but the older folks use phone and other ways since they are used to using phone over Internet."
SLAIN TEACHERS GET NONE
Nevada law provides no extra benefits for teachers such as Sparks Middle School math instructor Michael Landsberry who are killed trying to defuse violence at their schools, according to Legislative Counsel Bureau Director Rick Combs.
Legislators over the years have passed bills to provide free college tuition, insurance and other benefits for police officers killed on duty and their families, but not for teachers, perhaps because it is so rare for a teacher to be killed by a student.
But Landsberry's spouse will receive survivor's benefits from the National Guard.
Besides being a teacher, Landsberry, a former Marine, has been a member of the Nevada Air Guard since 1994, having survived two tours in wars in the Middle East.
She also will receive a life insurance payoff from the Washoe County School District.
REPUBLICAN RUNS FOR ASSEMBLY
It will be an uphill battle for Assembly Republicans to pick up the District 34 seat in Las Vegas next year, but that isn't stopping Republican Victoria Seaman from entering the race.
Seaman announced last week that she is a candidate for the seat now held by term-limited Assembly Majority Leader William Horne, D-Las Vegas.
Seaman, a real estate agent and businesswoman, said she will use her 25 years of business experience to get Nevada's economy back on track.
"I firmly believe to improve Nevada's economy, we need to keep more money in the pockets of hardworking Nevadans," she said. "You have my word I will work to strengthen Nevada's economy because when we have a strong economy, there will be more jobs for Nevadans."
Seaman serves on the committee for Active Republican Women Community Outreach and is a member of the Conservative Alliance for Community Growth.
She was elected in 2011 and served one year on the board of the Nevada Republican Men's Club before she was elected second vice president in 2012.
In 2013 she was invited to sit on the steering committee for New America.
Seaman will face a formidable Democratic voter advantage in the northwest Las Vegas district, however.
September active registered voter numbers show the district has 14,683 Democrats and only 9,850 Republicans, although there are also 5,753 nonpartisan voters.
Republicans are seeking to make gains in the Assembly in the 2014 general election, where they are currently outnumbered 27-15.
NEWCOMER GOES FOR SECRETARY OF STATE
Political newcomer Jordan Bradley of Henderson announced Tuesday that he will be a Republican candidate for secretary of state in 2014.
While no other Republicans have formally entered the race, Lt. Gov. Brian Krolicki and state Sen. Barbara Cegavske both have mentioned their interest.
Bradley said he knows he does not have their name recognition, but believes he can raise the necessary contributions and is qualified for the job.
He might need to raise $1 million plus.
"I feel we are at a time when people want new faces and new ideas," said Bradley, 31.
He operates a business, Belvedere Designs, and is completing his doctorate in American political theory.
As a businessman, Bradley says he knows how to make transactions with the secretary of state's office easier for business.
He also favors the digitization of all campaign contribution records and to require donations be reported monthly.
He does not support same-day voter registration.
Contact Capital Bureau Chief Ed Vogel at evogel@reviewjournal.com, or 775-6878-3901. Contact Capital Bureau reporter Sean Whaley at swhaley@reviewjournal.com or 775-687-3900. Follow him on Twitter @seanw801. Contact Stephens Washington Bureau Chief Steve Tetreault at STetreault@stephensmedia.com, or 202-783-1760. Follow him on Twitter @STetreaultDC