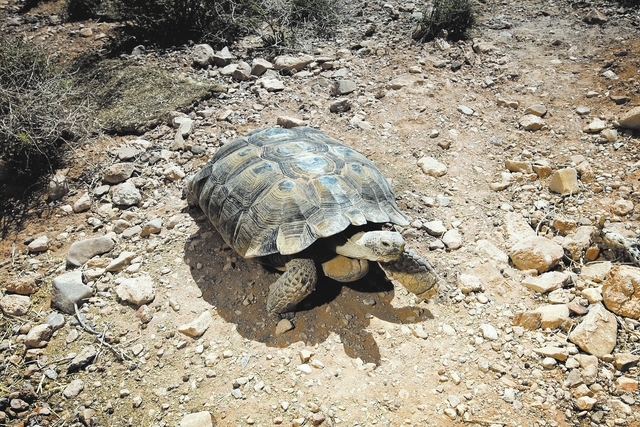 As backyard-bred desert tortoises slowly pile up in the Las Vegas Valley, a local adoption group is looking north for a new place to unload the surplus reptiles.
The Tortoise Group has expanded its adoption program to Reno, Sparks, Carson City and Gardnerville, hundreds of miles outside the tortoise's natural range, in search of new homes for the federally protected species.
If the effort proves successful, more pet tortoises could one day find their way out of the desert, said Tortoise Group executive director Jim Cornall.
"If it works, there's no reason we can't do the whole thing statewide," he said.
The desert-adapted creatures do require some special care and accommodation for colder climates. The animals will need to be kept in a climate-controlled space such as a garage to keep them from freezing to death while they sleep through the winter.
On the plus side, their burrows won't need to be as deep or elaborate as they are in the Mojave, because they won't have to retreat so far underground to escape the summer heat. In fact, pet tortoises in Northern Nevada might be more active from spring to fall than they are in the Las Vegas Valley, due to the milder weather, Cornall said.
The Tortoise Group was founded in 1982 to improve the lives of pet tortoises through adoption and education. Lately, the nonprofit has been forced to get creative in the face of an unusual problem: Though tortoises are considered threatened in the wild by habitat loss, predators and climate change, they do just fine in captivity, where food is plentiful and threats are few. A well-tended female can live roughly 80 to 100 years, churn out 10 or more hatchlings at a time and see far more of them survive to adulthood. And no other animal protected under the Endangered Species Act is so widely kept as a pet.
The trouble, researchers say, is that captive-born tortoises do nothing to bolster the natural population because releasing them into the wild carries the risk of spreading disease. Turning a pet tortoise loose in the desert is illegal for just that reason.
As a result, said Cornall, "There are a lot more tortoises than homes."
The valley's backyard tortoise population likely numbers in the thousands, though the exact figure is unknown.
A new state regulation enacted last year sought to curb backyard breeding by limiting new pet owners to one tortoise at a time, but the rule did not apply to existing tortoise custodians.
Within the past few months alone, three long-time valley tortoise owners died, leaving 55 unwanted animals in need of placement.
There's no place for locals to drop off captive-bred tortoises, according to Cornall and Mike Senn, Assistant Field Supervisor with U.S. Fish & Wildlife Service in Southern Nevada.
The U.S. Fish & Wildlife Service used to take in pets and strays at its Desert Tortoise Conservation Center on the valley's southwestern edge. Officials put a stop to that in early 2013 because the flood of tortoises — as many as 1,000 a year — threatened to overwhelm the facility's budget and damage its research mission aimed at saving the wild population.
The center is now expected to close by the end of the year, its funding eliminated.
In the center's absence, Lied Animal Shelter was to become the valley's primary drop-off point for tortoises, but the facility run by the nonprofit Animal Foundation scarcely has room for all the dogs and cats in its care.
"They have no space," said Senn. "There's just physically no place to put them."
Meghan Scheibe, spokeswoman for the Animal Foundation, said the shelter still takes in male tortoises under its agreement with state and federal wildlife officials. Three are now available for adoption, she said.
The Tortoise Group is shouldering most of the burden of finding homes for the unwanted reptiles.
People wanting to take in a tortoise can sign up at www.tortoisegroup.org. The website also has information on proper diet and care for the animals.
Cornall said the Tortoise Group has already been in contact with a number of Northern Nevada residents who have expressed an interest in a hard-shelled companion. A pair of workshops are scheduled in Reno and Minden for people who want to know more about how to take a tortoise home and care for it. The workshop in Reno will run from 1 to 2:30 p.m. Saturday at Horseman's Park Clubhouse, and the one in the Minden will run from 1 to 2:30 p.m. Sunday at the Cooperative Extension conference hall.
Though there are more than enough tortoises available for everyone on the list up north, Cornall said he would be happy if even half of those people actually adopt.
"It's not for everyone because, for one, tortoises live a long time," he said.
That's why its so important for pet owners to stop adding to the problem by making more tortoises, Senn said.
"It doesn't do anything" for the species at large, he said. "It's more than just not helpful. It's hurtful."
Contact Henry Brean at hbrean@reviewjournal.com or 702-383-0350. Find him on Twitter: @RefriedBrean.