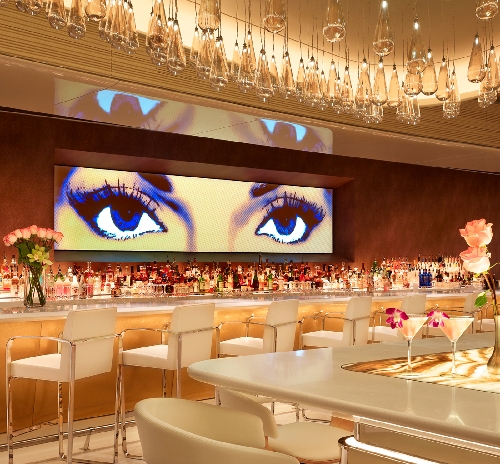 The X factor in the courtship of Britney Spears as a Las Vegas headliner?
Is the reward worth the risk?
Two producers who know the territory have their doubts.
"My gut tells me she doesn't have the goods to deliver on a consistent basis," said Adam Steck, who has five shows in town and the upcoming Boyz II Men.
"You're rolling the dice. This is not Celine Dion," said Joey Battig, who tried to sign Whitney Houston to a Planet Hollywood Resort deal in 2009 before backing away.
Rumors flew last week that Spears was on the verge of signing her first residency deal in Las Vegas. It was reported here that Planet Hollywood Resort has been in serious negotiations with the pop princess.
A wilder report – PerezHilton.com – had Spears doing a $200 million deal at Caesars Palace. But a source told me Caesars was not in the running because The Colosseum is booked for two years.
Steck suspects some of the media reports were part of "a big PR ploy" related to her exit last week from Fox's "The X Factor," where she was a judge.
But, added Steck, the $200 million deal "could add up if sweetened with other things like club appearances and merchandising deals. There's a rumor that Hakkassan (the Angel Management Group's nightclub in the works at MGM Grand) may be involved."
Battig said the word around the entertainment industry is that Spears is seeking $450,000 a night.
"I wouldn't guarantee her more than $150,000 a night, but I'd say, 'Roll the dice with me on the back end,' " Battig said. "We were guaranteeing Whitney $450,000 a night, three nights a week for a year. That's $1.3 million a week, $43 million a year."
Spears, 31, would have to do five shows a week for 32 weeks a year at an average ticket price of $150 to make $100 million, Battig said.
Planet Hollywood Resort makes sense as a leading venue in the Spears' sweepstakes, he said, because the Theater for the Performing Arts has 7,000 seats and the second largest stage in town, behind The Colosseum.
"The beauty of that (Planet Hollywood Resort) room," he added, "is that you can curtain it off to 4,000 seats and expand if you sell more. I would bet they are guaranteeing her maybe half if she goes over 4,000.
"But I would only book her for Friday and Saturday. I think she would do 2,000 to 2,500 on a Friday or a Sunday; 4,000 on a Saturday."
Whoever signs Spears, Battig said, "it's a crap shoot." A producer "has his head on the chopping block every night. If someone doesn't show up, you can give the (refunds) back, but you can't recoup those numbers."
Other costs, he said, probably would include $25,000 a night in rental (the venue at Planet Hollywood Resort is operated by Base Entertainment), and $100,000 a week in advertising.
"Then you've got stagehands, lighting, sets, catering, limos, handlers and entourages. Pre-production on the show would be $1 million," Battig said. "Planet Hollywood has never done a big headliner because the risks are so high.
"I wouldn't take that risk."
WYNN AND ROSES
Steve Wynn loves big surprises, and he had another up his sleeve Wednesday for the grand opening of Andrea's restaurant at Encore at Wynn Las Vegas.
In front of a celebrity-filled crowd, Wynn and wife Andrea stood in front of a wall covered with about 10,000 roses.
As the song "Nothing's Gonna Stop Us Now" by Starship played, the floral wall started sliding upward. As it disappeared into the ceiling it revealed a wide painting featuring two eyes with seductive eyelashes.
The $7.5 million makeover of Switch restaurant features more than Andrea's name. Those are her eyes. Initial plans called for the restaurant to be called Gaze or Wink, Wynn told me on the red carpet.
His team went to Los Angeles on a mission to photograph the eyes of numerous models. Wynn sorted through the photos and came to the conclusion his wife's eyes looked as good as what he was seeing.
He dispatched someone to photograph his wife's eyes.
"I asked everybody in the meeting, and they said, 'What a great idea. It's real. It's a person,' and we had a story behind it," he said.
She interjected: "When he told me had indeed decided to call it Andrea's, I was very moved, very touched and was very excited, and I thought maybe this is an enormous hint that he wants me to start cooking."
Under his breath, her husband said, "We'd starve to death."
Norm Clarke's column appears Sunday, Wednesday and Friday. He can be reached at 702-383-0244 or email him at norm@reviewjournal.com. Find more online at www.normclarke.com. Follow Norm on Twitter @Norm_Clarke. "Norm Clarke's Vegas," airs Thursdays on the "Morning Blend" on KTNV-TV, Channel 13.