Special education teacher faces felony child abuse charges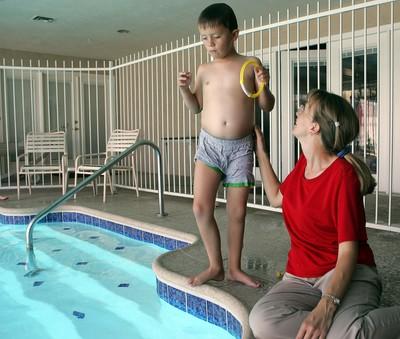 Marleen Ritchie's son Scotty used to love school. But she said his behavior began to change shortly after a new teacher was hired at Reed Elementary School.
"He would cry and refuse to get on the bus," Ritchie said of her then 7-year-old son. She said Scotty's change in behavior was even more evident at home.
"If I would raise my voice, Scotty would get upset. He would flinch, cower or cover his head because he thought he was going to get hit."
Scotty and four of his autistic classmates were getting hit, according to a criminal complaint filed by the district attorney's office. The abuse came at the hands of the five students' 64-year-old special education teacher, Mamie Hubbard-Washington, the complaint said.
On Thursday, Hubbard-Washington, who faces five counts of felony child abuse and neglect, appeared in the courtroom of Justice of the Peace William Jansen. Jansen ordered her not to leave town or have any contact with children. She was released on her own recognizance, and a preliminary hearing was set for Sept. 26.
According to the criminal complaint, Hubbard-Washington hit, pinched, scratched, grabbed and used other means of physical force and verbal abuse against the five autistic students ages 6 through 8 between April 1, 2006, and March 31, 2007. All the students have problems communicating verbally.
Hubbard-Washington was hired in January 2006 by the Clark County School District and was assigned as the special education teacher at Reed, 2501 Winwood Ave., near Smoke Ranch Road and Decatur Boulevard.
Five teachers' aides witnessed student abuse occurring, according to a Clark County School District Police Department arrest report. The witnesses told police on several occasions that Hubbard-Washington used a wooden stick to hit the children.
Police located a 36-inch-long stick "with no educational value" in her classroom and booked it as evidence, the arrest report said.
The teachers' aides reported the abuse to school administrators on several occasions, according to the arrest report.
Assistant Principal Randy Cheung conducted an administrative investigation into two of those incidents.
In statements given to police, the parents described bruises on their children.
One woman said her granddaughter came home with bruises on her arms and legs in March and April. Photos were taken and submitted to police.
The Ritchies reported that their son came home holding his hand against his stomach in pain. They found three bruises across his hand, according to the report.
Another family reported that their son came home with a broken tooth, and a mother said her son came home with scratches on the back of his neck.
The report says that Hubbard-Washington rammed one child's face into a table, chipping his tooth. The document continues that she slapped another child, hit him in the forehead and dug her fingernails into his arm. Grabbing him by the neck, she dragged him over to a trash can and forced his face into the can to compel him to spit out his food, the report says.
District officials said Hubbard-Washington was placed on paid administrative leave May. 4. Jon Okazaki, assistant general counsel with the district, said that as with all teachers hired into the district, Hubbard-Washington went through a criminal background check that included fingerprinting and checking her public records against a local law enforcement database and the FBI's database. Okazaki was not aware of whether special education teachers have to go through additional steps in the hiring process compared with other teachers.
Autism is a brain disorder associated with a range of developmental problems, mainly in communication and social interaction. Though the symptoms of autism vary widely, it's usually diagnosed in toddlers and is a lifelong disorder.