Black infants at greater risk of death in Clark County
October 28, 2015 - 9:32 pm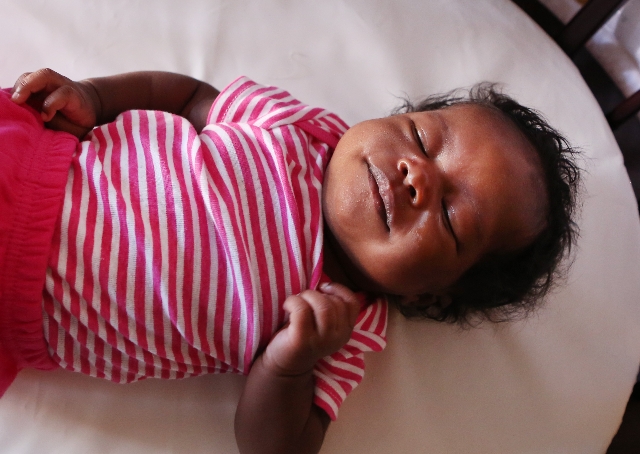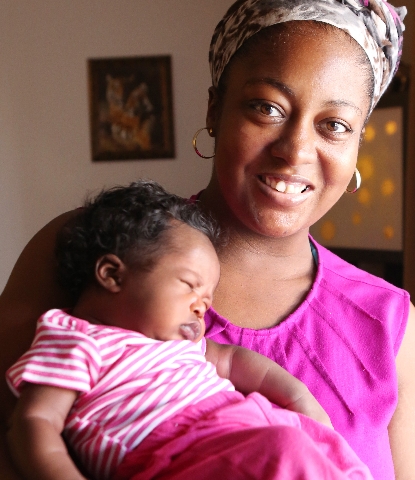 Newborn Malika Miller isn't about to become a death statistic — her mother is determined to prevent that.
But Tytianna Miller, like many African-American mothers, didn't seek prenatal care until she was well into her pregnancy. The 24-year-old first-time mom didn't know she was expecting until she was 16 weeks pregnant. She didn't have health insurance.
She saw a doctor for the first time at her four-month mark.
Access to prenatal care is one of many contributing factors that put black babies at higher risk of dying before their first birthday than babies of other races.
"Being an African-American woman, I want to change the statistics," Miller said. She's participating in a relatively new program to help black mothers and to reduce those grim numbers.
The higher risk of death faced by African-American babies isn't new in Clark County. A 2006 report on child fatalities stunned then-Clark County Assistant Manager Darryl Martin when he saw black infants accounted for 57 percent of local deaths from sudden infant death syndrome, which is an unexplained death that usually happens to sleeping children younger than a year.
Seven 2006 deaths were because of SIDS. At that time, blacks made up 9 percent of the county's population.
There has been a decrease in such deaths, with only one reported in 2012, according to the 2012 Clark County report on child fatalities. The report didn't specify the baby's race.
Infant Mortality
In 2013, Clark County's overall infant mortality rate was 4.8 per 1,000 births. But for blacks that rate was much higher: 12.21 per 1,000 births, according to data from the Nevada Health Statistics Portal.
The average infant mortality rate from 2007 to 2009 for African-Americans in Clark County was 11.5 per 1,000, according to the Southern Nevada Health District. The average rate for Hispanics in the same years was 5.3 per 1,000 and 3.1 per 1,000 for Asians.
Clark County's infant mortality average rate for 2011 to 2013 was 5 per 1,000 births, according to the 2014 Nevada Kids Count Data Book.
"Hopefully, we all as a community can fight those issues that are preventable," said Lourdes C. Yapjoco, public health nurse supervisor at the Southern Nevada Health District.
But to better grasp the issue, those tackling the problem need to delve deeper, said Cassius Lockett, director of community health at the Southern Nevada Health District.
He began doing exactly that a year ago by looking at fetal mortality. His analysis uses a methodology, which helps identify important periods of risk that contribute to feto-infant mortality. The methodology, developed by the World Health Organizations about a decade ago, is called Perinatal Periods of Risk.
The periods of risk include maternal health/prematurity, maternal care, newborn care and infant health.
The analysis, using 2011-12 data, found the overall feto-infant mortality rate in Clark County to be 8.4 per 1,000 live births, plus fetal deaths.
But the rates swell when examined by race.
Using data from 2008 to 2012, the analysis found the feto-infant mortality rate for African-Americans was 13.6 per every 1,000 live births. For Hispanics the feto-infant mortality rate was 7.8 per every 1,000. Whites had a rate of 6.8 per 1,000 and Asians had a rate of 5.9 per 1,000.
Another problem is that too many black babies are born small. Looking at why that happens is important, Lockett said. They are being born at a "significantly" lower birth weights more frequently than in other ethnic groups.
A big factor is that African-American babies have a higher rate of preterm birth,at less than 37 weeks gestation, Lockett said.
Looking at preconception health is key, he said. But making sure that mothers with chronic illnesses are treated is also important because that's related to maternal care.
"The good news is that we have something that we need to focus on," he said. "We need to do whatever we can to prevent prematurity."
Lockett's study also found that African-American women had less than six prenatal visits throughout pregnancy and were more prone to infections.
Miller came down with Group B streptococcus at 37 weeks. It's a bacteria infection that in newborns most commonly causes sepsis, pneumonia and sometimes meningitis, according to the Centers for Disease Control and Prevention.
But doctors were able to catch it and control it.
The single mother at times struggled to hold her baby after giving birth in August. But Miller was ecstatic as she paid attention to a health educator who showed her how to soothe Malika while she's in her crib.
"I had too many reasons to doubt this pregnancy," she said.
When Malika was born she weighed 7 pounds. Her weight was average. She is healthy and advanced for her age. She rolls and is always alert.
She is eating and gaining weight.
A Healthy Start
To keep risk to her daughter at bay, Miller is participating in a federal program offered through the health district called Healthy Start, which is one of eight in the region and one of 87 nationwide.
The program was launched in Clark County in 2014 and targets African-American women and babies in certain ZIP codes throughout the county. It provides services before, during and after their pregnancies to help decrease the staggering infant mortality among this group.
The program services the ZIP codes with the highest concentrations of African-Americans, such as 89101, 89103, 89119 and 89106.
Some of those overlap with ZIP codes in Clark County that have a higher concentration of preterm births and low birth weight and higher fetal-infant mortality, such as 89119, 89106, 89101, 89109 and 89169.
"Natural causes that lead to that kind of death before age 1 is hugely impacted by premature birth," said Aisha Bowen, a senior health educator with Healthy Start.
The program aims to connect with women early in their pregnancy to help them get vital prenatal care.
"It's either late or not existent at all, and by late, we mean not the first trimester or even the second," Bowen said of African-American mothers.
Access to prenatal care relies on many things, she said. Cultural factors also play a huge role, as well as the educational level of understanding of the benefits of actually seeking care.
"We provide them with the educational benefit of having good, on-time prenatal care as well as postpartum care when they deliver," Bowen said. "Once the baby is born, we actually want to follow the family until that child is 24 months."
There's another program offered through the Southern Nevada Health District called the Nurse-Partnership, which helps first-time moms have better pregnancy outcomes by helping women change their behaviors and reduce their use of alcohol and drugs.
Some of the ZIP codes overlap by those serviced by Healthy Start. In both programs, women receive visits in their home.
"We are not prenatal care, but we want to make sure that we help them with resources so they can get prenatal care," said Deyanira Goss, a community health nurse in the program.
Contact Yesenia Amaro at yamaro@reviewjournal.com or 702-477-3843. Follow her on Twitter: @YeseniaAmaro
One sure bet: Death in Las Vegas