Reputation, reality disconnect in violent death stats
October 27, 2015 - 6:15 am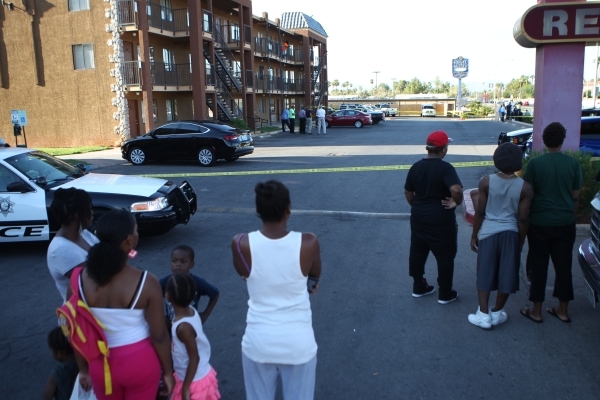 When it comes to violent death, at least, Las Vegas is a paragon of moderation.
Clark County has mirrored the decline of the nation's homicide rate in the past decade, with a rate only slightly above the national average.
In 2005, six people in the U.S. were killed per every 100,000 residents, according to data from the Centers for Disease Control and Prevention. By 2013 the national rate had dropped to five per 100,000.
During that time, the rate dropped from nine Southern Nevadans killed per 100,000 people to 5.4 per 100,000 — just two-tenths higher than the national average of 5.2.
Las Vegas police investigator Ken Hefner spent 12 of his 31 years with the force working homicides. He attributed the decline to two factors: more police on the streets and broader societal trends.
"How do you prevent murder? It's hard to do, but having enough cops helps," he said. "You may be able to suppress temper-fueled outbursts."
He also said that when society at large is doing well, "people don't have as many reasons to get angry and kill each other."
Hefner wasn't surprised by the homicide data.
For instance, the majority, 77 percent, of those who died violently were men, according to Southern Nevada homicide data from Jan. 1, 2005, to the end of August, obtained through the Clark County coroner's office. In the decade of data reviewed by the Review-Journal, 1,655 cases — 1,281 men —were killed.
Most of the homicide victims were young adults. Those 16 to 30 years old made up just 39 percent of the homicide cases, trailed by those 31 to 50 years old at 36 percent. In contrast, people 51 to 95 years old made up 16 percent of the county's homicide cases.
"In that sense we're no different than any other city," Hefner said. Young men "are disproportionately involved in drug and gang activity."
"If they make it to 30, they usually remove themselves from street-level violence," he added.
Racial demographics for young adults who were killed also fall in line with national homicide trends. Of victims 16 to 30 years old, about 40 percent were black, 33 percent were Hispanic and 23 percent were white, according to the coroner's data.
Blacks make up only 12 percent of the population in Clark County, according to 2014 Census estimates. Hispanics account for 30 percent of the county population. Whites make up 72 percent.
The majority — 69 percent— of victims aged 31 to 50 were white. Fourteen percent of people killed in this age range were black, followed by Hispanics at 8 percent.
Hefner said it's been his experience that the bulk of homicide victims were involved in dangerous practices such as dealing drugs and running with street gangs. Domestic violence that escalates to homicide is equally common.
"They're still victims. There is still someone to hold accountable," he said. "They're just engaged in risky behavior."
Only about one in 10 of his cases involved a victim who did not put themselves in a dangerous situation.
In 136 of the cases, or 8 percent, the victims were juveniles under 15 years, of which 49 were younger than a year old and 46 were younger than 5.
"We have, unfortunately, too many of those," Hefner said, adding that toddlers and infants are the most vulnerable and often killed by their caretakers.
For victims 15 years old and younger
The data also revealed where people die from violent attacks. The most common place to die — in nearly half the cases — after a violent attack is, unsurprisingly, a hospital. The next most common place is in or near a residence, which includes houses, apartments, courtyards, garages and parking lots., the majority (37 percent) were white, with blacks and Hispanics accounting for about a quarter of the children killed.
Only four people were killed at a bar or lounge in the past decade, according to the coroner's data.Parking lots and roadways are also common places for people to be killed, at nearly 100 cases for each location of that type over the past 10 years. Eighteen people were killed in hotels and motels, and three people were killed at casinos.
There is, however, one factor that recurs in the county's homicides that is unique to the region: The coroner's data show "desert areas" are frequent homicide scenes. This includes vacant lots and areas outside of town, where Hefner said it is common to dump bodies.
"Sometimes they were taken out in the desert and killed there," he said. "But they were most likely dumped there."
Instruments of Death
The coroner's data don't paint a complete picture of why a homicide happened, but the FBI collects information from Henderson and Las Vegas police about how people were killed.
From 2010 through 2013, 193 people were killed with a handgun — the most common weapon.
The next most popular murder weapon were firearms of an unspecified type (77 cases), according to the FBI.
The rarest murder weapon? According to the FBI data, it's also a kind of firearm. In the four years the Review-Journal looked at, only one person was murdered with an "unknown" type of gun. Long guns — rifles or shotguns — were used in just 13 cases.
But Southern Nevadan homicide victims were killed with many other instruments. Fifty-six people were killed with knives and cutting or stabbing tools, such as ice picks and screwdrivers. Hammers, clubs and other blunt objects were used in 44 cases, and 25 people were killed by an assailant's hands, feet or other body parts, including teeth, according to the FBI.
Hefner said in many cases it comes down to convenience.
"It's what's nearby," he said. "Domestic violence (homicides) can be spontaneous. People use what's at hand."
But he also said there's been a change in temperament.
"I think there's a lot more short fuses," he said. "What would be a fight in the old days would be gunfire today."
Contact Wesley Juhl at wjuhl@reviewjournal.com and 702-383-0391. Find him on Twitter: @WesJuhl

One sure bet: Death in Las Vegas