Entrepreneur, 60, found new life after being laid off
March 26, 2016 - 11:14 pm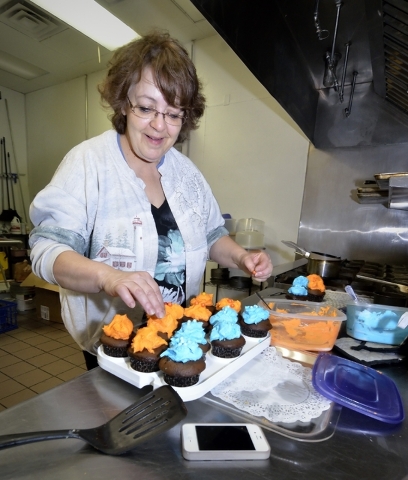 Kathy Bastian felt firsthand the impact of the spiraling economy four years after the recession.
She was laid off from her job at Lowe's in Detroit, Mich., in March 2014 just as she turned 60.
"I was there for 14 years; I thought I would retired from that job," said the now-Las Vegas resident. "In order to get our severance pay, we had to sign a paper that said we wouldn't do the type of work we did for them. I did go through a few interviews, and it was always the same thing — they would say you're a little too qualified for this job, and we can't pay you what you're asking. They don't tell you, 'Hey, it's your age,' but you get used to that look."
"I thought, 'I might be 60 on paper, but I have a lot of life left in me.' "
What she did next was something of a gutsy move — she decided to make her daughter, Heidi Heath's, dream come true by opening up a cheesecake bakery to honor her mother, Helen Steel.
Bastian moved to Las Vegas, took the money from her 401(k) and converted it to an IRA. Together, she and her daughter started Gotta Love Cheesecake, 5081 N. Rainbow Blvd., No. 100, in December 2014.
"I didn't put a lot of thought into it, to be honest," Bastian said. "I just thought I needed a job, so why not start my own business? We both took a big leap of faith."
Heath has a full-time job and works on the side making cheesecakes, while Bastian manages the store and creates other baked treats.
Bastian has also taken it upon herself to create a second home in her shop, she said. Inside the bakery are photos of her family and a year-round Christmas tree reflecting whatever holiday is coming up.
Despite being told from nearby neighbors that she wouldn't survive more than a few months, the bakery made it to one year.
"I've seen the good, the bad and the ugly," she said. "People here are brutally honest. They said I wouldn't last more than six months because this is a bad location. It just made me more determined."
She remains optimistic, although she admits she has slow months, slower months and good months.
"I heard the second year is the toughest, but I don't have any regrets," she said. "My advice to everyone is to take a leap of faith and follow your dreams. If your heart and your head match, then you can't make a mistake. You just have to be open to change and improvement."
Neon Rebirth: The post-recession American Dream in Las Vegas