Strip left reeling: Picking up the pieces after the Great Recession
March 27, 2016 - 12:15 am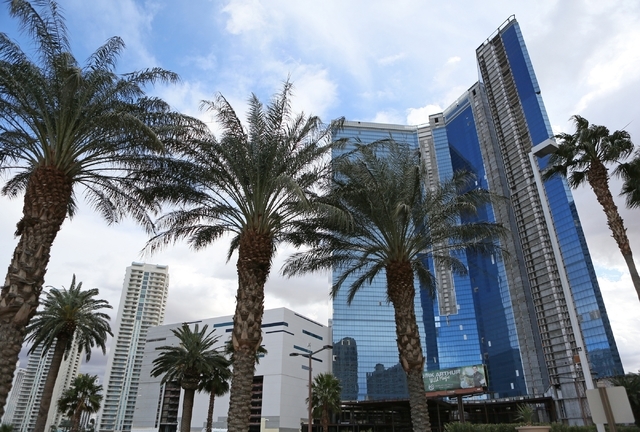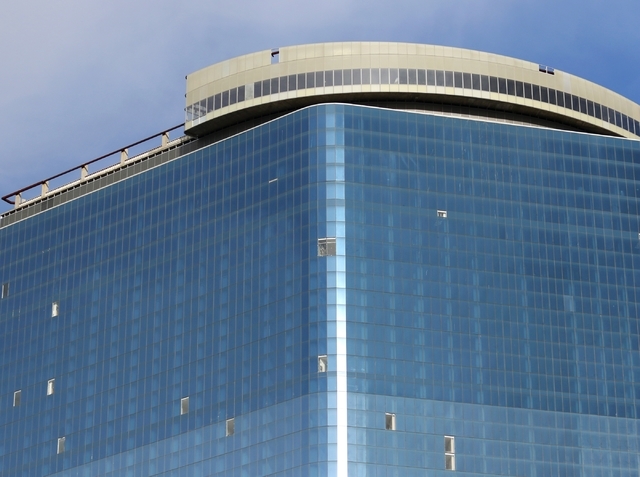 The skies above Las Vegas were sunnier than ever right before 2008. Business was booming, and tourism rates were soaring. Times were good.
How good? In 2007, Clark County gaming revenues hit a record $10.9 billion. The Las Vegas Convention and Visitors Authority reported its highest average daily room rate: $132.09, with the highest month on record in April at $146.53. At the same time, local casinos were enjoying booming business after upping the ante against other states legalizing gaming, and Las Vegas led the charge with dazzling hotels, opulent nightclubs and signature restaurants. As a result, Southern Nevada's casino industry outpaced any other city's.
At that time, the Brookings Institution and the London School of Economics and Political Science analyzed data from 1993-2007, ranking Las Vegas No. 14 among 150 metro areas, with the world's 18th fastest-growing economy.
WHERE ALL CAN HAVE THE AMERICAN DREAM
Workers in the casino-hotel and gambling industry in Clark County earned an average of $37,086 in 2007, according to the Nevada Department of Employment, Training and Rehabilitation. While those jobs comprised about 18.8 percent of the total in Clark County, the overall share of leisure and hospitality jobs was roughly 30 percent.
Yet there were more jobs tied to tourism.
"One of every six private sector jobs and two of every three construction jobs were attributable to the tourism industry," said Jeremy Aguero, principal analyst with Applied Analysis. "A key point is that the tourism industry is not just one thing — it isn't just the Strip. It's all of the cab drivers, anyone who works at McCarran International Airport, folks who work in restaurants and convention facilities — some of them off the Strip and not owned by the casinos — all of that is tied together in this thing which is our tourism industry."
The housing market also was surging, with the Las Vegas metro median home sales price $250,000 in March 2008. In Phoenix and Tucson metros, it was $205,000 and $192,250, according to CoreLogic.
Stephen M. Miller, director of the Center for Business and Economic Research at UNLV, said even though homebuilding was moving at a fast pace, there were more buyers than product.
"The developers were putting in new homes, new development, and they were issuing lottery tickets, a chance to buy a house," Miller said. "I mean, that's got to tell you something."
THE DOMINOES BEGIN TO FALL
Nationally, the Great Recession had already started in December 2007, and by the time it ended in June 2009, the foreclosure rate in Las Vegas metro was at 7 percent and would continue until it peaked at 9.6 percent in December 2010.
In addition, the dollar value of market goods and services produced (known as GDP) fell in Las Vegas metro by $2.3 million from 2007 to 2008, followed by $7.6 million from 2008 to 2009, where it stayed relatively flat through 2012, according to the Bureau of Economic Analysis. Growth slowed, and Las Vegas plummeted to 128th in the Brookings rankings for 2008. With people around the country feeling the pinch, discretionary income dried up, and the free-wheeling Vegas party trips with it.
Major construction projects were put on hold. The $4.8 billion Boyd Gaming project Echelon, announced in early 2006, sat staring vacantly at the Strip where the Sands once stood.
Turnberry Associates' 4,000-room mega-resort Fontainebleau Las Vegas was begun in 2007, just before things went sour. It was 70 percent complete when construction was halted on the $2.9 billion project. In 2010, Carl Icahn bought the property for $150 million. In typical Icahn style, he then sold off the furniture and other assets.
The $3.9 billion Cosmopolitan of Las Vegas went bankrupt in 2008 after developer Bruce Eichner defaulted on a $768 million loan. Deutsche Bank took it over, selling it to Blackstone Group for $1.73 billion in 2014.
Even the west valley's Shops at Summerlin Centre project — since completed and rebranded Downtown Summerlin — was put on hold, its steel beams sitting in the middle of the upscale community near Red Rock Resort and the 215 Beltway.
HOW CLOSE DID WE COME TO BOTTOM?
"I think we came really close," Aguero said. "I remember (MGM CEO) Jim Murren telling the story at a 2011 (event) that the MGM was minutes away from closing down the CityCenter project, which was the biggest project Las Vegas had ever seen. I don't think people realized how hard — and not just the tourism industry — but how hard the economy was damaged. It wasn't just a single sector. That was huge, but the fact that the United States government had to come forward with something like $787 billion of stimulus, it wasn't just the tourism industry that almost came apart; I think it was the United States economy."
It wasn't just big companies that threw in the towel — the Las Vegas middle class was also struggling. Chapter 7 filing (known as straight bankruptcy or liquidation) wipes out most of the filer's debts and usually requires one to surrender some of his property. U.S. Bankruptcy Court statistics show an average of 13,068 Chapter 7 filings — both individuals and businesses — in Clark County in 2008. By 2010, they had increased to about 25,000. In 2015, they recovered, with the first three quarters of 2015 averaging 4,566.
JOBS: A REALITY CHECK
The unemployment rate for Las Vegas metro was 6.2 percent in December 2015, the lowest since the beginning of 2007. But it was still short of the 4.1 percent in March 2007, according to the Bureau of Labor Statistics. That's the difference between 64,000 or 40,000 locals looking for work.

It was like a fever broke when the local unemployment rate peaked at 14.1 percent in September 2010. Yet, when the recovery began, Brookings noted that cities with more diversified industries were regaining their balance faster. But our ranking sank further, to 146th, better than only Dublin (150th), Dubai (149th), Barcelona (148th), and Thessaloniki, Greece (147th). Las Vegas lagged behind, the report noted, with income levels that declined 1.2 percent, even though they had increased nationally.
Where other metros — including Washington, D.C.; Austin, Texas; Minneapolis; and San Francisco — enjoyed highly educated residents working in industries that are generally seen as recession-proof, Brookings noted that Las Vegas had no such immunity. One can become a casino worker straight out of high school, and less than 15 percent of residents in Las Vegas metro have a bachelor's degree, with another 33 percent having some college under their belt or an associate degree, according to the 2014 American Community Survey.
Within a decade, 29 percent of Clark County jobs are projected to require a four-year degree as a minimum qualification, according to RCG Economics.
WHERE WE'RE HEADED
With the clouds clearing and visitor numbers higher than ever before at 42 million, Las Vegas regularly reinvents itself better than any other destination around the globe. So, what does 2016 have in store?
Recession-stalled construction plans have resumed at many Strip properties. The 20,000-seat T-Mobile Arena and the 5,000-seat Monte Carlo theater are in the final stages, and both will generate jobs. In addition, UNLV's expansion of 42 acres is expected to result in a new stadium.
Tesla Motors may be building near Reno, but in North Las Vegas, Faraday Future's 900-acre automotive production plant for electric cars will bring 4,500 jobs to this area. In 2009, Amazon built a 286,000-square-foot facility to serve as its Southwestern U.S. distribution center. It came with 350 new jobs. And Zappos continues to dominate in downtown Las Vegas.
"It's clear, in terms of our immediate and medium-term run, we're very dependent on leisure and hospitality," Miller said. "Now, the governor has … taken the Governor's Office of Economic Development under his wing, and Steve Hill (director) and his group are trying to diversify the economy. Faraday Future — to the extent that that pans out — that's going to be a big change in the structure of our economy. It'll boost our manufacturing and maybe double the percentage. That'll have spillover effects. We also see the expansion of Switch, another diversification move, and Tony Hsieh has tried to redevelop downtown, so there are lots of things going on that may, in the longer run, lead to a more diversified employment base in Las Vegas."
There are also exciting additions coming to the Las Vegas landscape.
IKEA is hiring 300 workers for its new 351,000-square-foot store under construction off the 215 Beltway in the southwest valley.
A number of drone startup companies have set up shop in Nevada, including ArrowData. The Association for Unmanned Vehicle Systems International estimated that drones would be a $82.1 billion industry by 2025. Local experts say the industry could have an $8 billion economic impact on Nevada.
Gov. Brian Sandoval directed state agencies in December to begin working toward Clean Power Plan compliance, paving the way for more wind and solar energy projects. The state has already garnered more than $6 billion in renewable energy investment, but there is the potential to bring in more than $5 billion in wages with an estimated 92,000 construction jobs in the high-growth industry, according to analysis from the National Renewable Energy Laboratory and data from the U.S. Department of Energy.
"We've made huge strides toward diversifying our economy," Aguero said. " … I think we are utterly aware of the importance of tourism today, and we have to double down … on our economic development effort, and we have learned a very important lesson. Modern thought of economic development is not that you abandon the industry that got you where you are. As a matter of fact, we want to have the strongest and most robust tourism industry anywhere in the United States. But, at the same time, we need to find multiple things to specialize in. If those grow a little slower than the tourism industry, simply because our tourism is growing so quickly, I think that's something we're going to have to accept. I'm never going to suggest that our tourism industry growing is a bad thing. What I will concede is that we are overly dependent on that single industry."
Miller agreed, adding, "We are heavily dependent on leisure and hospitality and tourism, and in 2008 or 2009 in Las Vegas, about 30 percent of our employment was in tourism and hospitality. Since then, it's come up a little bit — we're about 31 to 32 percent employment, that's total employment in the valley."
Alan Berube, senior fellow and deputy director of the Brookings Metropolitan Policy Program and former policy adviser to the U.S. Department of the Treasury, once told reporters, "What got Las Vegas to where it was in 2006 is not what will get it to a better place by 2020."
"Looking at 2016, I'm looking for a year of stability," Aguero said. "I don't think job growth is going to be as high. I don't think visitor volume is going to be as high. I don't think housing prices are going to escalate. As a matter of fact, we're looking for much softer growth coming into 2016, even with a lot of development activity currently going on, on the Las Vegas Strip. It just appears some of the key indicators peaked in the fourth quarter of last year, and we need to keep a really close eye on whether that will trend down into a decline or if it's a softening trend overall.."
To reach Summerlin Area View reporter Jan Hogan, email jhogan@viewnews.com or call 702-387-2949.
Neon Rebirth: The post-recession American Dream in Las Vegas