The Vegas brand: Strip reinventing its appeal to tourists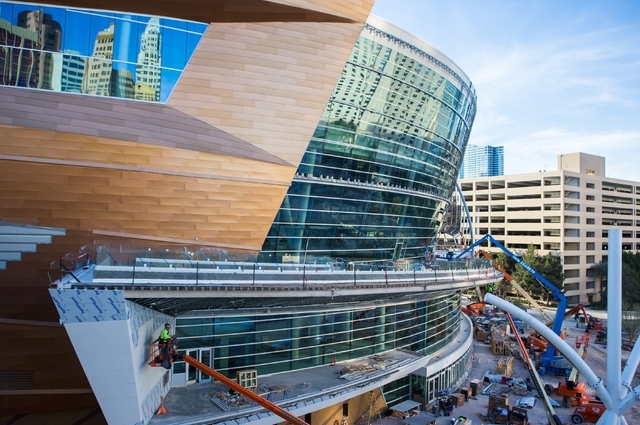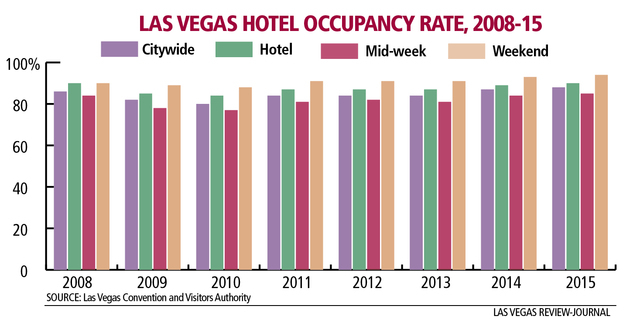 All indicators show the Las Vegas tourism industry is recovering from one of the biggest economic hits in its history.
"We typically mirror the national trend, if not exceed it, as far as travel volumes," said Kevin Bagger, executive director of the Las Vegas Convention and Visitors Authority's research center. "Nationally, tourism was up last year, and we enjoyed record-breaking visitation."
Another indicator of recovery, according to Mike Lawton, senior research analyst from the Nevada Gaming Control Board, is the Strip's total revenue reached an all-time record last year, surpassing pre-recession levels at $16.7 billion dollars. Revenue peaked in 2007 at $15.8 billion.
Lawton added that Clark County's total revenue of over $22 billion last year surpassed its pre-recession peak. He based his information on the annual Nevada Gaming Abstract, a financial analysis of establishments producing $1 million or more in gaming revenue.
As the tourism industry rebounds, the question looms: Does Las Vegas still hold the same comsumer appeal it did prior to the recession?
GAMING REVENUE TAKES A BACK SEAT
"We did research to understand if the Las Vegas brand still meant the same thing in the post-recession mindset," Bagger said. "Our consumers basically told us that the adult freedom message still resonates. The 'What happens here, stays here' message didn't change with the recession."
Although the message remains relevant, Bagger said the recession did change some visitors' spending mindsets.
"I think people are generally more cautious with their spending," he said. "They're not at a level of spending they were at pre-recession."
A study conducted by the UNLV Center for Gaming Research showed gaming has become less important to the region's overall revenue picture. This study was based on data provided by the Gaming Control Board. Last year, 65 percent of the Strip's total revenue came from non-gaming, while gaming's share was more than $5 billion.
"Non-gaming is growing at a faster rate," Lawton said. "Gaming is growing at a slower rate, and it remains to be seen if and when it will reach its peak again."
GOING BEYOND GAMBLING
Once a gaming-driven destination, Las Vegas has evolved into one offering a broader range of unique entertainment and activities: dining experiences created by famous chefs; nightlife that appeals to a higher-end clientele, with celebrity DJs making regular club appearances; and high-end shopping. In fact, according to Bagger, this diversification into non-gaming in a key factor for the recovery in the tourism industry.
"In the wake of the recession, I think the hotels are actively engaged in ensuring their product remains vibrant, and interesting, to gain repeat visitors," said Bagger, who estimated that 85 percent of Vegas visitors return. "Therefore, the hotels are constantly striving to build new experiences to get people to come back and sample the destination again."
The change in focus is due in part to the mid-90s proliferation of gambling's availability throughout the country.
"Hotel owners are sophisticated business people," said Bagger, who has been marketing Vegas as an entertainment destination for decades. "They invested knowing they had to have a broader experience."
Responding to these changes, Vegas hotel owners had to diversify and invest in different avenues of non-gaming entertainment. Beginning prior to the recession, the trend has been building momentum as the region recovers.
"At MGM Resorts and several other resort companies in Las Vegas, that trend has been taking place for many years," said Rick Arpin, senior vice president of entertainment and development for MGM Resorts International. "More of our revenue has been non-gaming than gaming, and we're seeing that trend continuing, so our investments are accordingly in non-gaming assets like the T-Mobile Arena and expanded convention space."
Set to open in April, the T-Mobile Arena demonstrates an investment in large-scale entertainment. Arpin said the target is to host 100 events annually, with close to 1 million to 1.2 million attendees.
The materialization of a pro sports team, he noted, would further the brand of Las Vegas as a "major league" city.
"The vision of a new arena started more than 10 years ago, as we realized the ways to attract visitors to Las Vegas was changing — no longer could we build a new mega-resort and expect a flood of new visitors," Arpin said. "We realized events were a key driver of visitor growth, so we wanted to ensure we had the best venues to attract all types of events."
Bagger noted the confidence in the marketplace is demonstrated by the more than $6.5 billion in gaming and non-gaming projects either under construction or in the planning stages over the next two years.
"The hotels are constantly keeping an eye on what's the latest, greatest experience they can bring into the destination," Bagger said. "The hotels aren't sentimental. If a certain product or offering isn't working, they'll change it out and make it something else."
These projects include Topgolf Las Vegas, Speed Vegas, Resorts World Las Vegas, a renovation of the Julius Tower at Caesars Palace, and the theater at the Monte Carlo. Gaming-focused projects include Lavo Casino Club, Encore Player's Club and Wynn's plans for a poker room.
"Gaming will always be one of the core experiences of Las Vegas," Bagger said regarding investment into the gaming experience. "Hotels are always looking at how can we make the casino floor more interesting for different demographics."
As the Strip evolves, so does its clientele. According to Bagger, Vegas has expanded its offerings of premium luxury products, but he noted that these added offerings don't exclude the average visitor.
"We continue to have a broad mix of experiences, depending on what fits your budget," he said, adding that having a price point for everybody has been a consistently successful strategy for Vegas over the years.
Neon Rebirth: The post-recession American Dream in Las Vegas