Suzanne Somers, musical acts entertain at Best of Las Vegas Awards show
November 6, 2016 - 3:42 pm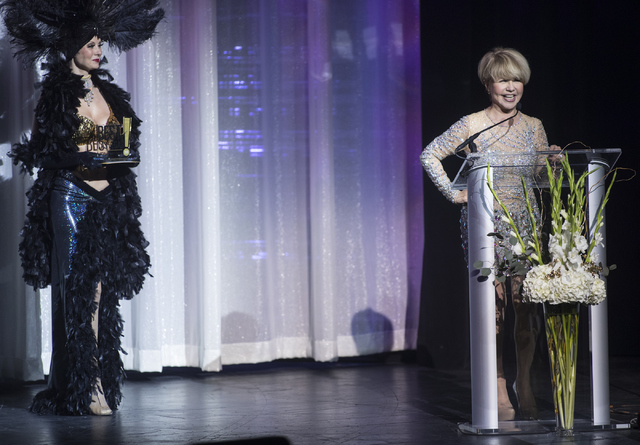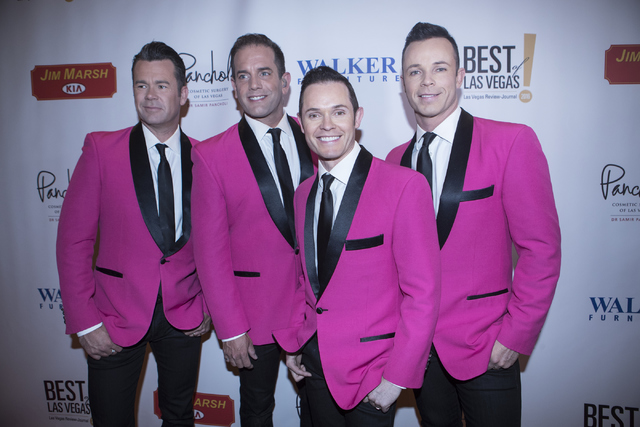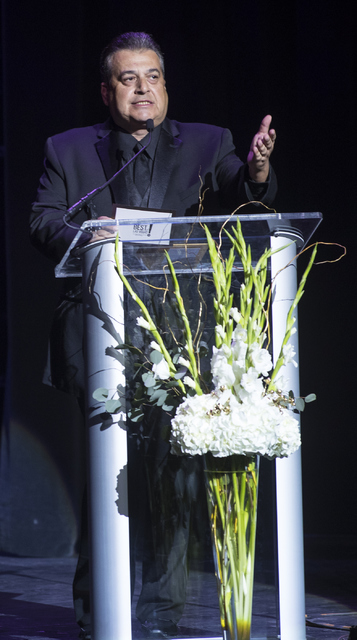 Best desserts, best dog park and best showroom were among awards presented Saturday at the 35th annual Best of Las Vegas Awards inside The Venetian Theatre.
Each year, the Las Vegas Review-Journal polls readers on the best restaurants, performers, shops and more.
This year, 227 winners were chosen. Ten awards were presented at the event, which included performances by the Chippendales, the casts of "SEXXY: The Show" and "Baz" and Elvis impersonator Steve Connolly.
Suzanne Somers, Robin Leach, Carrot Top, Nathan Burton and several others presented the awards. In all, 1,400 tickets were sold for the event.
Somers, the event's featured presenter, hit the red carpet in a Chinese-influenced minidress and yellow-gold rhinestone heels. Her husband's penchant for doodling on Post-it notes inspired the pattern, and her daughter embroidered and sewed the dress.
"Handy family," Somers said with a chuckle.
Other attendees' garb ranged from blue jeans to floor-length gowns.
The event opened with a spirited rendition of "Here I Go Again" by Whitesnake performed by the cast of "Rock of Ages."
Onstage, Somers donned three other dresses and lent her genial personality to the show. About the 25 books she has penned, Somers quipped, "I'm Irish; we either drink or we write. I do both."
Winners were announced during the ceremony for the best spa (Qua Baths and Spa at Caesars Palace), best dog park (Hydrant Club), best dessert (JinJu Chocolates), and best showroom (the Donny and Marie Showroom at the Flamingo), among others. The full list of winners can be found in the special edition inside the paper.
"Way back when, it was kind of commonplace that they would do a show like this," Review-Journal publisher Craig Moon said. "But it's probably the first show we've done in 15 years. We wanted to reinvigorate the Best of Las Vegas brand."
Many nominated business owners and representatives attended the show.
New York native Savvas Andrews owns the Bagel Cafe, which has won the best deli award 13 times.
When asked whether he thought he'd win this year's award, Andrews laughed and said, "I really don't know."
Some people came to the event out of curiosity, including 58-year-old Las Vegan Angie Hobbs.
"I just thought I'd come check it out because I read about it in the paper," said Hobbs, who has lived in Las Vegas for 2½ years and came alone.
A performance by "Vegas! The Show" closed the event, earning a heavy round of applause. The curtain closed to an instrumental version of "Viva Las Vegas."
Contact Brooke Wanser at bwanser@reviewjournal.com. Follow @Bwanser_LVRJ on Twitter.