Spectators bond at O.J. sentencing
December 6, 2008 - 10:00 pm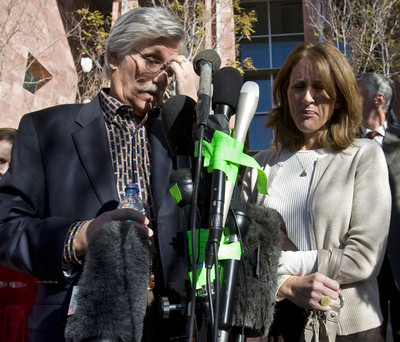 After driving his classic Corvette from California to Las Vegas, Wayne Wilms was lucky enough to draw the 10th lottery ticket to view O.J. Simpson's sentencing in person.
But the 60-year-old longshoreman from Long Beach never stepped foot inside the courtroom.
Inside the Regional Justice Center, Wilms saw Ronald Goldman's family members standing nearby, upset that they were one ticket shy of witnessing the fate of the man accused of murdering Goldman 13 years ago. He handed his pass to Fred Goldman, the family patriarch.
"I said, 'This is more important to you than it is to me,'" Wilms said. "I had thought about it a little. My goal wasn't to get into the courtroom. My goal was to shake Fred Goldman's hand."
Though they had never met, Wilms said he has a special bond with Fred Goldman, whose son was a friend of Simpson's ex-wife, Nicole Brown Simpson, when the two were slain in 1994. Wilms' 20-year-old son was killed in a dirt bike accident earlier this year.
"I'm lucky compared to what he had to go through," Wilms said of Fred Goldman.
Although Simpson was acquitted of murder, Wilms believes he did it. Most of the other spectators who crowded into the overflow room at the Regional Justice Center on Friday shared that opinion.
Some of the spectators had come to Las Vegas specifically to watch the sentencing, while others were tourists who'd dropped by out of curiosity. Whatever the reason, they bonded like a family reunited.
Bobbie and Charles "Spanky" Bayer, an elderly couple from Greenwood, S.C., waited with Michael Jordan — not the basketball star but a 39-year-old Elvis impersonator — for security guards to unlock the overflow room.
The discussion was all O.J.
"He was so charming and good-looking," said Bobbie Bayer, 65, who landed a Simpson autograph during his robbery trial in October.
"So, an O.J. supporter?" she was asked.
"Ohhh nooooo," Bayer shot back. "But he's a part of our life, whether you like it or not."
Jordan, dressed in Elvis garb, said he wanted to see Simpson, whom he described as "arrogant," sent to prison for years.
"The ultimate ego booster is if you can commit double murder and get away with it," Jordan said. "This has been 13 years of waiting for justice."
Jack Bomhoff was a forensic science teacher in Cheyenne, Wyo., during the first Simpson trial. His class watched the proceedings, a high-profile case in which DNA evidence played a high-profile role.
Bomhoff was in town Friday for the rodeo, but he stopped by the courthouse to watch the sentencing on closed-circuit television in the overflow room.
"It was black and white," Bomhoff said of the evidence presented in the first trial. "He did it, and he got off for all the reasons we know he got off. I don't know how he can live with himself. I guess I'm obsessed that there was a mockery of justice done."
Linda Lafferty, 65, remembered the throngs of tearful spectators who awaited Simpson's arrival to his murder trial every day in Los Angeles. She was one of them.
"He was a hero and here he is," she said, recalling the infamous white Bronco chase and Simpson's eventual arrest on murder charges.
There were few tears shed by observers on Friday, perhaps an indication of Simpson's waning popularity. After the hearing, spectators quietly filed out of the courthouse and went about their business, whether it was back to the slot machines or the rodeo.
"Well," said Spanky Bayer, 73, "that was something new and interesting to do in Las Vegas."
Contact reporter Adrienne Packer at apacker @reviewjournal.com or 702-384-8710.