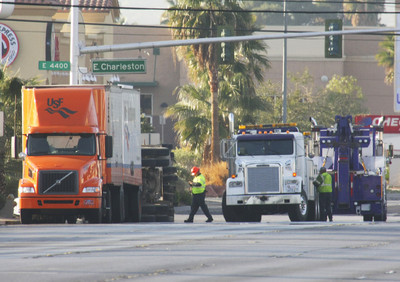 A tractor-trailer overturned on an east Las Vegas intersection Wednesday morning, spilling 5,000 pounds of a potentially explosive powder and triggering an evacuation of nearby homes and businesses.
Authorities evacuated all areas within 1,000 feet of Lamb and Charleston boulevards after the 5:45 a.m. spill of ammonium nitrate, a key ingredient in the 1995 bombing at the Oklahoma City federal building.
Las Vegas fire officials feared the powder could explode if it mixed with diesel fuel spilled from the truck, but firefighters and police were able to keep the substances from mixing, Las Vegas Fire Department spokesman Tim Szymanski said.
"We weren't willing to take that risk," he said.
An explosives expert downplayed the potential hazard.
Ammonium nitrate mixed with fuel oil is commonly used in mining and blasting operations around the country, but the mixture requires a powerful explosion to detonate it, said Paul Worsey, a professor of mining engineering at Missouri University of Science and Technology.
"You would need someone with a stick of dynamite and a blasting cap, or some alien overhead with a death ray, maybe," he said. "Those are both unlikely scenarios."
The diesel fuel in the mixture could catch fire from a match or cigarette, but it would not explode, he said.
A blasting truck loaded with about 30,000 pounds of ammonium nitrate was being carried on a flatbed trailer to a construction site near Reno. A blasting truck, which is designed to assist blasting operations, has a top speed of 45 mph and must be moved by tractor-trailer, Szymanski said.
Because of construction on Interstate 15, the truck driver was following a designated detour that brought him to the intersection. The truck toppled as it turned left from eastbound Charleston to northbound Lamb, he said.
Las Vegas police cited the driver with making an improper left turn.
The truck was owned by Sanders Construction Inc. of Henderson.
"We will investigate this accident diligently and do all that is necessary in the future to prevent another," company President Danny Sanders said in a statement.
Besides evacuating nearby buildings, authorities closed the intersection and the Charleston offramp from U.S. Highway 95 while the fire department's hazardous materials team investigated the spill.
Emilie Truett, one of about 50 people evacuated from the area, was arriving for work at the Rebel Oil gas station at the intersection when witnesses rushed in to say a truck had overturned.
Truett was told the driver of the truck sped up to make the turn onto Lamb Boulevard before the traffic light turned red. Witnesses said the truck slid before tipping over.
About 10 minutes later, a police officer and three firefighters told everyone in the gas station to evacuate, Truett said. She waited with co-workers for about 31/2 hours outside a nearby elementary school.
Firefighters and experts from Sanders Construction cleaned the spills in about three hours. All roads were reopened about 10:30 a.m.
Contact reporter Maggie Lillis at mlillis@reviewjournal.com or 702-383-0279.