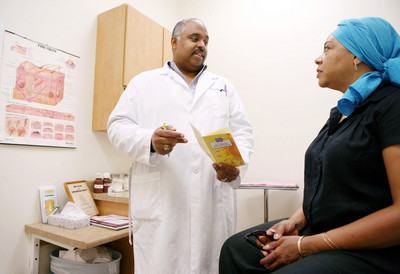 Before Dr. Johnnie Woodson began to remove tiny moles from Rosa Stone's face, the dermatologist reminded his patient that individuals with dark skin are not immune from sun-inducing skin cancer.
Don't buy into the myth, the doctor said, that a person with more melanin, or pigment, in the skin is invincible to the harsh effects of ultraviolet rays.
"That misconception can cause a lot of suffering or worse," Woodson said. "It is true that darker skin means less incidence, but that does not mean there is not a threat of skin cancer."
Outside Woodson's Henderson office Wednesday, there was no relief from the desert sun, pushing the temperature well above 100 degrees, the kind of day that can produce a sunburn in 10 minutes.
During those types of days, Woodson steps up his counseling with all his patients on the use of sunblock with a sunburn protection factor of 30.
Sometimes, Woodson said, he must be even more persuasive with patients of color.
"Most of the skin cancer warning messages and ads are geared only toward fair-skinned individuals, so it makes sense that African-Americans and other dark-skinned individuals aren't as concerned as they should be," Woodson said.
He heads Woodson Dermatology, a medical practice with offices in Las Vegas and Henderson that includes his wife, Dr. Linda Woodson.
"I grew up in inner-city Detroit, and nobody ever talked to me about what the sun can do," Woodson said.
Skin cancer is the most common form of cancer in the United States. More than 1 million cases are diagnosed annually, according to the national Skin Cancer Foundation.
Around 2 percent of the cancers involving African-Americans are skin cancers, statistics show. Up to 8 percent of those are melanomas, the most deadly form of skin cancer.
Woodson noted that more than 95 percent of all melanomas are found in the fair-skinned population.
But he also pointed out that once African-Americans are diagnosed with melanoma, studies have shown that their long-term survival rate is significantly lower than Caucasians: 59 percent to 85 percent.
The fact that African-Americans don't think they can get the disease undoubtedly plays a role in that difference, Woodson said.
"The sooner you get to the doctor with something suspicious on your body, the better off you are when it comes to treatment," the doctor said.
Dr. Mona Gohara, a spokeswoman for the Skin Cancer Foundation, said the time has come in the United States to include dark-skinned individuals in skin cancer warning messages. "Melanoma has a high cure rate (about 96 percent) if detected early," she said in a phone call from her office in Dansbury, Conn. "People need to know that everybody is at risk."
What makes melanomas even more challenging to detect among African-Americans is the fact that more than half the cancers are found on areas of the body that don't get heavy sun exposure, Gohara said.
Often, she said, melanomas are found on the feet and under the toenails. It is unclear, she said, whether the sun or genes, or a combination of both, cause these melanomas.
The reggae singer from Jamaica, Bob Marley, died at age 36 after contracting melanoma in his big toe. The cancer eventually spread throughout his body. Because of his religious beliefs, he did not allow an amputation that could have saved his life.
"No one knows whether the intense sunlight that came from living below the equator or a genetic predisposition caused that," Woodson said. "There is a theory that genes play a large role in melanomas in African-Americans."
Up to 35 percent of the skin cancers contracted by African-Americans are known as basal cell carcinomas, skin cancers that are definitely attributable to the sun. Though rarely fatal, they can be highly disfiguring.
Squamous cell carcinoma is actually the most common form of skin cancer.
It is not linked to the sun, but rather to scarring that can come from burns or ulcers, Gohara said.
After Stone had her moles removed at Woodson's office, she recalled how little she knew about skin cancer while growing up in Cuba.
"We got burned all the time," she said. "We were at the ocean every day. I had a friend who got third-degree burns. We thought that you built up a tolerance to the sun. Now I know to wear sunblock. I make my children wear it.
"Cancer does not discriminate on the basis of race," she said.
Contact reporter Paul Harasim at pharasim@reviewjournal.com or 702-387-2908.