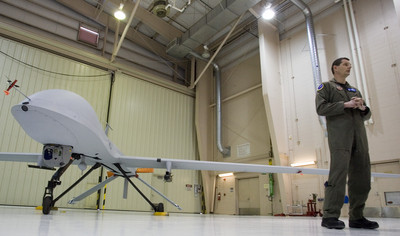 INDIAN SPRINGS — Creech Air Force Base activated a small but important squadron Wednesday, one that will ensure that the nation's fleet of unmanned aerial aircraft such as the MQ-1 Predator and MQ-9 Reaper will continue to perform as designed in the war on terrorism.
"Gosh, what a neat experience," Lt. Col. Ty Moyers said after taking command of the 556th Test and Evaluation Squadron, which until Wednesday had been a detachment of the 53rd Wing from Eglin Air Force Base, Fla. "We have a system that's out there 24-7 to fight the global war on terrorism to keep this nation free. Our mission is focused on keeping this system viable and in the hands of the war fighters."
In a nutshell, the role of the 556th is to troubleshoot any problems that surface with the Air Force's remotely piloted, armed spy planes. Problems might include computer software glitches, mechanical failures, and communication issues between airborne spy planes and ground stations.
Predators armed with laser-guided, Hellfire missiles and Reapers carrying missiles as well as laser-guided bombs can be launched in war zones in Iraq and Afghanistan. Then, control of the aircraft can be handed off via satellite link to pilots and sensor operators at ground stations thousands of miles away in Nevada and other locations.
The 556th has three Predators with a staff of 32 airmen and civilian contractors. The squadron's first Reaper is expected to be delivered in 2011, Moyers said.
Like the 432nd Wing that was activated last year at Creech, 45 miles northwest of Las Vegas, the 556th is expected to grow as the demand for remotely piloted, armed spy planes overseas continues to increase.
The 556th Test and Evaluation Squadron also is expected to help in fielding new weapons systems.
"There'll be new systems and new capabilities," Moyers said at the activation ceremony.
Later, he explained that jet-powered, unmanned aerial systems could evolve from propeller-driven technology.
"There are things that are being developed right now," he said. "What's that going to equate to hasn't been determined."
Among the questions to be answered, Moyers said, is, "How do we link manned systems to unmanned systems?"
He said the Air Force has about 100 MQ-1 Predators and six operational MQ-9 Reapers.
The first of the bigger, faster Reapers was deployed last fall for combat operations in Afghanistan.
The Reaper unit at Creech, the 42nd Attack Squadron, was activated in November 2006 and assigned in May 2007 to the 432nd Wing, which then was expected to grow from 1,900 personnel to 4,000 within five years.
At the ceremony Wednesday at a hangar at Creech, Col. Brian O'Rear, deputy commander of the 53rd Test and Evaluation Group, reflected on growth at the base for remotely piloted aircraft.
"What's going on here is incredibly important, incredibly busy," he said. "What we're doing is saying goodbye to a detachment, (but) this is different because we're expanding."