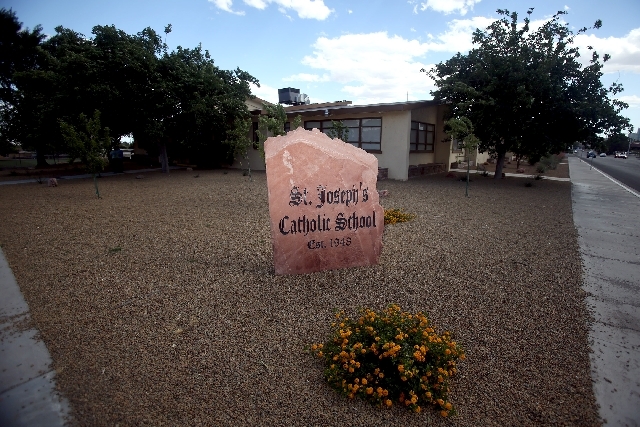 Word that St. Joseph Catholic School was closing after 65 years has generated a flood of responses and emotions from the parents of current students and a number of its thousands of alumni.
Many successful Southern Nevadans can trace the roots of their formal education and discipline to the school at 1300 Bridger Ave., where the curriculum was conservative and the nuns ran a tight ship. Longtime casino man Michael Gaughan has been a generous contributor to the school and ranks among its best-known graduates. (Jack Binion and Tito Tiberti didn't do too badly for themselves, either.)
When Jackie and Roberta Gaughan moved the family to Las Vegas from Omaha, Neb., in October 1951, St. Joseph was so crowded there was no room for young Michael. He returned to Omaha to finish the school year, then started fresh the following semester as a fourth-grader in classes taught by the Adrian Dominican Sisters.
Gaughan swears he has great respect for those nuns, but he can't claim their best efforts did much good.
"Let me tell you about nuns," Gaughan says. "The nuns at St. Joseph were very delusional. They thought God put them on Earth to teach me something. They were very much mistaken. And they were happy to see me go."
Stories of their ability to wield rulers with Ninja-like skill were only slightly exaggerated.
"I've got the knuckles to prove it," Gaughan says with a laugh.
HONEST CABBY: James Baker's difficult day began with needing a cab to take him to and from his kidney dialysis. Then it got worse.
When he returned home, he discovered that he had lost his wallet, which had several hundred dollars inside.
He wasn't in any shape to go looking for it.
As Baker put it, "It would have been a real pain in the patoot to get all the cards and everything back."
At the end of his shift as a Whittlesea Blue Cab driver, Frederick Delk discovered the wallet and remembered the passenger. It took several days, but Baker was pleasantly surprised to have his wallet returned without a dollar missing.
"The first day that person never called," Delk said. "The next day that person never called. I knew his address. The company decided to get in touch with that person and reached him on Wednesday morning. He did not know where he lost his wallet. … I knew the person was struggling. He had to go through dialysis or something. I knew he really needed that money."
When I contacted Baker on Thursday morning, he was glad to talk about the honest cabdriver.
"I want to thank the driver, but I don't know his name."
Now he knows.
It's not the most money ever returned from a Las Vegas cabdriver, but it's a reminder that most of our beleaguered taxi men and women are professionals with the best interests of their customers in mind.
YOUR TOWN: The good people at the Down Syndrome Organization of Southern Nevada are beaming over their new office at 5300 Vegas Drive. Its official ribbon-cutting is set for 10 a.m. Saturday with representatives of funding sponsors the Caesars Foundation, KaBoom! Playgrounds and DirecTV expected. More than 300 volunteers pitched in to make the new facility a success, the organization's Sue Covey says.
ON THE BOULEVARD: Musician and radio personality Mark Rodney has some intriguing reminiscences about his father, the late jazz trumpet great "Red" Rodney and Charles "Sonny" Liston. Locals who knew Liston are being interviewed by Sports Illustrated for a story on the late boxer's mysterious death. … It's hard to believe, but elements of the CMKM diamond stock scandal are still popping up in the legal system. Suckers from across the country were taken by that locally based fraud. … Those who lost money "investing" with Vegas fraudster Jed Baron will be pleased to know he was sentenced earlier this month to a five-year prison term.
Have an item for Bard of the Boulevard? Email comments and contributions to jsmith@reviewjournal.com or call 702-383-0295. Follow him on Twitter @jlnevadasmith.