Stadium experts: Covered on-campus stadiums not part of the mix
December 7, 2013 - 10:57 pm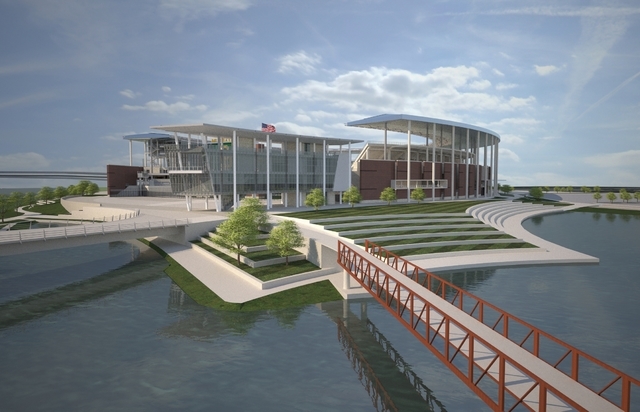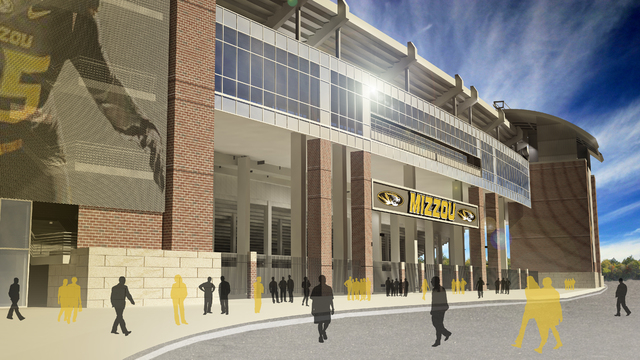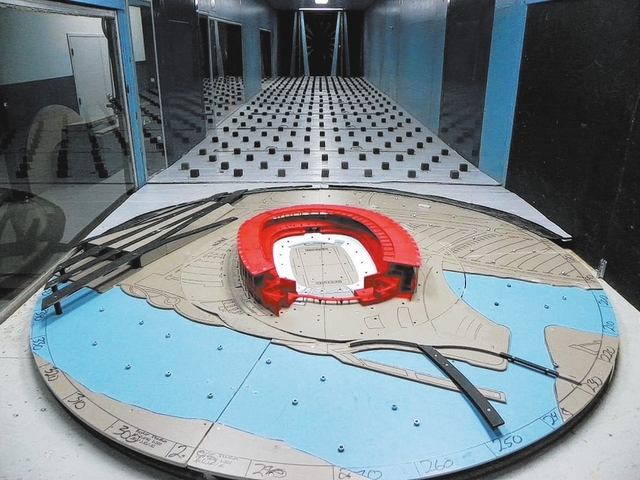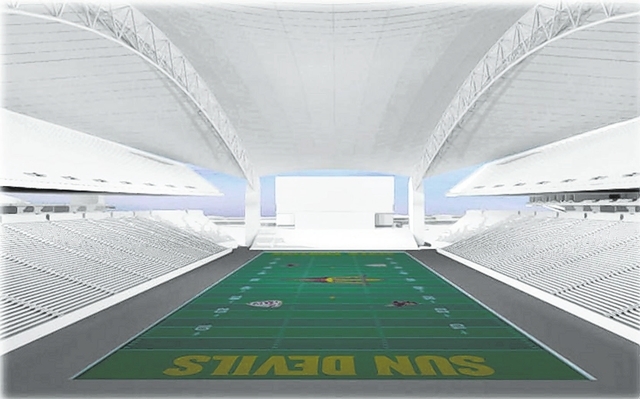 The new stadium's big canopy will provide shade to keep out the sun; openings around the exterior will allow in a breeze to help cool the fans.
Those two significant design features for Baylor University's $260 million stadium, which opens in August in the hot environs of Waco, Texas, should catch the eye of 11 members of a UNLV board charged with evaluating the need, scope, cost and funding sources for an on-campus stadium in Las Vegas.
On Thursday the panel is scheduled to hear from a consultant who will summarize what's new and what's in the works for campus stadiums across the country.
roofs add to costs
The University of Nevada, Las Vegas board, made up of regents, casino representatives and public officials, is expected to hear from its consultant, Mark Rosentraub of the University of Michigan, on the array of new and planned on-campus stadiums.
One big question is whether to cover a new UNLV venue to make it more hospitable for concerts and other nonsporting events or leave it open to Las Vegas' hot desert sun.
Members of the UNLV board may be surprised to hear that stadium industry experts report no full-cover campus venues have opened recently, and that none are being planned.
Domes are rare on campuses because football, which is the big moneymaker for colleges, historically has been played in the elements. And a roof adds tens of millions of dollars to what already are expensive structures.
But that's not to say that shade isn't in fashion and won't be necessary for a Las Vegas venue conceived as a multipurpose event center in a city that draws a lot of big events.
Two college stadium projects in hot weather college towns might prove of interest to UNLV planners.
Texas heat and humidity have been known to simmer Baylor football fans, so architects designed the university's new stadium for maximum shade.
"We're trying to cover as many seats that our budget will allow," said Sherri Privitera, a principal of Populous, the Kansas City, Mo.-based architectural firm that designed the new Baylor Stadium. Privitera is also project manager for the 45,000-seat venue.
"They are used to the heat, though we want to provide shade and comfort. We asked, 'How do we minimize the impact of the sun while trying to create the best possible collegiate football environment?' " Privitera said.
Baylor officials envisioned an open-air stadium, and Privitera noted, "There was no discussion of a dome."
Another football hot spot, Arizona State University, plans to update Sun Devil Stadium to include a shade canopy that will still permit natural light and air to pass into the venue.
That proposal would potentially make it more comfortable for fans to watch ASU day games earlier in the year to accommodate Pac-12 TV network obligations.
With no cost estimates, timelines or a builder, the ASU project is still at an early stage.
According to the university's website, ASU is also looking at two options: Allow the team to stay in Sun Devil Stadium during construction, or move the team out of the stadium for a season or two, which would accelerate the project.
ASU officials are not commenting about the stadium project status, because the university just lost Athletic Director Steve Patterson to the University of Texas.
UNLV will inevitably look at the fabric technology behind ASU's shade canopy.
Baylor's experience can also be helpful for UNLV, because sun and shade studies were conducted there to determine a design with the fewest seats exposed to the sun, Privitera said.
every market different
The Baylor and Arizona State stadium projects are part of a new wave of college venues either in the works or recently opened. The list includes:
■ TCF Bank Stadium at the University of Minnesota was opened in 2009 at a cost of $303 million.
■ The University of North Texas opened a new $79 million stadium in 2011. Outgoing UNLV President Neal Smatresk, who has lobbied for a new UNLV stadium, will soon be the president at North Texas.
■ Florida Atlantic University debuted a new stadium for $62 million, also in 2011.
■ One of the biggest stadium rehab projects will be at Texas A&M's Kyle Field, which is being redeveloped for $450 million and is scheduled to open in August 2015.
■ Colorado State University, a UNLV Mountain West rival, is building a $226.5 million stadium. No opening date has been set.
■ The University of Missouri's Faurot Field added seating to the east side of the venue for $45 million.
■ The University of Tulane plans a $73 million stadium to open next year.
Privitera said looking at the inventory of new college stadiums sounds good, but she warned that every market is different and that Las Vegas stakeholders "need to determine your goals and prioritize them."
Indeed, university officials are counting on the region's resort industry to kick in a healthy share of the cost.
In Baylor's case, the city of Waco contributed $35 million, about 13.5 percent of the total bill.
It's possible UNLV will want the resort industry to provide a bigger share.
UNLV officials argue that if the hotel-casinos financially benefit from the influx of visitors attending events at a new stadium, they should contribute a fair share of the construction cost. A target percentage has yet to be determined.
lessons to learn
While UNLV officials have talked about an on-campus stadium hosting Rebels football, they also have discussed other events that will draw out-of-town visitors, such as the NFL Pro Bowl, games matching out-of-region college football teams, big-time soccer matches, rugby, concerts, festivals and award shows.
Baylor is raising $100 million to $120 million and using athletic revenue to pay off bonds to finance the stadium.
Waco is using tax increment financing for its $35 million. The Nevada legislation that created the UNLV stadium board also created a campus district that would allow taxes to be collected on items sold.
Another trend: Smaller is better. The emphasis is on enhancing the fan's stadium experience, which sometimes means more intimate, smaller venues with a bigger selection of seating options, including upscale clubs and suites.
ASU, for example, plans a stadium of 55,000 to 60,000 seats, down from 71,000 in its current venue. Decreased capacity allows enhanced sight-lines, and including a mezzanine allows for a build-out of club seating. The plan includes modern sound and video systems, as well as a new scoreboard.
Other lessons to be learned from Baylor is that the stadium was designed to appeal to fans of all ages and interests, with an emphasis on making it Wi-Fi friendly and interactive to make it relevant to a younger generation, she said.
Privitera also said it's important to remember that collegiate stadiums are different from professional venues.
"What's unique about university stadiums versus professional is there's an emotional connection back to campus. The alumni have fond memories of their experiences on campus. That connection back to campus is always important, and the design has to draw some of that emotion," Privitera said.
To accomplish the emotional link between an alum and a new stadium, architects can design venue exteriors and interior touches that are inspired by other campus buildings. For example, Baylor's stadium uses the same style of brick used on campus; and fans, students and alumni will literally see their campus from multiple points in the stadium, she said.
Privitera also advised UNLV board members to be precise in what they want in a stadium and not necessarily seek to duplicate other stadiums.
"Clients want a multipurpose, but you have to define what that means," Privitera said. "Our facilities should be unique and satisfy the unique circumstances. Las Vegas is a unique market and climate, and you need to be careful how you compare stadiums (in different markets) to one another."
The UNLV stadium board is required to submit a report to the Legislature by Sept. 30 that outlines the need, scope, price and funding.
Alan Snel can be contacted at asnel@reviewjournal.com or 702-387-5273. Follow @BicycleManSnel on Twitter.