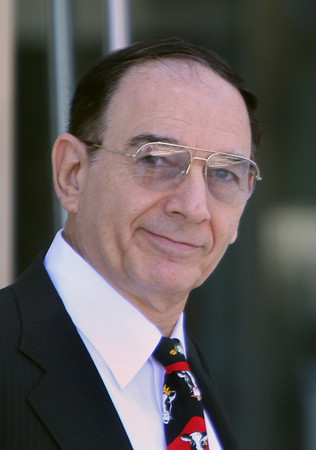 Las Vegas attorney Noel Gage has spent more than two years trying to stay out of prison.
Now he must fight to preserve his livelihood.
The State Bar of Nevada filed a complaint late Wednesday that accuses the 71-year-old personal injury lawyer of engaging in misconduct. It claims he split about $1.3 million in fees with medical consultant Howard Awand, his co-defendant in a federal fraud case.
While traveling to California on Thursday, Gage called the allegation "absolutely false."
"Every payment that ever went out of my office was lawful, appropriate and to fairly compensate for services performed on the particular matter," he said.
A federal grand jury indicted Gage and Awand in 2007. Prosecutors accused the pair of conspiring with doctors to cheat injured clients and enrich themselves.
Gage's case resulted in a mistrial in March 2008 after jurors failed to agree on a verdict. A judge later dismissed the charges against both Gage and Awand.
Prosecutors in turn appealed the dismissal, and the 9th U.S. Circuit Court of Appeals is scheduled to hear arguments Tuesday in San Francisco. Gage said he plans to attend the hearing.
According to the ethics complaint, the bar began monitoring Gage's criminal matter after he was indicted.
"In this case, we did not receive grievances from the clients," Assistant Bar Counsel Phil Pattee said. "This matter started with the federal government's indictment."
Nevada has a rule that bars attorneys from splitting fees with nonlawyers.
"The main reason for the rule is to make it less likely that a lawyer's judgment will be compromised by his relationship with a business partner who's not subject to the same ethical rules that lawyers are," said Jeff Stempel, who teaches professional responsibility at the Boyd Law School at the University of Nevada, Las Vegas.
Fee splitting with another lawyer is allowed, Stempel said, but only if the client is adequately informed and consents in writing. He said lawyers need not inform their clients about every vendor they use to prosecute a case.
At Gage's trial, jurors heard evidence of payments Gage made to Awand. Gage has said he paid Awand for consulting services.
"I will charitably label that bar complaint as 'rubbish,' " Gage said Thursday.
Gage has been licensed to practice law in Nevada since 1997. If the ethics charges against him are upheld, he could face discipline ranging from a reprimand to disbarment.
The lawyer, who previously practiced in Michigan and Texas, said this is the first time he has faced formal ethics charges.
According to the bar complaint, Awand owned three companies that he used for "purported medical consulting services": Nevada Medical Consultants, Vermont Medical Consultants and Colorado Medical Consultants.
Through these companies, according to the complaint, Awand was retained by Gage "to purportedly review medical records and to locate medical experts through Awand's network of doctors."
According to the complaint, Awand also owned Nevada Medical Investments, a company that purchased liens from medical facilities at a reduced rate.
"NMI also assisted clients in obtaining medical procedures that would not be covered by medical insurance or by a facility that would normally not accept a lien," the document states. "The charges incurred were then submitted on a lien to (Gage) and were paid at full value."
One of Gage's clients listed in the complaint is Melodie Simon, a central figure in the lawyer's criminal case. The criminal charges against Gage stemmed from his dealings with Simon, who sought legal advice from him after a routine medical procedure left her paralyzed.
Prosecutors claim Gage had a solid lawsuit against two surgeons that could have resulted in a settlement of between $8 million and $10 million for Simon, but the lawyer abruptly switched courses and instead sued the hospital and the anesthesiologist.
The government contends that Gage was persuaded to change his strategy after Awand referred a multimillion-dollar case to him. Gage was promised more lucrative cases if he backed off suing the two surgeons who were part of Awand's network, prosecutors claim.
According to the bar complaint, Gage settled Simon's lawsuits between June 2004 and February 2006 for about $2.3 million.
Awand, on behalf of Nevada Medical Consultants, received an expert fee of about $540 from Gage for one of the settlements, according to the complaint. When questioned at the criminal trial, Simon "did not know what NMC was" and "did not know who Awand was," the bar complaint states.
Simon, a teacher and volleyball coach at Cheyenne High School, said she has no opinion about whether Gage handled her cases improperly.
"If he's done something wrong, I hope that he would get his due," she said Thursday.
According to the bar complaint against Gage, the "total amount involving fee splitting with Awand, a nonlawyer, is $1,339,803.17."
In addition, according to the document, Gage made payments totaling more than $430,000 to Nevada Medical Investments.
"Therefore, the grand total dollar amount paid to Awand through one of his companies by (Gage) is $1,771,422.58," the complaint states.
Gage is accused of violating rules of conduct involving conflicts of interest and professional independence. The complaint also accuses him of engaging in conduct "involving dishonesty, fraud, deceit, or misrepresentation."
Pattee said no formal hearing on the ethics charges has been scheduled.
Contact reporter Carri Geer Thevenot at cgeer@reviewjournal.com or 702-383-0264.