State budget forecasters raise revenue projection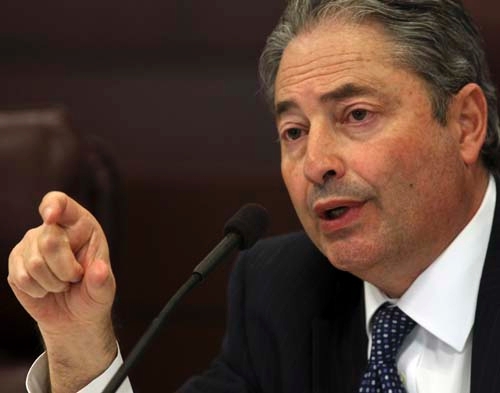 CARSON CITY — Republican Gov. Brian Sandoval will have $274 million to add to his proposed state budget, but the extra money announced Monday isn't enough to satisfy Democrats who say it is well short of what's needed to fund education and social services adequately.
Most of the new money is the result of the state's Economic Forum members meeting Monday and updating revenue forecasts.
The forum, a nonpartisan, appointed panel of five economic experts, by law is charged with setting revenue forecasts that lawmakers and the governor must use to build budgets.
Before the latest meeting, Sandoval had submitted a two-year budget with about $5.8 billion in proposed general fund spending, a figure that included hundreds of millions of dollars in education and social services cuts and reflected the governor's promise to oppose tax and fee increases.
In a statement, Sandoval promised to spend money from the latest projection on education, an area of his budget Democrats have protested most loudly.
"In accordance with my previously stated desire to put additional funding to education, I pledge that the $274 million increase will go directly to public education," said Sandoval, who is scheduled to make a televised address tonight to discuss the budget and the 120-day legislative session, which concludes June 6.
But in a news conference after the Economic Forum meeting, Democratic leaders said even with the new money, Sandoval isn't planning to spend enough for Nevada to have adequate schools and a viable social safety net.
Democrats have a majority in both chambers of the Legislature and say they won't approve Sandoval's budget proposal without adding additional spending.
However, they don't have enough members to reach the two-thirds majority needed to raise taxes or override a gubernatorial veto.
Republicans in the Assembly and Senate have stood behind Sandoval's plan, meaning the governor and Legislature are at a stalemate.
Sen. Joe Hardy, R-Boulder City, welcomed the additional revenue. Hardy previously has said Sandoval's proposed budget was about as low as he is willing to go on spending.
"As I see this, we have the Sandoval budget plus some," Hardy said.
Democrats plan to begin unveiling their alternative budget at noon today in a joint meeting of the Assembly Ways and Means and Senate Finance committees.
That's when they intend to "close" the budget for the distributive school account, an action that means they will decide how much to spend on K-12 education. It won't include sources of money for proposed expenditures beyond what current revenue supports.
With 35 days remaining in the session, Democrats have said they don't think Sandoval is spending enough but haven't publicly identified where they would get additional money.
"The point is we have to step up to the plate and fund our schools and other essential services," said Senate Majority Leader Steven Horsford, D-Las Vegas. "We can hope for the best, but that can't be all we do."
The revenue boost announced Monday reflects a compilation of revisions to dozens of tax projections.
Overall, the Economic Forum added about $217 million to projections for the remainder of the 2011 fiscal year plus fiscal years 2012 and 2013.
The biggest boost was an extra $96 million in sales taxes that brings the projection for the upcoming two years to about $1.6 billion.
The uptick in the state sales tax projection also means another $113 million in local school support tax, another piece of the overall sales tax that goes into education, bringing the total revenue increase to about $330 million.
However, property tax revenue, which wasn't included in the forum's numbers, fell about $57 million short of projections and cut the gain back to $274 million.
The entire two-year projection boosted expected general fund revenue to about $5.5 billion, up from the approximately $5.3 billion the forum projected in December.
Sandoval includes about another $500 million in revenue through one-shot measures and diversions, many of which have been criticized as bad fiscal policy.
"Every state is working on, if you will, budget gimmicks," said Carole Vilardo of the Nevada Taxpayers Association, describing one-shot proposals in Sandoval's budget, such as a plan to raise about $190 million by borrowing against future insurance premium tax revenue.
The forum's projections could have been greater, but an ongoing slump in the state's gambling proceeds cut the surplus forecast by more than $43 million.
"It appears more people are coming (to Las Vegas) but are unfortunately spending less," Michael Lawton, an analyst with the Nevada Gaming Control Board, told the forum.
Visitors are shifting their spending from gambling to shows, which analysts at the forum said are fetching all-time-high ticket prices but don't generate as much tax revenue for the state.
"We are not going to see visitors spending their money on the casino floor," Janet Rogers, a state economist, said.
The numbers were a welcome change to recent year projections foreshadowing billions of dollars of revenue decreases as Nevada plummeted from the peak of an economic bubble to the depths of a historic recession.
But the increases forecast are still tiny compared with that the state has lost.
Bill Anderson, an economist for the Department of Employment, Training and Rehabilitation, said that since 2007, the state lost 175,000 jobs, mostly in construction.
In the past 12 months Nevada has regained about 5,800 of those jobs and should recover about 30,000 by the end of 2013, leaving the economy far short of the pre-recession peak.
And the building boom that inflated the economic bubble resulted in a surplus of houses and hotel rooms, meaning that even as tourism recovers, there won't be much demand for new construction.
"We're settling into a new equilibrium," Russell Guindon, senior deputy fiscal analyst for the Legislature, told the forum. "Where are we going to get construction employment growth."
Sandoval is expected to detail his plans further during the televised address tonight . But don't expect the governor to back off his steadfast refusal to increase taxes.
"We must, however, realize that while today's news is welcome, our state's economy is still fragile," Sandoval's statement said. "As the Legislature continues to close budgets, it is of the utmost importance to maintain our business-friendly climate to help foster job growth and put our fellow Nevadans back to work."
Contact reporter Benjamin Spillman at bspillman@ reviewjournal.com or 702-477-3861.