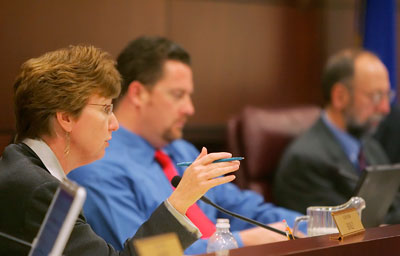 CARSON CITY — The state's projected $2 billion budget hole has gotten $100 million deeper, but Assembly Speaker Barbara Buckley refused to say today whether her party will support any tax increases.
The Las Vegas Democrat said during her party's weekly news conference that there will be no announcement about any tax increases until legislators complete a review of Gov. Jim Gibbons' proposed $6.17 billion, two-year general fund budget.
"We are doing a methodical process," Buckley said. "We start at the beginning. What budget items have to be cut in light of the unprecedented downturn? What should be reformed? What should be preserved?
"That is what we are doing every morning. We are going to continue to do that."
Democrats plan to finish that review in March and then come up with recommendations in April on possible tax increases.
They have come under increasing criticism from Gibbons and some in the media because they have criticized Gibbons' budget without offering any alternatives.
"I don't know how much more you have to explore to find out how dire the budget is," said Daniel Burns, Gibbons' communications director. "Every time economic news comes out, it is not any better. If her solution is raising taxes, let's hear it."
During budget hearings, Democrats have criticized many of Gibbons' budget proposals.
Specifically, they have blasted his plan to save $473 million with a 36 percent cut in the Nevada System of Higher Education budget and $435 million with a 6 percent cut in the salaries of public school teachers and university and community college employees.
The party has a 28-14 advantage in the Assembly and 12-9 edge in the Senate. With the help of two Senate Republicans, the Democrats could override any veto by Gibbons of tax increase bills.
Without the cuts, Gibbons has said the state will have to lay off 10,000 employees.
In releasing his two-year general fund budget, Gibbons himself said it was about 30 percent below the $8 billion needed to cover growth and keep spending at levels contemplated when legislators approved the last budget in June 2007.
Buckley's reluctance to talk about tax increases came an hour after state Budget Director Andrew Clinger said the administration has not yet come up with a plan to handle a new probable $100 million hole in the state's budget.
During an Assembly Ways and Means Committee hearing, Clinger said he agreed with the legislative fiscal analyst's projection last week that the proposed 3 percentage point increase in the room tax in Clark and Washoe counties will bring in $233 million, not the $292 million his office estimated in December.
At the meeting, representatives of the state Tourism Commission discussed dramatic cuts to Nevada Magazine and other functions of their agency in part because of a $5 million annual decline in room tax revenue. The magazine now has 10 employees and will have six left after the cuts are implemented.
The commission receives much of its funding from a three-eighths cent infusion of room tax revenue.
"The hits keep on coming," Clinger said. "Obviously, the increase in the hole isn't something you can easily figure out."
The Gibbons administration announced 10 days ago that it will not try to take $31 million in additional gaming taxes through an advance collection of taxes on casino markers.
The declines in anticipated room taxes and the decision not to take marker taxes early would leave about a $100 million loss of potential revenue.
"I guess we could just shut both universities down," said Assemblywoman Sheila Leslie, D-Reno, in jest.
Clinger said he is concerned that when the Economic Forum meets on May 1, it will determine there is even less tax revenue available for state government to spend over the next two years.
The Economic Forum is a group of five business leaders who determine how much tax revenue the state will have available to spend. The group on May 1 will project revenue for the next two years. On Dec. 1, it put that estimate at about $5.7 billion.
During the news conference, Buckley also said it appears the Economic Forum will estimate less revenue for the state.
"We are going to prepare for the worst and hope for the better," she said.
Sales and gaming tax revenue have continued to slide. On Friday, the Taxation Department reported December taxable sales by businesses dropped 16.2 percent from a year earlier.
Nonetheless, sales tax revenue since the beginning of the fiscal year in July still is $11.9 million more than the forum's projection. Modified business tax receipts also are $7.5 million above projections.
Buckley said budget committees intend within two weeks to close some state agency budgets.
She said she wants Clinger to announce administration plans by March 16 on how it will handle the additional decline in anticipated revenue.
"I don't know how we will do it at this point," Clinger responded.
Contact Capital Bureau Chief Ed Vogel at evogel@reviewjournal.com or 775-687-3901.