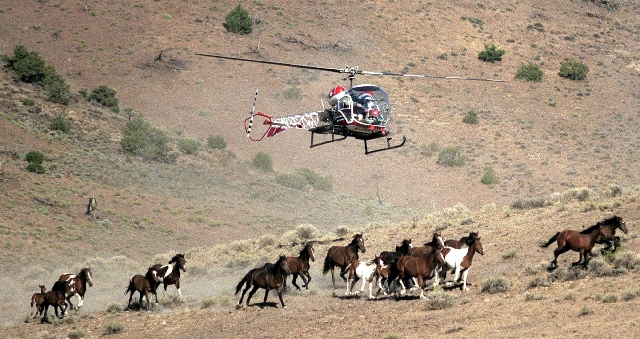 RENO — The state of Nevada has signed a cooperative agreement with wild horse protection advocates allowing longtime critics of horse roundups to buy animals that otherwise might end up at the slaughterhouse.
The agreement between Nevada's Department of Agriculture and California-based Return to Freedom Inc. doesn't affect the roundup of federally protected horses on mostly U.S. Bureau of Land Management lands. But it means that in at least three northern Nevada counties, the wild horses' allies won't have to outbid slaughterhouse buyers at state-sponsored auctions, as they were forced to do this year when dozens of horses were offered for sale.
Instead, the group that serves as the parent organization for the national American Wild Horse Preservation Campaign will have two business days to pay $100 a head for horses the state gathers due to threats they pose on state roads and highways in the Virginia Range southeast of Reno, the municipality of Carson City and surrounding Washoe, Storey and Lyon counties.
Members of the national coalition who have pressed for such an agreement say it's a nationwide first.
"We are extremely proud of this important step toward preventing Nevada's iconic wild horses from falling into the clutches of kill-buyers at auction," said Kevin O'Neill, a senior legislative director for the American Society for the Prevention of Cruelty to Animals.
The deal forbids purchasers of the horses from returning them to the Virginia Range .