State faced earlier taxing situations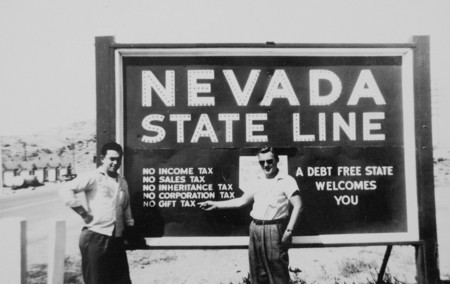 CARSON CITY — The current economic doldrums are the worst Nevada has faced since 1935, according to former state Archivist Guy Rocha.
"What we are experiencing today has the potential to exceed the Great Depression," said Rocha, who expects unemployment soon to top 12 percent.
Rocha began digging into old records after the state Department of Employment, Training and Rehabilitation reported that unemployment in the Silver State reached a record 11.3 percent in May.
From an examination of spending and the writings of state political leaders in the 1930s, Rocha said it is clear Nevada suffered during the Depression, even with the construction of Hoover Dam from 1931 to 1935.
State revenues, then about $1 million a year, did not cover expenditures during those years, he said.
Mining virtually stopped because of low precious metals prices, and agricultural revenue fell to a quarter of what it had been. Southern Nevada fared better than the rest of the state because of Hoover Dam, but much of Nevada, especially rural areas, drifted toward insolvency, according to Rocha.
Like the 2009 Legislature, which raised taxes by $1 billion, lawmakers during the Great Depression tried to tax their way out of state insolvency. The state's taxes on cigarettes and the insurance premium tax both date back to the 1933 session and the liquor tax to the 1935 session.
"The last time we had an economic downturn like today, we raised taxes," Rocha said. "Jim Gibbons is the first governor who refused to raise taxes during an economic crisis."
Unlike Gibbons, whose vetoes of tax increases were overriden by the Legislature, governors Fred Balzar in 1933 and Richard Kirman in 1935 both recommended and signed tax increase legislation.
"Our state and nation have been suffering from the most terrible depression in our history," Democrat Kirman said in a speech to the Legislature in January 1935. "Never have so many citizens been unemployed and dependent upon what may be termed organized public charity."
A Roosevelt supporter, Kirman said the president's social programs and relief to Nevada "prevented a complete collapse of our government."
Kirman said 11,000 Nevadans, more than 10 percent of the population, received federal assistance.
By 1935, 13 banks had closed in Nevada and had their assets frozen. Nearly one-quarter of state revenues were tied up in the closed banks.
During the 1933 session, Republican Balzar pitched taxes on cigarettes, soft drinks and mineral water, and on the cost of insurance. Legislators approved the insurance premium tax, which remains a dependable source of state tax revenue, and cigarette taxes.
That same year, Balzar told the Legislature, "At the present time our state and the nation at large is passing through a great crisis, which in many respects is not comparable to any situation ever before existing in the United States."
Two years later, Kirman recommended that legislators levy a state sales tax, an inheritance tax and a liquor tax, along with increasing the property tax, then the primary source of state revenue.
Sales taxes were rejected, but lawmakers did pass a property tax increase and the first state tax on liquor. Nevada did not impose a sales tax until 1955, although 30 states approved their first sales taxes during the Depression.
By 1936, the state was operating at a surplus and the Depression was over in Nevada, Rocha said.
"It is my pleasure to note that the Depression referred to in my message of 1935 is practically ended, and on every side we see evidence on that fact," Kirman said in his 1937 message to the Legislature.
Kirman noted a cash balance of $1.4 million, or more than state government's annual spending.
He also praised Roosevelt and noted that the federal government had spent $8.5 million on relief in the state.
Federal programs also built 124 public buildings, laid more than 1,000 miles of road and developed 717 water sources for Nevada ranchers.
Tax advocate Kirman joined with business leaders in 1936 in launching a "One Sound State" campaign.
On signs, advertisements and brochures, the campaign emphasized Nevada as a state with "no income tax, no inheritance tax, no sales tax, no tax on intangibles, but with a balanced budget and a surplus."
The campaign was so successful in attracting the wealthy to Nevada that the Legislature in 1939 reduced taxes by 20 percent.
Contact reporter Ed Vogel at evogel @reviewjournal.com or 775-687-3901.