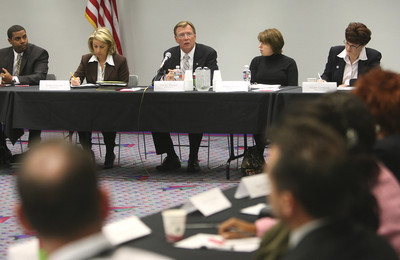 Uncertain financial times aren't over for state and county providers of child welfare services.
Though Gov. Jim Gibbons has committed to protecting Nevada's child welfare budget from the 8 percent possible cuts faced by other state entities, federal revenue sources are now in doubt.
Nevada may lose its share of Medicaid funding that pays for services to severely emotionally disturbed children, said Nevada Health and Human Services Director Mike Willden. That funding is roughly $8 million. And federal resources that help pay for foster care costs are hemmed in by requirements that prevent Nevada from recovering all the money it's eligible to receive.
"Without federal Medicaid support, children in high-level care will be difficult to support," Willden said Tuesday. "We continue to see a lot of balking over who should be paying for this."
Funding and the potential loss of it weighed heavily on participants in a community roundtable on child welfare called by Rep. Jon Porter, R-Nev. The meeting is the second one Porter has convened to respond to serious problems within Clark County Family Services, such as the deaths of children in foster care, the lack of training and sufficient staff within the department, and the underreporting of child fatalities that may have been related to abuse or neglect.
The shortcomings in the system aren't a secret, said Clark County Director of Family Services Tom Morton. But attempts to address them have been slowed by the budgeting problems at the state level. Morton had to hold off filling new positions created by legislators to reduce caseloads in child welfare until he was sure the money would be there. The state is in the process of identifying more than $285 million in state spending that can be cut should tax revenues fail to meet projections. It wasn't until Nov. 13 that Gibbons exempted child welfare from future cuts.
With that assurance, Morton said he is proceeding to fill all of the 58 new positions approved by the state. Those jobs will help reduce case worker caseloads to a more manageable level. In the past, some workers have carried 40 or more cases a month. Morton hopes to bring that down to at least 26 or fewer cases per worker.
The goal, Morton told Porter, is to give case workers time to spend with children in care instead of just doing periodic checks on the foster homes.
Morton also asked Porter to explore the possibility of changing the rules governing Temporary Assistance for Needy Families, or TANF. Now, the state can't receive federal matching funds for services if family members who take in children decline to obtain foster parent licensing.
Morton asked Porter to consider that the cost of supporting families is less than the cost of putting a child in foster care.
Porter said he would discuss the federal funding issues with other members of Nevada's delegation when he returns to Washington, D.C.
"All of these children belong to all of us," Porter said. "It's our responsibility to take care of them."
Porter also asked about other actions being taken to improve the quality of child welfare services in Clark County. Morton told him that Child Haven, the county's emergency shelter for abused and neglected children, had a significantly reduced population these days. On Monday, the shelter housed 72 children. That's a sharp contrast to last year, when the population at times exceeded 200 children. The crowded conditions had children sleeping in the gym and infants kept in custody at hospital nurseries until a placement opened up.
During the past 12 months, Morton said Family Services has focused on foster home recruitment. About 119 new foster care beds have been identified, Morton said, an increase of about 32 percent. The long-term goal is to add 500 new placements for foster children.
Child Haven also is on its way to becoming a licensed facility, a requirement legislators imposed earlier this year as a means of better regulating the shelter. Clark County submitted its application in October, Willden said. If all goes well, the state will license Child Haven sometime in December.
Contact reporter Lisa Kim Bach at lbach@reviewjournal.com or (702) 383-0287.