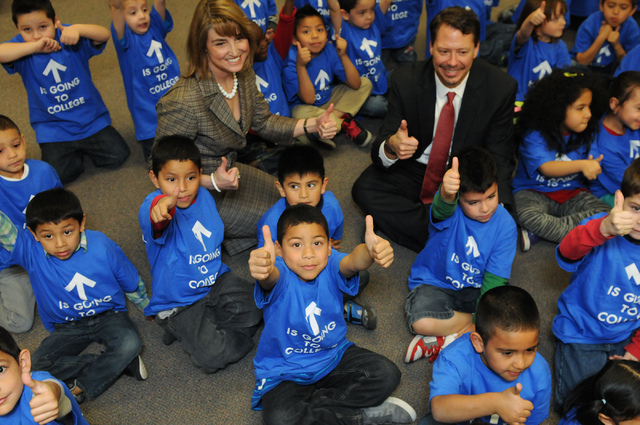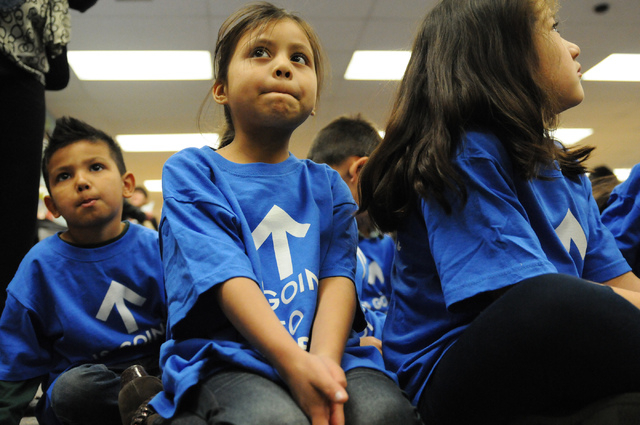 Read her lips: No taxpayer dollars.
State Treasurer Kate Marshall announced Tuesday the statewide rollout of Nevada College Kick Start, a $50 college-savings fund for each of Nevada's 35,000 kindergartners — 25,000 of whom live in Clark County.
Students are automatically enrolled, though parents can opt out.
The program costs $1.8 million annually. It is funded by fees the treasurer collects from financial institutions that manage college-savings plans in Nevada, such as USAA, Vanguard, State Street and Putnam Investments. Some funding is also donated.
Annual compound interest will vary, averaging about 12 percent, for a total of about $220 by the time a student enters college, typically 13 years later. Funds expire when the student turns 25.
"It's not going to be $20,000," Marshall said. "But what it is going to be is a way to start that conversation with that family, to tell that child that they're college bound. And to help people think about and get in the door."
Students must remain Nevada residents to access the funds, but the account can be used at any college in the country.
"That includes technical schools, culinary schools, that includes Harvard, that includes UNLV, that includes anything," Marshall said.
Funds are held in a master account managed by Upromise in the Nevada College Savings Trust Fund's name. Money cannot be added or withdrawn, though families are encouraged to start a separate savings plan.
Upromise recently lowered account minimums from $250 to $15 to start a tax-deferred SSgA Upromise 529 plan. The "529" refers to the Internal Revenue Service Code section that allows for the plan.
The treasurer's office debuted the College Kick Start pilot program in fall 2013 for 3,000 rural students in 13 counties, and implemented it throughout the state ahead of schedule.
The College Savings Plan of Nevada's board of trustees agreed to operate the program for a minimum of three years to evaluate its effectiveness.
Nevada College Kick Start is modeled after San Francisco's Kindergarten to College, a city and county program that gives kindergartners $50 or $100, depending on household income.
Nevada is the first to create a statewide program.
Ohio's Cuyahoga County, which includes Cleveland, gives its students deposit-only college savings accounts of $100. The Mississippi College Savings Account Program benefits students in Jackson and Delta.
The Center for Social Development at Washington University in St. Louis found that children with college-savings accounts are seven times more likely to pursue higher education than those without.
The University of Kansas' School of Social Welfare concluded that saving for college sends a strong message to children that they are college-bound.
Nevada College Kick Start is one of many initiatives to create a "college-going culture" in the state.
A 2011 study by Complete College America estimated that 58 percent of Nevada jobs will require career certificates or college degrees by 2020. As of 2011, 28 percent of adults in Nevada held associate degrees or higher.
"College and career readiness starts in kindergarten," said Clark County School District Superintendent Pat Skorkowsky. "We have to start with the mindset. We're working hard on financial literacy skills in the elementary schools. …We have to build them at the elementary and we refine them as we go up. So as we get to middle school and high school, it is actually workforce readiness skills and the idea that college is not just an option. It is a necessity for them to be successful."
Contact reporter Kristy Totten at ktotten@reviewjournal.com or 702-477-3809. Follow @kristy_tea on Twitter.